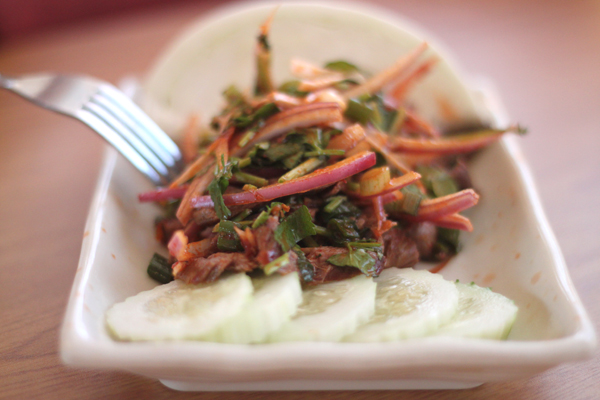 The borders between cultures have blurred. People from all over the world now call Murfreesboro home, and for many, there's no better introduction to another land than by way of the food.
Ingredients from across the globe can be found right here in Rutherford County, making possible a melting pot on anyone's stovetop.
The fine Thai and Lao restaurants in the area have introduced many Murfreesboro diners to the delicious and often spicy curries, pad (noodles) and pho (soup) that families in Southeast Asia have enjoyed for generations.
Many of these restaurants are small, but all seem to take great pride in the food they serve, and in introducing the people of Tennessee to their respective cultures, if only in a culinary sense.
"I'm glad my food makes a lot of people happy," says Sydney Bounsavath of Thai Pattaya.
Whether the customer goes for some Tom Kha or Pad See Ew at Thai Pattaya, some Massaman Curry at Lemongrass on the other side of town, Papaya Salad or Yum Beef at Oriental Express (located on the back side of a Bradyville Pike tire shop/convenience store) or some Pho at International Grocery, just across the street, Murfreesboro is bursting with the mouthwatering flavors of Laos and Thailand.
There's also Pad Thai Cafe and its delicious ginger or jalapeño chicken wings and curries, Taste of Thai, just down South Church Street, with larb and other dishes from that fine corner of the Earth, as well as newcomers SaBaiDee and Yummy Thai.
And of course, there are the veterans: The Bangkok on Robert Rose Drive near Stones River Mall and Thai Spice, the most convenient to the MTSU campus.
The Thai and Lao influence is now so strong in Murfreesboro that Wat Amphawan of America, a Buddhist temple located at 4880 Barfield Crescent Road, will host a Lao/Thai Festival on Saturday, April 29.
This event, held from 11 a.m. to 4 p.m., will include traditional Southeast Asian dance, Muay Thai demonstrations, the raffle of a 2017 Nissan Altima—raffle tickets are $50 apiece—and of course, lots and lots of food.
The cost to attend the event is $15, and that includes all-you-can-eat Thai and Lao food; kids 10 years old and younger are free.
The Migration
How did Murfreesboro become this hotbed of Lao and Thai culture?
Chantho Sourinho, born in Laos, came to Murfreesboro in 1972 to attend MTSU.
"This is before the Murphy Center," reminds Sourinho, and certainly before the great influx of Southeast Asian people into our small Southeastern United States town.
Today, Sourinho serves as a Rutherford County commissioner and delivers a news report in Lao on Murfreesboro City TV (Channel 3).
He estimates that somewhere between 4,000 and 5,000 Lao people live in Rutherford County today, and this figure does not include those of Thai descent. While the languages, cuisine and people of Thailand and Laos share many similarities, they are distinct.
"Many people fled Thailand, Cambodia, Laos and Vietnam in 1975," Sourinho said. This was the height of the war and genocide that ravaged that region. "You may have heard of the killing field in Cambodia," Sourinho continued.
The young man would volunteer with refugees coming into Middle Tennessee during the 1970s.
"The Catholic Diocese in Nashville saw how much I volunteered and put me on the payroll," Sourinho says. He worked there for six years prior to beginning a 30-year career with Rutherford County Schools as a guidance counselor.
"I worked with a lot of parents who spoke very little English," Sourinho says of his time with the local school system as he sips jasmine tea with his nephew, Noy Thepsouvan, at Thai Spice, the Rutherford Boulevard restaurant that Noy operates with his wife, Mo.
So, back to the reason why a few thousand Thai and Lao individuals have chosen to make their home in the Murfreesboro area.
"The geography of Tennessee is similar to Thailand and Laos in some ways," Jack Butchareon, owner of The Bangkok, another staple in the community, tells a guest in his restaurant. "Lots of trees and forests and rivers . . . the people would come to the South; Thai and Lao people aren't going to stay in Boston, unless they have a good business going—it's too cold!
"There's big manufacturers here, plenty of jobs; it's good to raise kids here," Butchareon continues.
One of the main reasons remains the large number of churches in the area.
Tennessee churches were very welcoming to this wave of refugees, according to the Bangkok owner.
"The people from the churches would sponsor the refugees back in the day," he says.
While many Thai and Lao people have settled in Tennessee, Georgia and North Carolina over the past few decades, "the Vietnamese prefer Louisiana, Florida, Texas. Fishing is their expertise. They fish for shrimp, squid," Butchareon says, noting that the fertile fishing areas of the Gulf of Mexico are more similar to the coast of Vietnam, probably making many of the Vietnamese families feel more at home.
Butchareon recalls the days working in the rice fields of a rural area of Thailand as a boy with his father.
He says he first learned about America from U.S. military propaganda.
"They knew they were going to war with Vietnam; they had to have a base in Thailand," Butchareon says. "The Corps of Engineers built the first highway in Thailand, the Friendship Highway."
In addition to building infrastructure in that region in preparation for the war, the U.S. military was building community support as well, touting the greatness of America and enticing village people to support their cause.
"The Corps of Engineers had movie propaganda about USA," says, Butchareon, who recalls how wonderful it was to see motion pictures of any type in those days in Thailand.
"We saw the American way of life. We saw tractors on the farm," he says. "Sometimes they'd show John Wayne movies."
Butchareon made it a goal to come to the U.S. himself, so when his chance to come to the country and attend Atlanta University presented itself in 1982, he jumped at the opportunity.
He obtained a master's degree, and when his wife's brother, Sam, got a scholarship at MTSU, Jack and his wife, Bubpha, accompanied him to Murfreesboro.
"My wife liked the big city. I had to convince her [to come to Murfreesboro]," Jack says. "I told her there's an Asian community here and it is a good place to raise kids."
That family arrived in Murfreesboro in 1990. While Jack had a master's degree in public administration, he initially struggled to provide for his family but found jobs as a janitor, as a forklift operator and a housecleaner while living in a small apartment.
One Sunday, at a time when Jack says his family had about $2,900 to their name and his wife was pregnant with their second child, she insisted that they go look at houses for sale. The idea that they could purchase a house at this point in their lives was one Jack found "stupid," but he loyally accompanied Bubpha to look at a place at 3550 Lehigh Drive. The lady showing the house was one Margaret Bugg, who ended up the following week personally loaning the family the money to purchase a home of their own in Murfreesboro.
Jack could not believe it but says he is eternally grateful to Ms. Bugg for giving his family, whom she had just met, an opportunity.
"Her generosity touched my heart," he says.
The families became friends over the coming years.
"My wife would make her egg rolls and fried rice Sundays after church," Butchareon says. "After years of paying her back, she said, 'You cook good, you should open a restaurant.'"
Once again, Jack was skeptical about coming up with the money to open a restaurant, but once again, Bugg made it happen.
"Bob Murfree owned a building at 113 N. Maple Street [now the site of Jack Brown's]; Miss Bugg signed a lease for us," Butchareon says.
And thus Thai food came to the Murfreesboro Square.
The Food
When Jack and Bubpha Butchareon first opened their restaurant, various area establishments served some Americanized versions of Chinese food, but the Butchareons wanted to bring the flavors of Thailand to Murfreesboro.
"People were more used to soy sauce and sugar than bamboo and hot pepper when we started," Jack says. "Some people still hesitate to try it because they think it will burn them . . . try the Cashew Chicken, try the Pineapple Chicken, they're not that hot.
"The Massaman Curry is a little sweet, a little sour," Butchareon continues.
The restaurant operators realize many Americans don't want extremely spicy food, but will happily make it "native Thai" upon request.
At many of the Thai and Lao restaurants, a server will ask the customer what spice level they'd like, from zero to five. And while it can be debated how spicy a dish should be, whether a recipe is Thai, Lao or American, the most important thing is to "put love into it," says Bounsavath of Thai Pattaya. "I knew how to cook from what my mom taught me."
Many have become fans of Pad Thai, Drunken Noodles, Pad Kra Pow and Curry though her establishment, and the other restaurants in Murfreesboro.
Bounsavath, who was born in Laos to a Lao mother and Vietnamese father, says the food served at Thai Pattaya is very similar to what many families in Laos and Thailand eat, though maybe a "little less spicy."
Bounsavath explains some subtle differences between Thai and Lao cooking; Lao dishes would generally have a thicker consistency and contain more eggplant and bamboo, but perhaps not as much broccoli, green beans and other greens, as Thai food may.
Also, Laos has no coastline, so seafood is more of a Thai flavor.
Still, the flavors can mix and mingle; Thailand was the most stable country during the war, Butchareon says, so most of the refugees from the region would come to Thailand first, prior to heading out to Australia, France, the U.S. or other countries that would have them. So even many of those of Lao, Cambodian or Vietnamese descent would carry some of the Thai influence.
Back at Thai Spice on Memorial Boulevard, Noy Thepsouvan tells of his journey from Laos. His family moved to France, where he worked for a chemical company. That job took him to England and eventually to Philadelphia prior to joining his Uncle Chantho and other family members in Murfreesboro.
"My wife is Thai," Noy says. "Her uncle ran a restaurant in England—he's very successful. He came here to train me for six months when we first opened Thai Spice.
"I want to give my customers the food I love," he says as his staff serves a diner a delicious dish known as Poh Teak Hang, containing seafood with vegetables.
The Scene Today
As Murfreesboro has grown exponentially over the past decades, so has the number and necessity of more restaurants.
The Thai/Lao food scene in Rutherford County includes much more in 2017 than only Bangkok and Thai Spice. With the recent opening of Yummy Thai restaurant on Memorial Boulevard near the VA, one observer of the local culinary industry counted a dozen Thai and Lao restaurants in the county.
There's a flavor for every palate and a spot in every neighborhood.
The influence of the Buddhist way, which emphasizes peace, harmony, generosity and forgiveness, is also spreading, with temples popping up throughout Middle Tennessee. A meditation center, Sourinho points out, has recently opened at 2033 Ghee Road in Murfreesboro.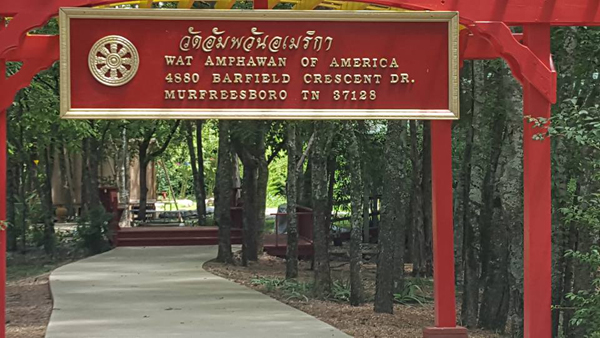 Noy says it is important to him for his four kids to "dance, speak and know our culture."
His daughter danced at a 2016 food fair with a group of local students.
The Butchareons now operate a shopping center, known as Thai Corner, that other Thai-owned businesses call home; Jack also runs a home remodeling and importing businesses. And though the memories, food and culture of Thailand will be with him forever, "This is my hometown," Butchareon says of Murfreesboro.
And thanks to the migration of his family as well as other hard-working families now operating their restaurants in the area, the Murfreesboro culinary landscape is a little spicier for it.
~~
For more information on the April 29 event at Wat Amphawan, find a Facebook event page for Thai-Lao Food Fair 2017.
The Thai and Lao Eateries of Rutherford County, TN:
The Bangkok Thai Cuisine & Sushi
315 Robert Rose Dr.
International Grocery
1622 Bradyville Pk.
Lemongrass Sushi & Thai
220 Barfield Crescent Rd.
Oriental Express Laos and Thai Cuisine
1619 Bradyville Pk.
Pad Thai Cafe
2568 S. Church St.
SaBaiDee Cafe
505 Cason Ln.
Taste of Thai
1841 S. Church St.
Thai Pattaya
810 NW Broad St.
Thai Phooket
1890 Almaville Rd., Smyrna
Thai Spice
225 N. Rutherford Blvd.
Thida Thai
10644 Cedar Grove Rd., Smyrna
Twisted Thai – Food Truck
Various Locations – Find Twisted Thai on Facebook
Yummy Yum Thai Restaurant
3411 Memorial Blvd.