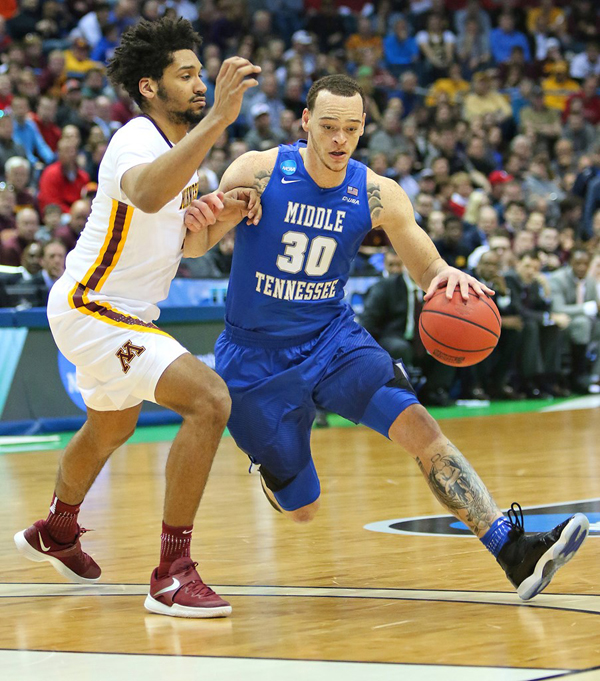 In March of 2016 the MTSU Blue Raiders pulled off one of the greatest upsets in sports history when they defeated Michigan State, a national champion favorite, in the first round of the NCAA tournament. No one gave Middle Tennessee a chance, not even this writer. Although they entered the 2017 NCAA tournament as underdogs once again, things were much different for the Blue Raiders.
As Auburn head coach Bruce Pearl stated after Middle's 2017 opening round game, they were the lower seed, but it wasn't really an upset. Everyone expected the Blue Raiders to make some noise again in this year's tournament, and against Minnesota they were right!
Minnesota's size was the greatest threat the Blue Raiders faced against the Golden Gophers; however, those bigs all stayed in foul trouble throughout the game. Though Minnesota jumped out to a quick 7–0 lead, MT fought back to take its first lead at the 8:57 mark of the first half. They lost that lead just a few seconds later, but gained it back at the 8:29 mark and held on to it through the rest of the game.
Reggie Upshaw came up big with 19 points and nine rebounds. Giddy Potts, JaCorey Williams and Brandon Walters each scored in double figures with 15, 13 and 10 respectively.
The Blue Raiders got Butler next. Butler, a four-seed, seemed like a favorable match-up for the Blue Raiders. While no one drummed this up as a cakewalk, the thought that Middle would play an opponent similar to themselves—a mid-major that dominated their conference— made Upshaw's ambitions of playing in the Sweet Sixteen seem very obtainable.
Butler had different plans, however. The Bulldogs never trailed the Blue Raiders. Though the box score suggests a mostly even game, one stat stood out among the rest. While the Bulldogs scored 14 points off turnovers, the Blue Raiders were unable to capitalize off a single one of the 10 turnovers they forced.
Williams led all scorers with 20 points and also led the night with nine rebounds. Antwain Johnson and Brandon Walters each had surprise performances. Johnson kept the Blue Raiders in the game through most of the second half with a strong performance of 19 points and six assists, and Walters provided an inside presence, making three of his four field goal attempts and hitting all five of his free throws.
The nail in the coffin for the Blue Raiders was the Bulldogs' game plan to eliminate Giddy Potts. Potts hardly had a good look at the basket all night as he failed to score. According to a post on Twitter from Joe Rexrode of the Tennessean, an emotional Potts told Williams and Upshaw after the game "My fault." Coach Kermit Davis told reporters after the game how bad he felt for Potts and said "he was bawling" in the locker room.
The dream 2017 season having come to an end, the focus now turns to next season. However, questions abound.
The first order of business is for MTSU Athletic Director Chris Massaro to draw up a new contract for Kermit Davis.
Having coached the Blue Raiders during back-to-back seasons in which they've won an NCAA Tournament game, Davis has made himself a hot commodity for positions opening up at Power 5 schools. Although he signed an extension after last season, Davis is currently a bit underpaid even for a mid-major coach, so the kind of figures larger programs can offer will have to be enticing. However, Massaro and Davis are reportedly already negotiating another extension with a substantial pay increase.
Davis had been rumored to be a candidate to fill the vacancy at Louisiana State, but LSU has instead opted to hire Will Wade from VCU. Wade's brother, Geep, served as offensive line coach for the Blue Raiders football team from 2013 to 2015.
In spite of rumors, Davis stated in a radio interview recently that he is "not going anywhere," and that he plans on building the MTSU basketball program into a national power.
The other question is who will rise up to fill the void in the lineup that will be left by departing player Reggie Upshaw?
Tyrik Dixon, Potts, Ed Simpson and Walters all appear to be locks as starters for the 2017–18 campaign, but uncertainty abounds on who will be the starting power forward.
Prior to the beginning of the 2015–16 season, coach Davis said Karl Gamble was possibly the best freshman he's ever had at MTSU. Gamble certainly has the size for the position at 6′ 9″ and 228 pounds, but he hasn't lived up to the lofty expectations that Davis once voiced.
Davion Thomas will also be a candidate for the role. The freshman redshirted this season, but he made an impression with some of the Blue Raiders' upperclassmen. Even JaCorey Williams, one of the most athletic players to play in the Murphy Center, acknowledged being a bit envious of Thomas' athleticism.
The Blue Raiders also hold a commitment from a recruit with an NBA pedigree. Tony Massenburg was an impact player at Maryland from 1985 to 1990, and then went on a 14-year NBA career. According to Rivals and 247Sports, his son, T.J., is the highest rated recruit in the Blue Raiders 2017 class. Rated a three star by both recruiting services, and 162nd overall by 247Sports, T.J. may also compete right away for the starting power forward spot.
If the Blue Raiders hope to make a third straight run to the NCAA Tournament, they will need to find consistent production from someone not named Giddy Potts. Dixon and Walters each showed moments of brilliance this season, but each will need to prove to be more consistent. Simpson, who is the best perimeter defender on the team, also has lacked consistency on offense.
Can the Blue Raiders three-peat as Conference USA champions? Can they return to the Big Dance for a third year in a row? Are these last two seasons the start of a nationally recognized program, or a flash in the pan? We'll have to wait until next season to find out.