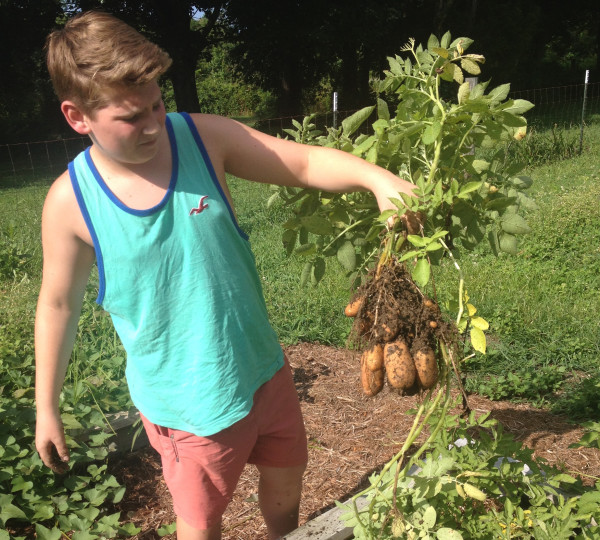 Let us greet with a song of hope each day
Though the moments be cloudy or fair
Let us trust in our Savior always
To keep us, every one, in His care
Keep on the sunny side, always on the sunny side
Keep on the sunny side of life . . .
(From The Carter Family's 1928 release "Keep on the Sunny Side," composed by Blenkhorn/Entwisle)
By the time he was 7 years old, Cameron LeDuc had planted an idea. Like many ideas, it didn't take root immediately. When it did, though, a family business began to sprout up that would change the lives of his parents, Scott and Jackie LeDuc—as well as the lives of many who would benefit from the eventual fruits of the family's labors.
Originally residing in Tampa, Fla., and seeking vacation property in Middle Tennessee, Scott and his wife opted instead to move to the McMinnville area in 2004 after his employer, Verizon, sold one of its divisions, leaving Scott jobless.
"When we moved here from Florida, it was just on faith," says Scott. "For some reason we knew this was going to be a spiritual growth thing when we moved to McMinnville," he says, "because we went from a gated subdivision, and materialism, to 75 acres and a small cabin that was built in 1858. It was cool to live in, but it was supposed to be a vacation home. No heat or AC. Just a fireplace built in 1858," he says as wife Jackie giggles in the background. "I would come home [from work] and chop wood in the dark―frozen wood, actually. So moving from Florida to there, it was a real experience, where you've got to ask yourself, 'God, what in the world are we doing here?'"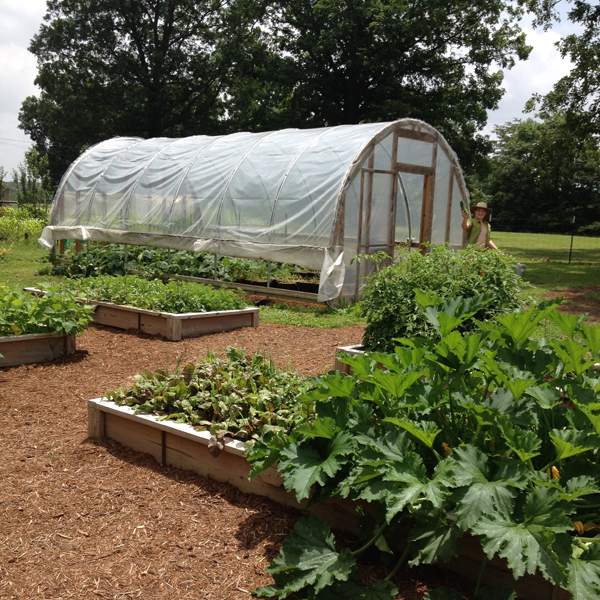 In time, the answer to that question would emerge, if only in modest increments. Putting beans on the family table using their musical talents, Scott and Jackie found opportunities in Christian music, eventually accepting full-time jobs as worship leaders at McMinnville's Christ Family Church. In the meantime, their young son's apparently God-given agricultural gifts were flowering―a transition that likely wouldn't have occurred in an upscale Tampa subdivision.
"So there we were, the little city family on 75 acres living the Little House on the Prairie lifestyle, and Cameron at 3 years old was a natural," says Jackie. "My son was just born loving plants and nature. We had neighbors that were into farming, and we'd take him and he would vaccinate cattle or go help do nursery work at a young age."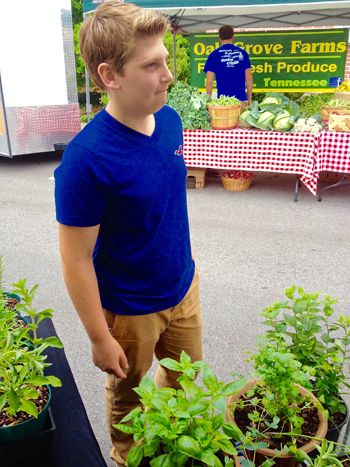 Not too long after Cameron began planting herbs, he decided to try selling his wares at a farmers market in McMinnville. The motivated youngster was also gaining experience as a part-time employee for an impressed local hydroponics farmer, who eventually realized he was training a worthy competitor. Set free with his former boss's blessing, Cameron made his Murfreesboro market debut in 2013 at the Ag Center, gamely hauled there in the early morning hours by Mom.
Having watched her son's green-thumbed enthusiasm grow, Jackie had begun to dug a little deeper.
"I started studying the herbs he was growing and became fascinated with all the medicinal benefits. The company actually originated because of him," says Jackie, whose first experiment was an almond-oil-based herbal rub containing anti-inflammatory, circulation-promoting and pain-relieving herbs.
The LeDucs initially tested the concoction on their own sore spots, which included the painful foot condition plantar fasciitis. When they found relief, they believed their product―now christened Muscle Rescue―was ready to be shared with others at Cameron's farmers market booth.
"People would buy it and come back with these crazy stories [of pain relief]. After that our eyes were opened to God's wonderful creation and the fact that His plants are medicine, so it just evolved into making other lotions and soaps."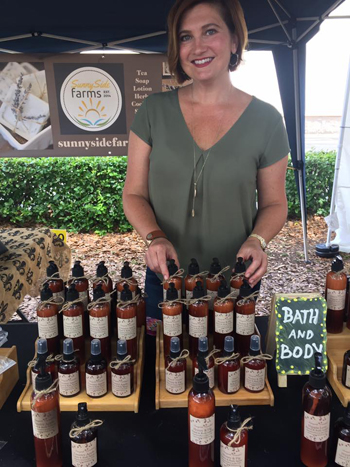 Sunnyside Farms was officially birthed in 2014 but had gestated over a few years while Jackie, who thrives on researching herbs and their therapeutic uses, began devising a menu of items that now ranges from teas and cooking spices to shampoos, body butters and men's grooming products. One, an all-natural insect repellent called Fly Away, has proven effective on everything from chiggers to ants. Jackie's particularly pleased to offer a chemical-free alternative to services and products that kill pests at the risk of exposure to toxins. It was Jackie's goal from the outset, she says, "to create things where people could feel like they're using products they're used to, like Bath and Body Works and all that, but something that's a much better choice that actually has health benefits."
Sunnyside Farms' product line is always available at sunnysidefarms.us, but starting this month, the LeDucs will be onsite at the Main Street Saturday Market, which Jackie says has been Sunnyside's home base since 2014.
"Kathleen Herzog runs the market there, and she gave Cameron a chance to get in because she was fascinated with him," explains Jackie. "And then Kathleen and the customers began to fall in love with the products we make, and repeat customers have come back with great results, so we just love that. We're excited to start there again this year."The LeDucs' daughter, Claire, completes the four-member family business, having taken on the role of marketing and branding specialist for Sunnyside Farms. Currently a film and media student at the University of Tampa, she's designed a company logo and, according to her mom, is "developing the social face for the company." Scott mentions that Claire began demonstrating an interest in film at age 12, teaching herself how to use the Apple video-editing software Final Cut Express. In addition to marketing, Claire handles some farmers marketing to boot, giving Sunnyside Farms an additional presence in the Tampa area.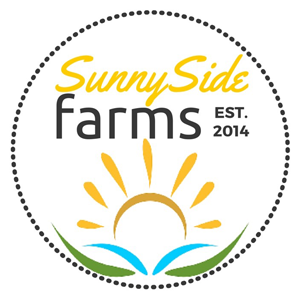 Like their parents, Claire and brother Cameron sing, write and play music ("probably better than we do," says Scott with a laugh), making a family band yet another possibility. Cameron, now 17, also has a budding landscaping business. The younger LeDucs' early and still-accelerating self-discovery processes, figures Scott, are the result of his and Jackie's parental emphasis on the notion of personal calling and destiny.
"I think probably the [kids'] entrepreneurial spirit comes from 'what are you made to do?' We encouraged our kids to find out what they like," says Scott, "and then let them do it and see if that's what they're made to be doing."
While the couple continues to keep a hand in the music and ministry they themselves feel called to do, their Sunnyside venture now affords them an opportunity to build up their children's innate talents and bless folks in a different, perhaps more hands-on manner.
"Scott and I always wanted to do something that helped people," Jackie says. "I love the fact that we make it, we package it, we tie the twine on it . . . and then deliver it to the consumer. And you're helping them."
That fact, as confirmed by feedback from satisfied customers, is music to all the LeDucs' ears.