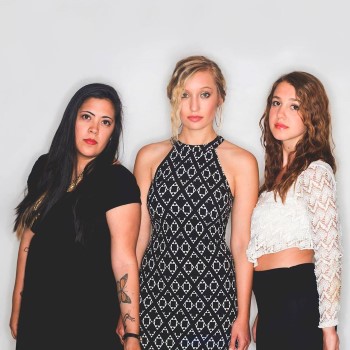 Within the past couple years, Nashville-based trio Maybe April has opened for artists such as Brandy Clark and Sarah Jarosz, as well as performed at Franklin's Pilgrimage Music Festival. Now, after five years of creating music together, the group is celebrating the release of its self-titled debut EP.
Maybe April consists of Katy Bishop, Kristen Castro and Alaina Stacey—all transplants from other states—who formed in 2012 while attending GRAMMY Camp, a week-long music industry gathering. Bishop and Castro, both former MTSU students, hail from Jonesboro, Ark., and Simi Valley, Calif., respectively, while Stacey calls Chicago home. The members eventually found their way to Middle Tennessee and found a musical chemistry.
This spring, the group released its self-titled EP, featuring seven tracks that could be best described as Americana with a hint of charming 2000s country. The release begins with "Last Time," a musically brooding and radio-ready track that tackles the gritty honesty of finally giving up with the warning:
I'm not waiting around for you to grow up
For you to show up and fight for me
I'm not sitting at home waiting on you for you to wise up
For you to give it up
"Breaking Point" and "Crazy" are pure country ballads that tackle love and heartbreak, while "Blush" kindles the carefree feeling of riding top-down in a convertible. The catchy, upbeat track is rhythmically reminiscent of Keith Urban's 2002 hit "Somebody Like You" yet performed in the rootsy style of Americana trio Nickel Creek. The penultimate track, "Tennessee," is an ode to the trio's new home, while "Loving You Still" brings the album's theme of falling in and back out of love full circle.
While Maybe April's seamless, three-part harmonies are captivating, each member's instrumental and songwriting contributions complete the musical trifecta. If you like what you hear, the trio performs in the area often; just ahead are an appearance at the free Musician's Corner series at Nashville's Centennial Park on May 19 and an upcoming fall gig at Bird Song Studio on Oct. 21.
Maybe April is available to stream via Spotify and Apple Music. Visit maybeapril.com for tour dates and other information.