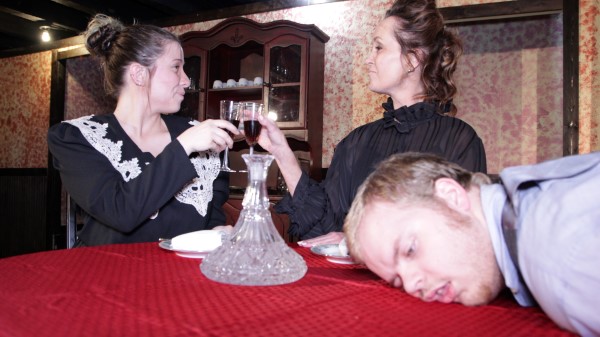 What's one more body where the family is concerned?
Murfreesboro Little Theatre is proud to present Joseph Kesselring's dark comedy Arsenic and Old Lace this June.
Sisters Abby and Martha Brewster are happy in their quiet Brooklyn home near the cemetery, the serenity interrupted only by their delusional nephew's antics as a would-be Teddy Roosevelt. As they busy themselves with many "charities," their other nephew, Mortimer, decides to come back home.
Mortimer is a dramatic critic who wants nothing more than to marry the minister's daughter and return to the world of real estate. But before he can settle into suburban bliss, he discovers a corpse in the window seat and begins to wonder which member of his family is a killer!
As Mortimer attempts to sort this out, his criminally insane brother Jonathan decides to join the family reunion, bringing along his own personal plastic surgeon . . . and another body! One more blow of Teddy's bugle may bring the law, and then it'll be curtains for them all!
Directed by Melvin Springs, Arsenic and Old Lace stars Jessica Wells, Tyson Pate, Thomas Esson, Lisa Fisher, RJ Polito, Jess Townsend, Sean Richardson, Russell Richardson, Perry Poston, John Mark Redding, RJ Palhegy and Josh Jennings.
Arsenic and Old Lace opens Friday, June 2, running through June 11. Friday and Saturday performances begin at 7 p.m., with an additional showing on Thursday, June 8; Sunday matinees begin at 2 p.m.
MLT is located at 702 Ewing Blvd. For reservations and more information, visit mltarts.com or call (615) 893-9825.