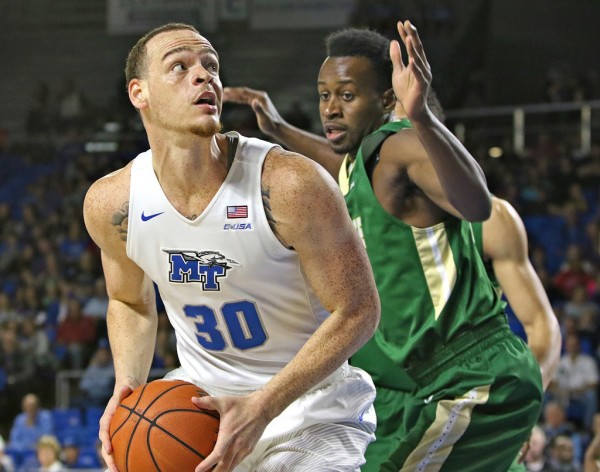 Over the last four years the words "MTSU basketball," "winning," and the name "Reggie Upshaw" have been synonymous. Few high school players get the opportunity to play D-1 college basketball. Even fewer are successful at it. Even fewer than that get the opportunity to become an icon for their program.
Reggie is all of those things. He has become so iconic that, as I prepared to conduct my interview with him, a random passerby exclaimed, "I see your face everywhere I go!"
His iconic status will multiply soon, as he will certainly be immortalized in Murphy Center when his jersey is hoisted into the rafters.
In spite of that status, Reggie has been largely out of the public eye since the Blue Raiders fell to Butler in the 2017 NCAA Tournament. However, I did get the chance to catch up with him after a workout preparing him for whatever his future may hold. (Sidenote: Reggie looks to be in the best shape of his life!)
It was a good time to get to know the player and the man.
Murfreesboro Pulse: It has been a month since your season ended. What has that month looked like?
Reggie Upshaw: Just in the past month I've done a lot of traveling, finding out who my agent is going to be and meeting with different agents and going to play in the all-star game in Phoenix. After that I came back to Murfreesboro and worked out for a week, then I went and played in the Portsmouth Invitational in front of NBA scouts and overseas scouts. So, just in the past month I've gone from Phoenix to Murfreesboro to Chattanooga to New York for two days and then to Portsmouth. So, its been a lot of traveling.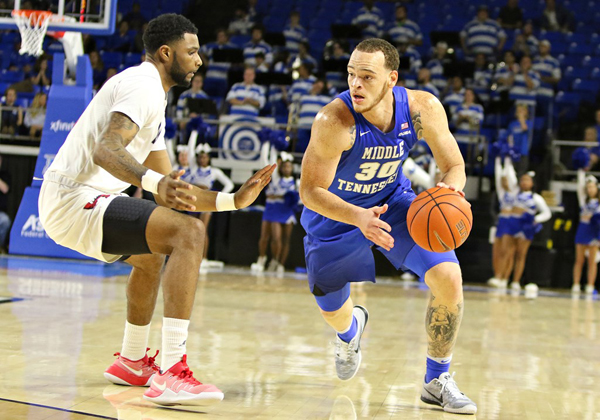 I saw what you did in Portsmouth. Pretty good production—you got close to averaging a double-double. Did you get a chance to talk to any of the scouts?
I met with seven teams, because after you play your first game that's when all the scouts evaluate you and see if they want to talk to you afterwards or not. So, after the first game I talked to about seven scouts over the next two days. It was a lot of good feedback. A lot of the teams were saying they were really interested in my abilities to be a stretch four or a swing player that everyone is looking for now.
I'm kind of surprised I haven't seen you in any mock drafts. How do you feel about that? Do you take offense to that?
As far as rankings and draft boards go, I don't pay much attention to that. Coming out of high school I wasn't highly ranked, so to come here and build the legacy I have here and do the things I've done, it just goes to show those rankings don't really mean anything.
Speaking of your legacy, like the woman that walked by who said she sees your face everywhere she goes, what is that like? Is that kind of weird? Did you ever expect that you would become this icon in Murfreesboro?
I didn't. When I came here I just thought that I would be another regular college athlete. Come here, get my degree, and go work a job somewhere, or something like that. But, to be recognized when I'm out to eat or at a movie, and to have people go out of their way to come up to me to tell me they're proud of me and they're hoping I succeed in whatever I do, that means a lot. I wouldn't be the person I am without the support of Murfreesboro.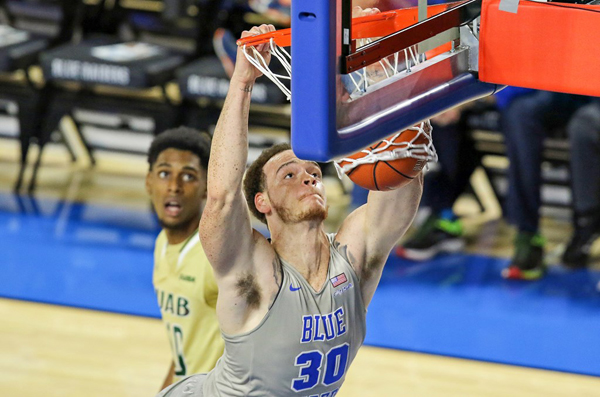 Have you had any time for anything other than basketball over the last month?
Not really. I'm doing two-a-days to prepare for the NBA workouts I have planned for the beginning of May. So, the last two or three weeks have been about getting in the best shape I can be in to put on the best display in Milwaukee.
I did see on Twitter where you got to go to the Special Olympics to see Eli Deml.
Yeah, that was great. He didn't know I was coming, so when I got there I texted his dad to ask him where he was at. He said he was about to run the 60-meter dash, so I just lined up in his lane at the finish line. He took off running and about halfway there he looked up and realized it was me, so he wasn't even worried about the race anymore. He was just trying to get down there as fast as he could so he could hug me. It was nice that I could surprise him after all the support he's shown me.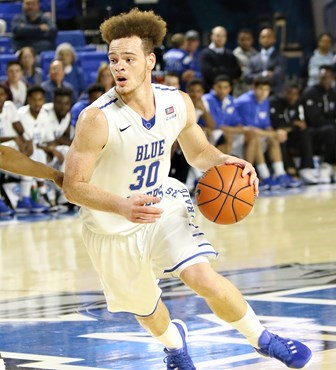 So we know about the basketball player, let's get to know the man. In the four years you've been here, you've had a little time to kill. What has been your favorite place to pass the time in Murfreesboro?
That's a tough one. I go to the movies, spend a lot of time in the movie theater. I try to go to Go USA at least twice a year. I'd like to go more, but I'm so busy with basketball it's hard. I like to hang out in the mall, but I also like to sleep. Just try to stay off my feet.
What is your favorite place to eat in Murfreesboro?
By far it's Cheddar's. There's just something about their spinach dip [laughs]. I get it every time I go!
So, what is something the people of Murfreesboro wouldn't expect from you? Like, maybe a hobby or interest. I asked Darius Johnson this last year and he said he's an artist, and I never would have guessed that.
He's an artist?
Yeah.
I never would have guessed that either . . . I don't know, I'm not really artistic or anything like that . . . I like to go on long walks. I like to just go walk around on the Greenway. I guess that's what it would be.
You were a highly-recruited football player in high school, right?
I had a lot of SEC interest. Vanderbilt was my first SEC offer. Pretty much everyone in the SEC other than Alabama and Florida were talking to me at some point.
You know, there have been a few basketball players, like Tony Gonzalez and Antonio Gates, who played basketball in college, but went on to be great tight ends in the NFL. Anything like that in your future.
Well, I've thought about it. Since our season was over I've talked to four NFL teams. So, I know there's interest in bringing me in for workouts, and seeing how the big guy from VCU just signed to be a tight end with the Colts it draws my attention. But, for right now, I'm just focused on basketball.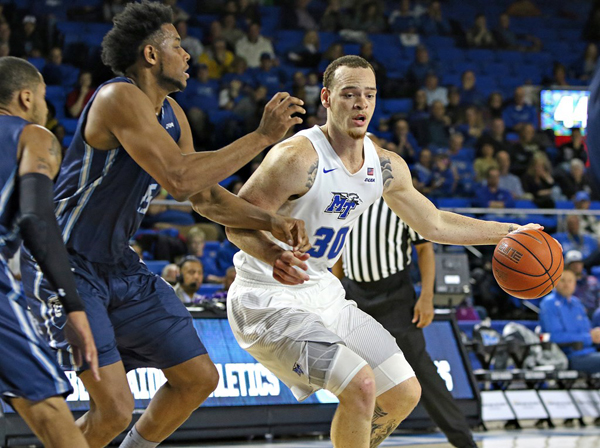 What are five of your favorite songs off your playlist right now?
Man, that's tough! I really like Kendrick [Lamar]'s new album.
Yeah, "Humble." I love that song!
Yeah "Humble" is one of the five, and what's the other one? "Love," I think is another one on that album. "Selfish" by Future, "Ice Melts" by Drake, and "Passionfruit" is another by Drake I really like.
Do you have any old-school jams on there?
Yeah, I got all the Usher on there. Usher's from Chattanooga, so I got all the Usher on there. Who else? I got some Jagged Edge on there too.
So, whatever happens, whether it's the NBA or overseas, you're going to have to leave Murfreesboro behind. So, what will you miss the most about Murfreesboro?
Just the community itself. There's not a lot of places like Murfreesboro where every day someone is going to want to come up to you and talk to you just to ask you how your day was. It definitely doesn't happen in Chattanooga a lot [Upshaw's hometown] as far as someone just asking me how my day is going. So, I think the thing I'll miss a lot is how nice the people are here. I'll be somewhere else, maybe a different city or country. Wherever it is I'll have to learn to adjust where I'm at, but I don't think I'll ever come across a city like Murfreesboro anywhere else.