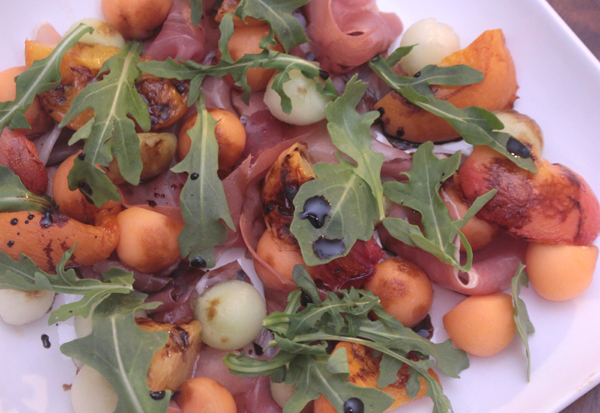 Summertime, for me, is a time of the year in the South that defines a Southerner; it is a time of full sensory engagement: the oppressive heat, the smell of the water across the hot asphalt, fresh-cut grass, the cicada invasions, the smell and taste of summer fruits and vegetables, salads, grilled meats and relaxing outside.
To this day, my mom, Toni McDaniel, and my dad, Scott McDaniel, go the market on Saturday and buy honeydew and cantaloupe, bring it home and wedge it up.
This salad, for me, is summer on a plate. It combines, my favorite elements of flavor—the salty prosciutto, the ripe melons, the sweet roasted peaches and apricots, the tart vinegar and the peppery arugula. So, I hope this brings some simple happiness to a hot oppressive weekend day, outside with your family. Also, if you see my parents around town, tell them thanks for the salad. Enjoy!
Summer Salad of Prosciutto, Melon, Roasted Stone Fruit, Arugula and Balsamic Reduction

Ingredients
2 c. balsamic vinegar
1/2 c. apricot, sliced
1/2 c. peach, sliced
1 tbsp. powdered sugar
1 c. honeydew melon, sliced
1 c. cantaloupe, sliced
3 ounces prosciutto, sliced into strips
1/2 c. arugula
Directions
Slice all fruit into bite-size pieces, or use a melon baller for the melons.
For balsamic reduction: Heat 2 cups balsamic vinegar over medium heat until reduced by about 50 percent. You want the reduction to coat the back of a spoon. This will take approximately 20 minutes. Allow to cool completely before use.
(If you do not want to make the reduction it is available at most grocery stores.)
Lightly sprinkle the peaches and apricots with powdered sugar, making sure to remove any extra sugar.
Roast under the broiler for 6–8 minutes. (You want the fruit to be slightly caramelized and soft. Be careful not to roast them into mush).
Layer each plate with the prosciutto, gently twisting the pieces so they give a little height to the plate.
Scatter the roasted peaches and apricots and the melon over the prosciutto.
Drizzle the reduction, very lightly, over the whole salad.
Finally, layer with as much arugula as you wish and finish with another very light dressing of the reduction and pinch of salt.