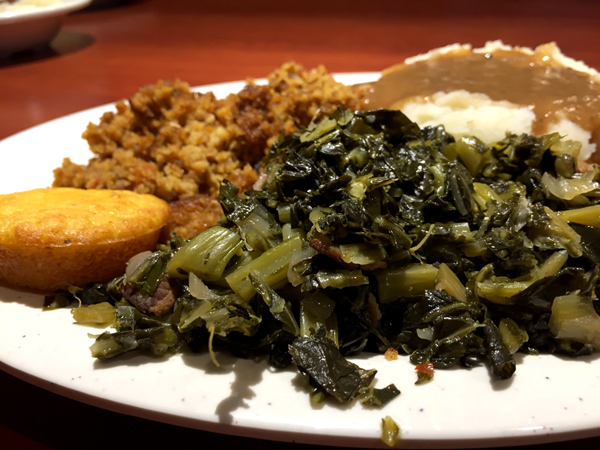 When the craving for brisket, smoked sausage or a pulled pork sandwich strikes, pile up a plate at The Hoof BBQ, a cafeteria-style establishment specializing in Texas 'cue.
Operated since last summer by the McGuire family—father Gary and son Nick (formerly of the beloved O'Possum's Pub)—The Hoof claims a cozy corner spot in the Heritage Square Shopping Center off Northfield Boulevard.
Upon entering the locale, grab a tray and silverware off to the right, skim the giant, artsy chalkboard menu and move on down the line. There's usually a two-person serving team waiting to prepare orders, with one server prepping meat on a cutting board, while the other server loads up bowls of various made-from-scratch vegetables.
The main courses vary between platters and sandwiches, with just a couple dollars difference between the two. For a lighter meal option, plan for the vegetable plate (three hot or cold sides) or one of the sandwiches on wheat; the latter comes with a side of chips or the option to substitute a hot or cold side for a $1.50 extra. Most orders are topped off with one or two piping-hot silver dollar cornbread muffins.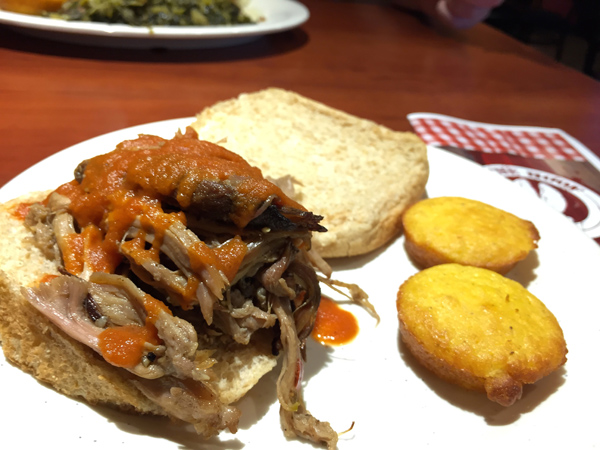 In addition to standards like brisket and pulled smoked pork or chicken (similar pulled pork and chicken to what was served at O'Possum's), the menu features spare ribs, wings and smoked sausage. If a meat-and-sauce sandwich just won't cut it, top off your order with items like jalapeños, sour cream, bacon bits or slaw and reserve some chow-chow for the collard greens. But in true Texas fashion, the pickles and onions are always free.
What makes The Hoof stand out is the wide variety of sauce options, the restaurant offers more than 10 scratch-made dips. From Tangy Texas and Alabama White to Touch O' Heat and Sweet Mild, there's a sauce to suit every spice and regional preference. The platters come with a generous serving for dipping.
"Best brisket in Murfreesboro with a friendly staff to boot," says Google reviewer Steven Shreve. "Their house-made jerk sauce would be pretty epic on some chicken or pork. The greens are Southern-style and delicious."
The sides tread into delicious territory, with hot options like baked and white beans, mac and cheese, mashed potatoes and gravy, cornbread dressing and collard greens seasoned with bacon. And what's barbecue without a cold sides like coleslaw or potato salad? The Hoof delivers in this department, as well.
"The potato salad is a must-try," says another online reviewer Chance Torrez. "Definitely recommended in a highly competitive BBQ market."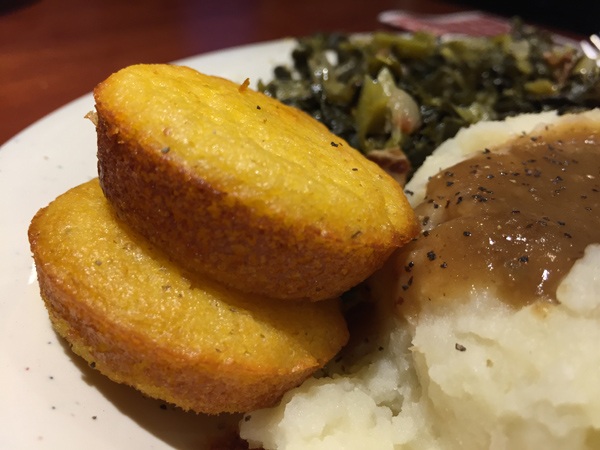 Despite the competitive market, The Hoof is holding its own, having just presented the 3rd Annual Backyard BBQ Festival at Cannonsburgh Village last month. The all-day fest featured a rib eating contest among other activities.
For those with a sweet tooth, I hope you fancy banana pudding, as it's the only regularly served dessert on the menu.
If you're looking for even larger portions to take home, The Hoof offers meat by the pound and family packs (feeds four with two sides), as well as catering options for more than 25 people.
When it comes down to taste, a restaurant's atmosphere is usually the least of my worries (I love stumbling into a great hole-in-the-wall), but the McGuire family operates their business in noticeably clean space with ample booth and table seating. To complete a pleasurable dining experience, there's usually a steady stream of classic rock hits from the likes of Led Zeppelin and The Doors.
I suggest arriving to The Hoof with an appetite; with all the meat-and-two has to offer, it's worth checking out.
THE DISH:
The Hoof BBQ
Address: 352 W. Northfield Blvd. (Heritage Square Shopping Center)
Hours: 11 a.m.–8 p.m. Tuesday–Sunday
Phone: (615) 869-7447
Prices: Sandwich (Pulled Smoked Pork, Chicken, Sausage or Brisket) with Chips—$5.50-7
Brisket platter—$10, Veggie Platter—$8, Whole Smoked Sausage Platter—$12
Brunswick Stew and Chili—Cup/$3.25 Bowl/$5
Banana Pudding—$4