Friday, June 23, marks this year's celebration of the annual workplace holiday of Take Your Dog to Work Day.
Pet Sitters International promotes Take Your Dog to Work Day to demonstrate the unique bond between workers and their pets, all in an effort to help non-pet owners consider adopting a pet of their own.
Here in Murfreesboro this year, Cultivate Coworking will host a special event that will include a photo booth with pet photos being taken by Cynthia Jones, treats donated by various local companies and the presence of staff from Beesley Animal Foundation—offering information and accepting donations—and other area animal related organizations.
The event will take place from 10 a.m. to 4 p.m. on Friday, June 23, at Cultivate Coworking, 107 W. Lytle St.
Organizers invite any local pet owners who cannot make the event to post photos of their pets in the workplace on social media using the #cowoofing and #TYDTWDay hashtags.
For more information on Pet Sitters International, plus the history of the holiday, visit petsit.com.
Here, the Pulse celebrates just a few of the loyal shop animals that you may see around town on Take Your Dog to Work Day and throughout the year.
______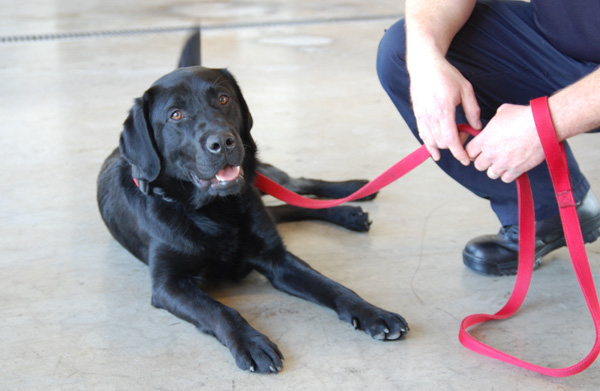 Mikey / Rutherford County Fire and Rescue
Rutherford County Fire and Rescue recently added a new investigator. What's different about this new staff member is that he's got four legs and a wet nose!
K9 Mikey and his handler, Rutherford County Fire and Rescue team member John Wauchek, graduated from the three-week State Farm Arson Dog Training Program in New Hampshire. Mikey is a 1-year-old male black Labrador retriever. Fire Investigator Wauchek and his new canine partner will investigate fires throughout Rutherford County and the surrounding area.
State Farm has been a sponsor of the Arson Dog Program since 1993 with more than 380 teams being trained for law enforcement agencies across the country. The program provides an invaluable tool and resource for arson investigators and their departments.
When Mikey is not on duty, he lives with Wauchek and his family, which includes two Chihuahuas. He's the second arson dog provided by State Farms Arson Dog Program in Tennessee (the other is in Putnam County). For more on the program, visit arsondog.org.
______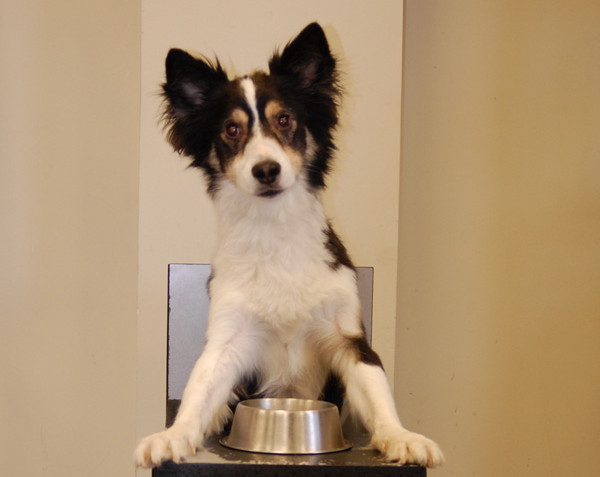 Marley / Parker Brothers Window Tinting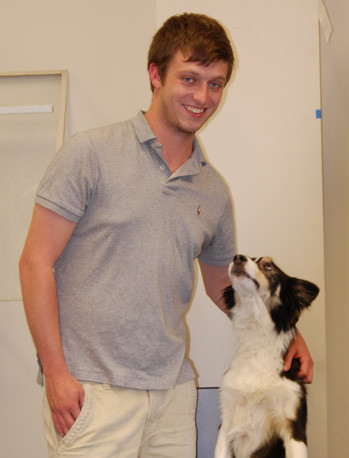 Dylan Parker of Parker Brothers Window Tinting and his dog, Marley, share a very special bond. Marley was diagnosed with megaesophagus when he was born two years ago.
Since Parker adopted Marley about two years ago, they have been inseparable. Marley is an Australian Shepard who has to use a special high chair to eat while standing. Marley also requires higher end food to eat, which is usually Wellness Core brand dog food.
When Parker adopted Marley, doctors told him that he probably wouldn't make it, but he did.
"He used to throw up every day, but now he can go 2–3 months only throwing up once," said Parker.
Marley acts like a normal dog outside of his box, however, and is very protective of Parker. This protective instinct applies to both man and dog; Parker says he has to keep an eye on Marley at all times.
______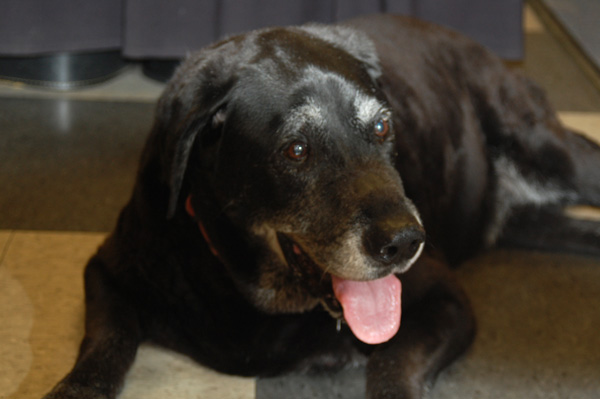 Atticus and Bizness / Media Rerun
Media Rerun is workplace to floor manager Atticus, a 12-year-old black Lab-ish dog.
He's ready to greet the first customer of the day, then he's ready for dinner! Atticus and his human, Media Rerun owner John Judkins, share an April 10 birthday.
Atticus started coming to work with John after he was diagnosed with canine diabetes, to make it easier for John to keep up with Atticus' feeding and medication schedule.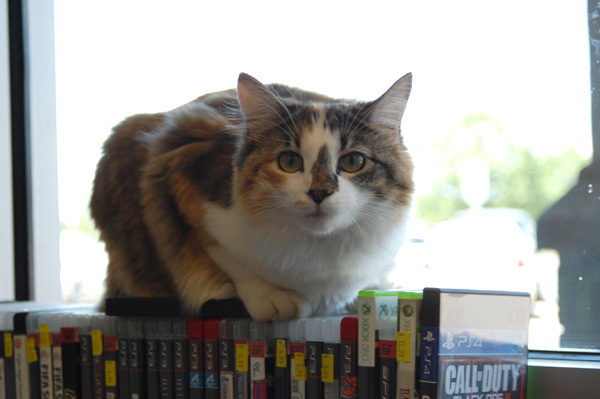 Bizness was adopted from the Nashville Humane Association. When she's cute, she's Biz; when she's a handful, she's Bizness.
Atticus used to hate cats, but after about an hour of spending time with Bizness, he was okay with her. They have a great working relationship!
Visit Atticus, Bizness and John at Media Rerun, 2820 S. Rutherford Blvd. in Murfreesboro.
______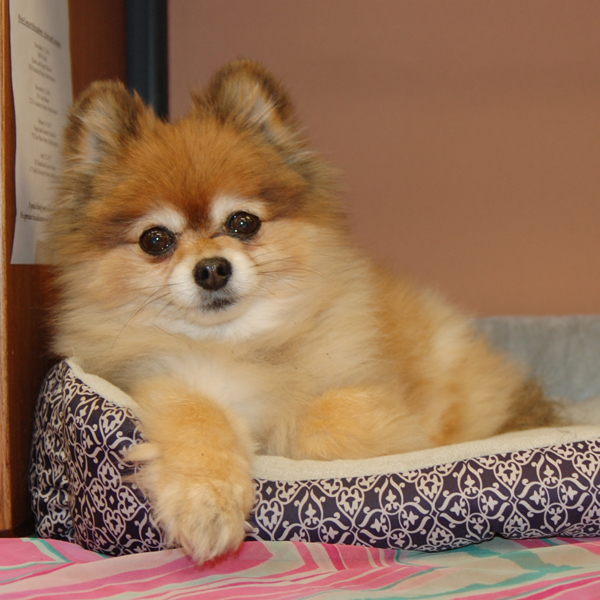 Roxy / Murfreesboro Symphony Orchestra
Roxy, a 10-year-old Pomeranian, is the Murfreesboro Symphony Orchestra ambassador and office dog. She comes to work with her mom, Fran Campbell, regularly and helps with tasks such as delivery of Symphony posters!
Roxy's biggest adjustment has been getting accustomed to Fran's granddaughter, Adi. Roxy has an older sister, Bella, who's retired and spends her days at home. Roxy is quite the celebrity—she was recently featured as WSMV Channel 4's Dog of the Day.
______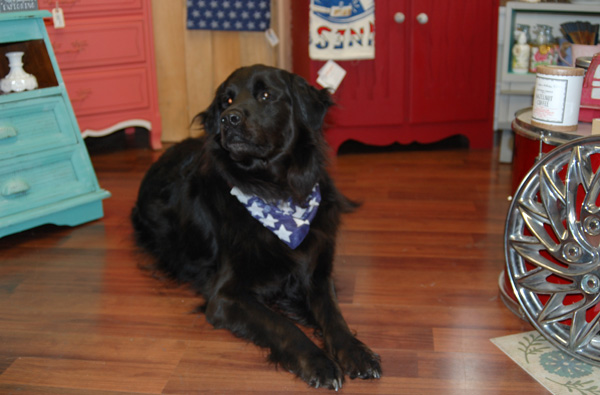 Dudley / Dreamingincolor
Dudley is a 5-year-old (mostly) flat-coated retriever. Dudley works at Dreamingincolor with his mom, Deneen Glidwell. He was adopted from Rutherford County Pet Adoption & Welfare Services (PAWS). Black dogs (and cats) are difficult to get adopted, and Dudley was sick as a dog when Deneen adopted him, but she knew he was her dog! Deneen's love for rescuing dogs comes from her father. She said they've always adopted their pets and always will.
Dudley is pictured in front of a cupboard painted in "Dudley's Bandana," a Dreamingincolor custom color.
______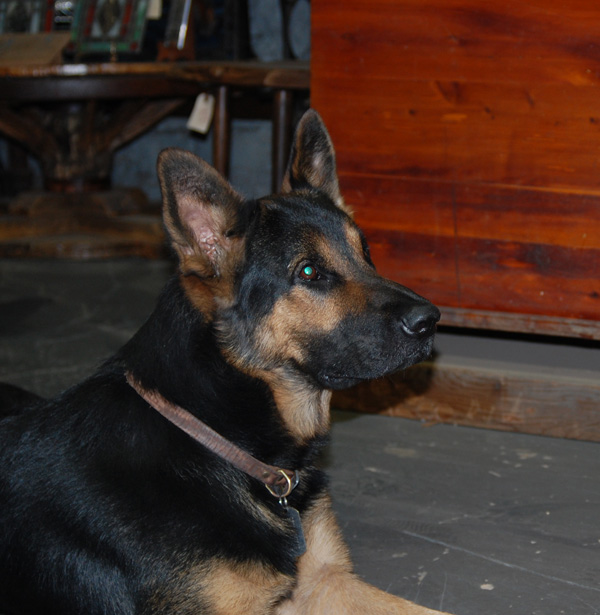 Gus / VNTG
Gus is a 2-year-old German Shepherd, He's one of the most recognizable dogs in downtown Murfreesboro. He can be found overseeing production at VNTG with his dad, TJ. Gus is also a registered emotional support dog.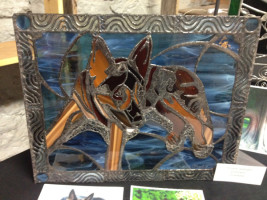 Last year Gus had an ultrasound to pinpoint exactly what was making him so sick, and the resulting discovery was a liver shunt, a condition he was born with. Gus's liver couldn't filter his blood and his blood poisons himself almost to the point of death. Thanks to a loving family and a generous community, Gus received the surgery he needed to live a normal, healthy life at full expectancy.
You can thank Gus's love of treats for the Gus Treats, available next door to VNTG at Simply Pure Sweets.