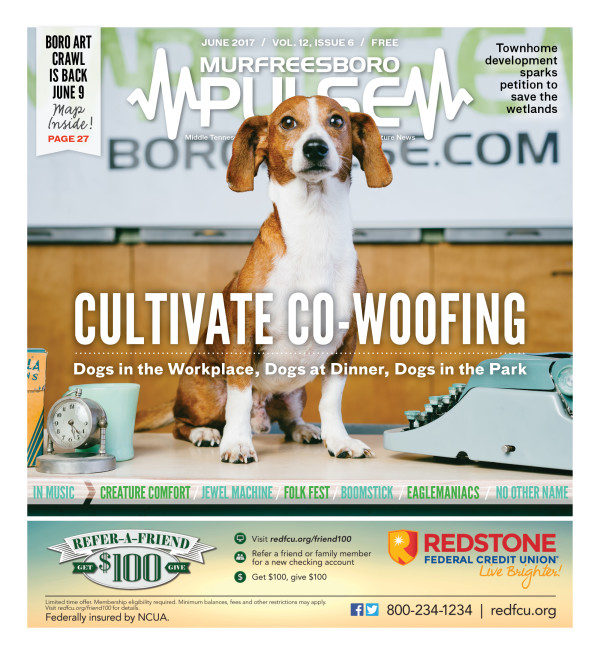 Features:
Road to Bonnaroo
Creature Comfort earns a chanceto play 2017 Bonnaroo set.
Just Drum
Everybody Drum Some hosts drumming event at Old Fort Park for Make Music Day, June 21.
Sunnyside Farms
Area family agriculture business grows in the light of faith.
Take Your Dog to Work Day
Get Bark to Work! Take Your Dog to Work Day is June 23.
Save the Wetlands
Neighbors protest town home development near Oaklands Park.
Miracle Field
Rubberized turf allows all to play ball.
SubacuåticoLocal photographer explores underwater Caribbean community.
In Every Issue:
Events
This Month: June 2017
Balloon Fest, Ride4Tay, Farmers' Markets, and more!
Sounds
Local Concerts
1/2 Watt Astronaut
Jake Leg Stompers
Music Notes
International Folk Fest
Music Tree
Wartrace Music Fest
Album Reviews
Boomstick;
The Jewel Machine
Living
Gardening
Composting and Vermicomposting
Art
Theater
Legally Blonde the Musical
Arsenic and Old Lace
Book
Caius and the Great Troll Adventure
Display
Cultural Arts Murfreesboro completes first community mural
Exhibits
Boro Art Crawl is back, June 9.
Movies
Reviews
Guardians of the Galaxy Vol. 2
Alien: Covenant 
Living Room Cinema
Representation
News 
Navigating the System
Packed DUI and suspended license dockets
Business Buzz
Champy's Chicken; Ichiban; Heart of Vinyl; Cup Pop
Food
Recipe
Summer Fruit Salad with Prosciutto and Balsamic Dressing
Opinion
The Stockard Report
Another Arnold supporter fired.
Views of a Conservative
Some believe murder victim Seth Rich was Wikileaks source.
Money Pulse
Bankruptcy and home financing
Live Exceptionally . . . Well
Staycation
Sports
Blue Raiders
Four have NFL shot