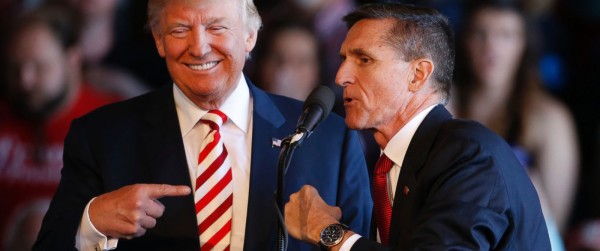 I went home with the waitress the way I always do / How was I to know she was with the Russians, too?
Warren Zevon: "Lawyers, Guns and Money," 1978
The difference between the late Warren Zevon and President Donald Trump—besides the obvious fact that Zevon was a really cool musician—is that our president knew he was talking to the Russians. So did former National Security Advisor Mike Flynn.
But in the world of our president, it's all fake news. What's a little information sharing (even if it's classified) when we're both out to kill ISIS? If you're Vladimir Putin, though, it's great, because it gives you some leverage over the president of the United States.
Less than five months into this presidency, a special counsel is already needed to delve into the Trump connection to the Russians, something once unheard of in American politics. Even Tennessee Sen. Bob Corker, who was nearly Trump's Secretary of State and appeared to cheer his every move, tweeted that the situation was "spiraling" out of control.
On the flip side, Congressman Scott DesJarlais, the first to jump on the Trump bandwagon in 2016, is backing him to the hilt, calling news coverage of the president "complete and utter nonsense" during the recent Republican Reagan Day Dinner.
DesJarlais, who represents Rutherford County in the 4th Congressional District, told the GOP crowd,
"We've always known about the bias lean of the news, but since President Trump's election, these folks are really not even trying to be neutral and partial anymore."
It must be pointed out the president allowed Russian media into the Oval Office the day he opened his big mouth, telling his Russian buddies, "I get great intel" and then giving them the intelligence, according to reports. Of course, U.S. reporters weren't allowed in because Trump hates them and, clearly, because if they'd been in there when he said that stuff they would have gone through the ceiling.
Trump's been trying to control the media since he started campaigning. As a result, he's gotten more coverage, whether positive or negative, than any candidate or president in history. So what the heck is he complaining about?
Calling the daily stories of the world's toughest press people "fake news" is no way to win over the media. Answering their questions, even cracking a few jokes here and there, is the best way to get on the good side of the media. These people have been in the business for decades. They're paid to be cynical, and they can smell a rat a mile away.
If he can't take the heat, he needs to get out of the kitchen.
The Arnold Connection
Having Trump as president is about like having now-convicted felon Robert Arnold as sheriff. It's just one thing after another.
At the federal court sentencing hearing for Arnold, after prosecutors played a TV reporter's interview in which she pointedly asked Arnold about the connection between him, his wife and former administrative deputy Joe Russell to the JailCigs operation at the county jail, Arnold's own attorney said the video showed he was "ill-suited" for the job.
Arnold finally admitted everything he said in the interview was a lie. He told so many lies he couldn't remember which ones he told and when he told them.
Without replaying the entire case, it must be noted Arnold finally acknowledged what he did was wrong when he ran the e-cigarettes operation out of the jail. Now all he wants is for his children to someday accept him as their father.
He has about three more years in a federal pen to think about this hard lesson. The fact he is showing contrition is a big step, and maybe someday he and his children can reunite under better circumstances. The kids sure deserve it.
Heads Still Rolling
The fallout continues, though, from Arnold's reign at the sheriff's office.
About five months after replacing Arnold, Sheriff Mike Fitzhugh fired Capt. Nathan Pagel in late May when a TBI investigation showed he ran background checks on top county officials during the height of the FBI-TBI probe of corruption at the sheriff's office.
More or less, he was trying to dig up dirt on Arnold's political enemies so he could take them down with him. If he was trying to find information on County Mayor Ernest Burgess, he could have found an easier target. Burgess probably doesn't even jaywalk.
The investigation found Pagel committed misdemeanor perjury by lying about the use of a criminal database when he checked the terms and conditions. He was using it to do Arnold's dirty work instead of for real law enforcement purposes, authorities say.
Luckily for Pagel, the statute of limitations had run out and District Attorney Jennings Jones opted not to prosecute. Ultimately, Fitzhugh probably got what he wanted, a good reason to get rid of an Arnold crony.
But the question remains: How many other Arnold supporters will be released from the sheriff's office?
A lot of people there were at his beck and call trying to protect their jobs, even when they knew what they were doing was wrong or even illegal.
Let Our Children Go
The latest bombshell over the treatment of Rutherford County children shows they've been under an "always arrest" policy and a questionable "filter system" used to determine whether they should stay in juvenile detention for days before getting a hearing.
In other words, arrest first and ask questions later. Or, arrest first and don't ask questions later. Just tell them to sit down and shut up.
A U.S. District Court judge (you know, one of those people who violates Trump law) in mid-May ordered Rutherford County to stop detaining children accused of minor violations such as breaking curfew or skipping school. In many cases, the county has been jailing these kids for up to 72 hours and longer if a weekend is involved.
The ruling stems from lawsuits brought over the arrest of children at Hobgood Elementary School who were supposedly involved in a neighborhood fight (two of whom weren't even at the scene of the fight, which really wasn't even a fight) and the treatment of a couple of other juveniles, one of whom was arrested and detained for getting into a fight.
The "always arrest" rule is based on a 2003 order by Juvenile Court Judge Donna Davenport, one the sheriff's office and Murfreesboro Police, until last December, interpreted as ordering all juveniles to be taken into custody whenever a summons was issued for them, the same way as an adult would be treated.
Attorneys for the plaintiffs call it a clear violation of state law, which allows authorities to write citations and summons for children, instead of arresting and detaining.
But let's face it, we've got to get to the root of the problem, and how better than to start slapping the bracelets on these kids at an early age to prepare them for that joyous day when they'll graduate from juvenile detention to 940 New Salem (the county jail).
It's little wonder so many of our young people are gunning each other down, apparently over drug deals gone bad. (We've had three murders in the past month.)
We talk a good game about trying to provide children the education they need to excel in a tough world. Then, when they get into a little trouble we toss them in jail for a few days to teach them a lesson.
Not only is this unconstitutional, it's morally wrong. The juvenile detention center is for hard cases, not young people who make bad decisions.
But heck, when you live in a police state, what else can you expect?