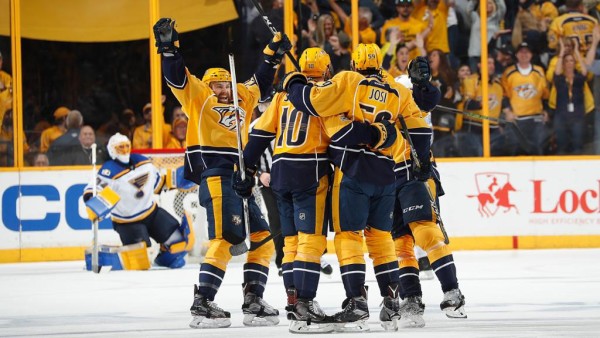 The Train Daddy is back, folks, bringing sports news, life lessons and politically incorrect talk to all the sexy people of Middle Tennessee. I want to start on a very personal level this issue. I was abused! That's right, friends, it's true. Granted, some people attempt to discredit my story, me being 6 feet tall and weighing 240 pounds. They say, "How can such a strong, healthy, good-looking man be abused?" My answer was simple: "Women aren't the only victims; we men have feelings as well."
I was fingered! That's right, I was fingered against my will. I know it sounds awful, but I was at a Predators game a while back and got lost trying to find my way. I ended up in the infamous section Cell Block 303, and they had me. Someone hollered out, "That's the Train Daddy, get him!" Next thing you know I was Fang-Fingered. Years have gone by and I remained quiet, but with the success of the 2017 Predators, I felt it was time to share my story. Some say I am in this for the money, others the fame, but I just hope my story influences others like me. If you have attended a game at Bridgestone arena and left having been Fang-Fingered against your will, you're not alone—share your story! Ha ha, enough of this nonsense, the Train's out the station. All aboard!
Let's break it down, Predator style! The Nashville Predator mascot is Gnash, a blue, saber-toothed stuntman and gentleman. Some say that he sleeps atop the Batman building in Nashville, while others say he's an alcoholic named Steve. Either way, he's awesome! The Predators joined the league in the 1998–99 season, finishing 28–47–7—depressing, you would think, but with a huge win over the two-time defending champion Red Wings, the fans were hooked from the beginning.
In the early years we rednecks didn't have a clue what was going on. We just knew that in NASCAR you cheer and holler for the wrecks, and in hockey you do the same for the fights! The Predators' front office was tasked with educating the fans in those first years.
The city embraced the Preds early on, yet many fans were new to hockey. Former team captain Kimmo Timonen, a rookie back in 1998, recalls the early days. "There was a guy with a microphone explaining the rules. 'That was icing. That was offside,'" Timonen said. "Then there was a couple fights and he would say, 'That's normal, they fight, don't worry about it.'"
In the old days Pete Weber, "the voice behind the Preds," and my man Terry Crisp did an outstanding job teaching new fans the rules and history behind the game. The Predators' front office did considerable outreach into the community and surrounding area.
Hockey in the South, baby! It's been an incredible journey, from the fans being taught the rules to becoming the loudest and most passionate fan base in the NHL reaching unheard-of decibel levels. That's right folks, not even a debated question, Smashville has over the years become the home of the loudest arena in the league, a place where chants and traditions have blossomed. Take the catfish, for example.
Throwing a slimy, giant catfish on the ice is a tradition that is said to have started in 2003. Those dirty Red Wing fans are known for throwing octopus on the ice dating back to the 1950s. Well, in Tennessee we have no octopi, but we have catfish! So tradition is born, as loyal fans stuff 20-pound catfish down their pants, get past security and throw it over the boards to raucous cheers and good-luck superstition.
Even the Tennessee Titans' offensive linemen are getting in on the tradition, as Taylor Lewan somehow got a 30-pound catfish inside the arena and over the boards vs. Anaheim. In case you missed it, they also chugged beers on the big screen for all to see. Don't worry, Titans fans, the responsible leader Marcus Mariota was there as a babysitter just smiling and waving.
This is a politically incorrect article, right? So, I have to call out racism when I see it, and the fish people of Pittsburgh, they're racist! Wholey's Fish Market in Pittsburgh has taken so-called precautions and are refusing to sell the good people of Tennessee catfish during the Stanley Cup Final as Nashville faces Pittsburgh.
"You have to show ID if you want to buy catfish here," co-owner Jim Wholey told the Pittsburgh Tribune. "If you're from Tennessee, we're not selling it to you."
This may constitute a hate crime in Pittsburgh. It's textbook racist; look it up. Webster's defines racism as "denying a man or women fish based on their race/gender/sexual orientation or living in Tennessee." All legal American citizens shall never be denied fish.
Enough of this fishy nonsense! I haven't even talked about the current 2017 Nashville Predators. How did they get to the Stanley Cup Finals? Captain Mike Fisher has been banged up through these playoffs and many believed Nashville was doomed after losing Kevin Fiala and Ryan Johansen, but they persevered, thanks to depth in the ranks. They blew out the favorite, Chicago, they spanked the sad Blues and they proved the Mighty Ducks aren't so mighty. One reason for this success tops all the others, more so than depth or offensively minded defensemen, PEKKA, PEKKA, PEKKA! The best goalie in the league, the 24-year-old Finnish goalie Pekka Rinne, has been MVP of the playoffs—a special player!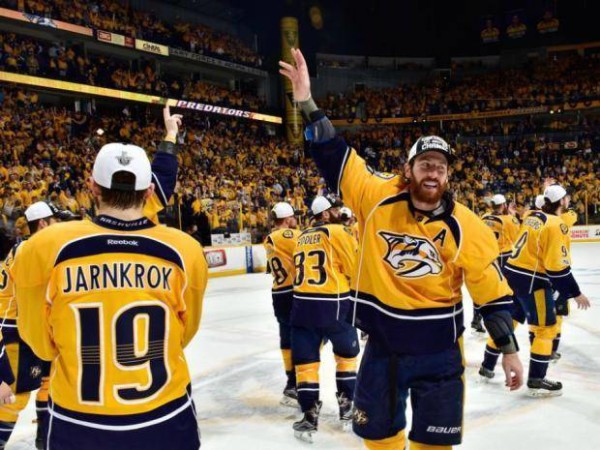 One of my favorite moves was the shocking trade to start this season. Shea Weber, the former Predator captain, was traded straight-up for P.K. Subban, the anchor of the Montreal Canadians' defense. Many still debate the logic of the trade, both players went on to have great 2017 seasons, but Subban brought something new to the locker room: some serious comedy and a promise to Nashville that they were one step closer to a Stanley Cup signing him. He was right!
As of press time, the Predators and Pittsburgh were still battling for the Stanley Cup, with the Preds down a game. I have faith in this team. It really is something special to watch. They have an extra gear no one else seems to have. Nashville, the best defensive team in the league, takes on two of the best offensive players in the league, Sid "the Kid" Crosby and Evgeni Malkin. I predict a seven-game series, with Nashville bringing the cup home and ultimately winning it in Pittsburgh.
"Let's go Preds, FANG FINGERS!"
To wrap this thing up, the NBA sucks. It's predictable. Three straight Cavs vs. Warriors Finals, seven straight finals featuring LeBron James, there's no flavor, other than LeBron flavor, but it tastes bitter. Money talks, and a handful of diva players dominate the league. In the '90s players were allowed to be physical without penalty, so don't ask me "is LeBron better than Jordan?" Jordan played in different times, harder times and better times for the NBA. College basketball has my love. I am a super sports fan, but I despise the NBA.
And Tiger Woods got crunk again; Florida law enforcement officers hit Woods with a DUI charge in May—no alcohol involved and he states it's a medication mix-up. Poor Tiger Woods.
Let's go, Predators! Until next time, enjoy the summer. Choo-choo!