For a serene day-trip escape from the busy routines of town, Foster Falls offers a chance to swim or to simply perch for a while and listen to the waterfall splash into the pool below while observing fish, butterflies, flowers and other non-man-made splendor.
Located outside of Monteagle, about an hour's drive from Murfreesboro, the Little Gizzard Creek drops about 60 feet at Foster Falls into a wide, deep collection of water ideal for swimming in a natural setting.
This area is part of the South Cumberland State Park system, which includes various sites scattered across Grundy, Franklin, Marion and Sequatchie counties, and also encompasses Buggytop Cave, Stone Door, Savage Gulf, Sewanee Natural Bridge, Grundy Lakes and other notable natural features of southern Tennessee in the shadow of Monteagle Mountain.
For those up to the challenge of a lengthy hike, the 12-mile Fiery Gizzard Trail connects Grundy Forest to Foster Falls.
But if visitors don't want to expend quite so much time and energy prior to arriving at the waterfall, they can pull into a parking area just a couple hundred yards from the top of the waterfall.
After an easy walk, much of it down a boardwalk, to a view overlooking Foster Falls, a trail descending to the base begins.
Considering such a notable drop is traveled in a short distance, the trail is not extremely difficult for able-bodied fans of waterfalls and forests. Stones have been arranged into a staircase throughout much of the trail. Upon reaching the bottom, the pool is the reward on a hot day.
This secluded, scenic spot does not host nearly as many tourists as Fall Creek Falls and other popular park destinations, and its location far from urbanized areas means very few local residents in the area. So on a weekday afternoon, a Foster Falls visiting party may have the entire space to themselves for a bit.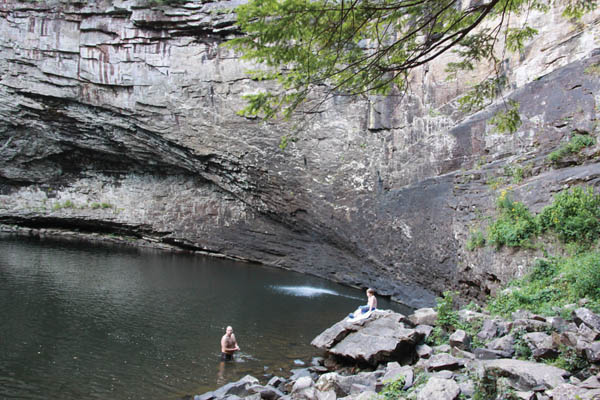 The big swimming hole is approximately 150 feet wide and well over 10 feet deep throughout much of that width, offering ample room for swimming exercise.
Rock climbers also enjoy the Foster Falls site in Marion County, just south of the small town of Tracy City. The craggy rock face encircling the base of the falls offers lots of spots to challenge climbers (with proper training and gear, of course). Some involved with Murfreesboro's Ascent climbing facility have been known to lead climbing expeditions to Foster Falls.
The area at the base of the falls sits way down in a hole, so the evening shade comes much earlier than up on level ground. Arrive early in the afternoon if your group wants a few hours of swimming time in the sun before it sets over the trees up high on the cliffside.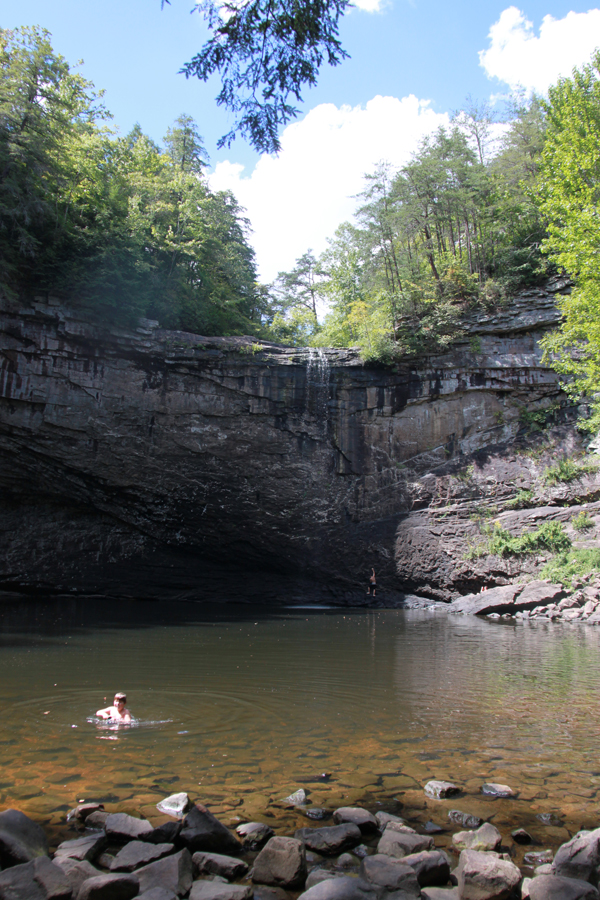 Lots of campsites sit scattered among the South Cumberland Parks area for outdoorspeople seeking an overnight adventure in the secluded Tennessee hills.
And there may just be a sweet spot of time in early October when the leaves have changed to their brilliant fall colors but the midday sun still warms up sufficiently for a swim.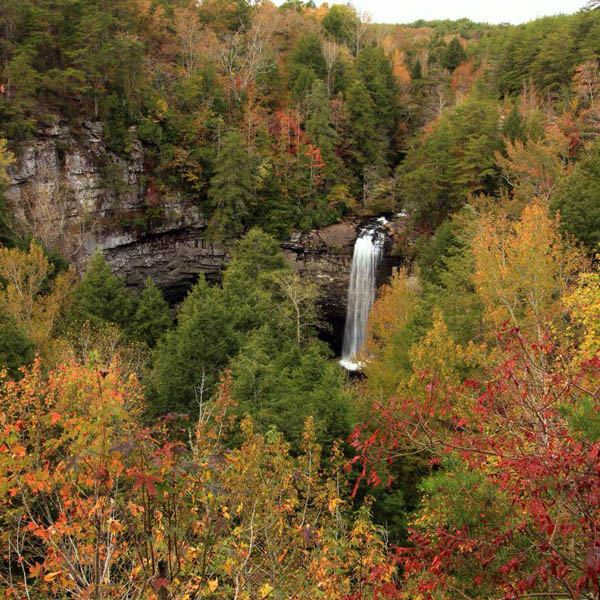 To get to Foster Falls, take I-24, exit 134, and travel 14 miles on Highway 41 through Monteagle and Tracy City; Foster Falls Road will be on the right.
For more information on camping at Foster Falls, or on the many other Tennessee State Parks, visit tnstateparks.com.