When walking into Fresko Pops and Eatery, customers will face a tough decision: start off with an authentic Mexican torta or go straight to dessert.
During these hot and humid summer months, there's no better sight than a freezer filled with chilled popsicles and ice cream tubs. At Fresko, which opened in early 2016, owners Erick and Griselda Moreno-Onate go one step further with a host of specialty Mexican frozen treats and lunch options, in addition to ice cream, sorbet and milkshakes.
The inspiration for opening Fresko Pops and Eatery goes back to Erick's upbringing in the Mexican state of Guanajuato, where he says he enjoyed homemade ice cream, elotes and other snacks—or antojitos—with his friends and family. Now, Moreno shares his love for cold treats with the Murfreesboro community.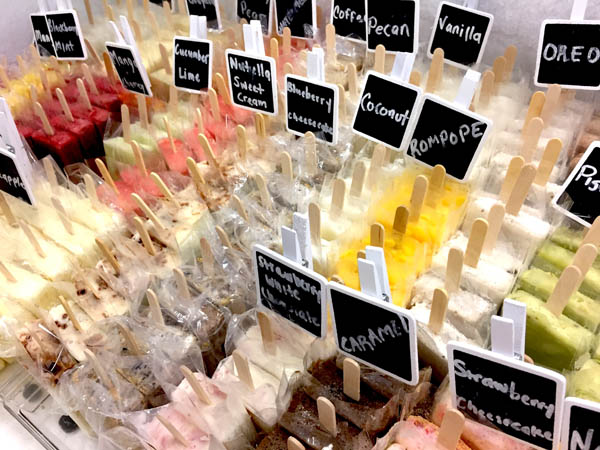 Paletas, or popsicles, are the main attraction at Fresko. With more than 30 dairy and nondairy flavors to choose from, they are made with fruit or other fresh ingredients and without artificial flavors or preservatives. The paletas are individually wrapped inside a sliding glass-topped freezer for easy viewing and choosing.
Popular water-based pops include mango-habanero, watermelon and blackberry mint, while Nutella sweet cream, strawberry and blueberry cheesecake and Oreo dazzle on the dairy side. Some flavors can be dipped in chocolate, drizzled with syrups and tossed with various toppings like cereal, sprinkles or nuts.
Mango, along with other fruits, is crafted into several desserts, including paletas, sorbet, mango on a stick and mangonadas (sorbet, lime juice, mango, chili powder and chamoy sauce). If you're feeling fancy, the pina loca is a whole pineapple filled with cucumber, mango, tamarind stick (a sweet and sour candy) and topped with chili powder, lime juice and chamoy sauce.
To satisfy salty cravings, an elote is corn on the cob covered in mayonnaise and topped with chili powder and cotija cheese. Rotating flavors of agua fresca—purified water mixed with fresh fruit—are available daily and have previously included horchata, cucumber lime, pineapple cilantro and blueberry mojito.
For those who can save room for dessert, Fresko offers several lunch sandwiches ranging from a classic BLT or club sandwich to Mexican tortas (ham, turkey, chicken or pork) with cheese, toppings and homemade spreads (jalapeño, chipotle and poblano).

So as summertime temperatures linger into the next few months, expand your palate with cold treats at Fresko, whether it be an avocado or prickly pear paleta, green tea ice cream or even a pineapple overflowing with fruit.
What to know before you go:
Additional Mexican specials are available on Sunday. Recent items include tamales, albóndigas (soup with meatballs) and shrimp or beef soup.
Moreno is always trying new items, so check the store's Facebook page for daily specials and flavors.
Ingredients are gathered from local farmers, markets and bakeries, such as sweet bread from La Salvadoreña Bakery in La Vergne.
Because each item contains fresh ingredients, food is always made to order. Wait times are reasonable even with a couple families in the store at once.
______
The Dish
Fresko Pops and Eatery
Paletas: $2.50–$2.75; Mangonada: $4.50; Ice cream: $2.50; Sorbet: $1.95; Elote: $2.95
132 St. Andrews Dr.
10 a.m.–9 p.m Sunday–Thursday; 10 a.m.–9:30 p.m. Friday–Saturday
Find Fresko Pops and Eatery on Facebook