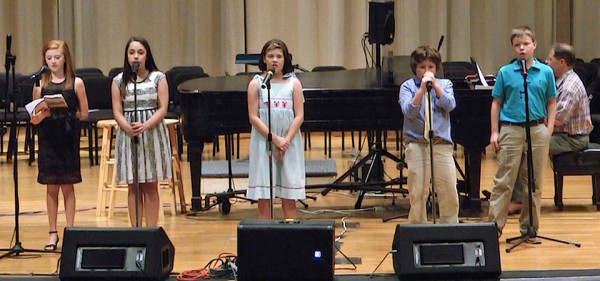 This past April, Ben Speer, the man who revived the Stamps-Baxter School of Music, passed away at 86. This July, the school is preparing to pay tribute to him, ensuring that his legacy will live on through the school.
Born June 26, 1930, Ben Speer was raised in a family of musicians that later became a professional group known as The Speer Family. According to Stephen Speer, Ben's eldest son and the current president of the Stamps-Baxter School of Music, "As soon as the kids in that family learned to talk, their parents wanted them to talk on pitch."
The Stamps-Baxter School of Music was founded by V.O. Stamps and J.R. Baxter Jr. in 1924, not long after they had established the Stamps-Baxter Music and Printing Company. The company published many Southern gospel songs that would be taught to the students of the Stamps-Baxter School of Music until the mid-1950s.
Speer revived the School of Music in 1986, continuing the teaching of Southern gospel music and shape-note singing. According to Stephen, Ben was hired by the Zondervan Corporation by general manager Bob Jones Jr., who wanted Ben to restart the Stamps-Baxter music schools. Ben followed through, and rekindled the school at Belmont, later moving to Trevecca in 2000 and Middle Tennessee State University in 2009.
The Stamps-Baxter School of Music's upcoming session, which starts on July 8, will be dedicated in memory of Ben Speer; on July 15, the school invites all former students to participate in the Stamps-Baxter Alumni Choir, performing a grand finale concert.
Stephen hopes that the tribute will serve as a way to keep his father's memory alive by "reminding people of the great songs he sang and made popular." Stephen also affirmed that another way to preserve Ben's memory is to continue the school and "teach people to strive for excellence as he did for his entire life."
Despite the school's Southern gospel teachings, students of all faiths can take part in the sessions.
Stephen believes that his father best expressed his hopes for the students of the Stamps-Baxter School of Music in the school's mission statement: "This school is dedicated to the furtherance of Southern gospel music and to raising the standard of musical excellence in an art form. We believe the way to do this is to offer a well-rounded course of study. We want our students to be able to read it, write it, sing it and perform it. With a comprehensive understanding of music theory, where both live and recorded performances will improve."
The 2017 Stamps-Baxter School of Music will be held July 8–15 at the MTSU Wright Music Building; to register or for more information, visit stampsbaxterschool.com.