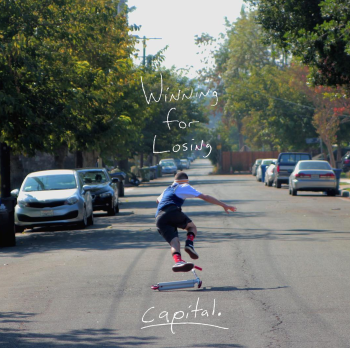 Tyler Evanston Moore released a couple solo R&B/pop EPs locally before re-launching his career to pursue his true passion: hip-hop. The MTSU grad—working under the pseudonym "capital."—made the move out to Los Angeles and recently delivered a fresh project, Winning for Losing.
The six-song EP is barely over 20 minutes long, which is just long enough to get into your head and not wear out its welcome. With a combination of a killer flow, quirky lyricism and a wide array of production choices, capital. succeeds at economically hooking the listener.
The single "Pillsbury Dough Boy" starts Winning for Losing on its highest note. In a lively performance, capital. floats effortlessly over the simple production, reminiscent of hip-hop's sunnier moments in the '80s and '90s. Towards the end of the song, the production is changed up, and he levels himself with the listener, taking a more down-to-earth vocal tone that causes you to zone in.
Another highlight is "Wasted." The beat is grimy and features some fuzzed-out bass that sets the stage for some more biting commentary from capital. It's in these more acerbic moments that he shows signs of the outcast sentiments shared by Eminem and Odd Future early in their careers, albeit much less violently than his famous forebears.
That track features another switch-up at the end to keep it fresh. Its guitar-heavy production is a throwback to the rock-influenced tracks in the Beastie Boys' and Childish Gambino's catalogs.
Tyler starts to flex his voice on "Supper" and "Win or Lose." Being as the singing skills aren't shown in the preceding tracks, this comes as a welcome surprise to a new listener, especially since his voice is so smooth. He especially gives off Justin Timberlake vibes on "Win or Lose."
He does move a bit far into pop territory on "Childhood." It's a touching personal song about giving up your past to get through tough times and build for the future, but it does feel a bit out of place next to rap-centric cuts.
Overall, capital.'s first release mixes a variety of influences into a extremely palatable collection. Its replayability, fun tone and touches of vocal talent make Winning for Losing a strong step in this new direction.
capital.'s Winning For Losing is available on iTunes and Spotify.