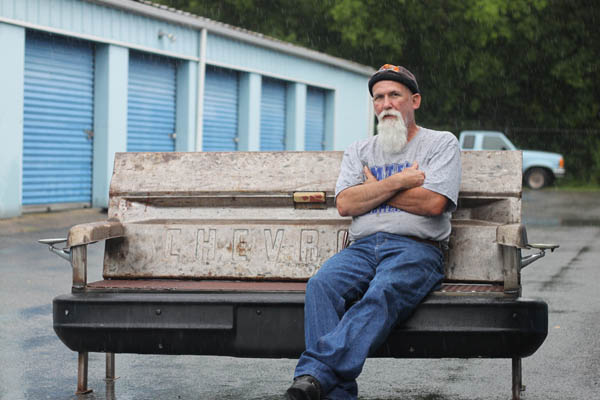 Murfreesboro artist and entrepreneur Charley Davidson looks to preserve items of the past by turning pieces metal scrap into art for all to enjoy.
Davidson looks for items from past decades which people have thrown out when they no longer need them; he started Rustorcreations by Charley Davidson seven years ago when he moved to Tennessee after the birth of his first grandson.
"I was working as a touring comedian and entertainer and I got tired of that life," said Davidson. Davidson needed something to do after he moved to Tennessee, and has always appreciated the old materials that many people tend to throw away.
One of the first metal art pieces Davidson ever made was a skeleton with a shovel for head. He created this because he has always liked Harley-Davidson motorcycles, which commonly can have shovelhead or panhead engines. In addition to shovelhead skeletons, Davidson also has made some skeletons with frying pan heads. Davidson has modified the formula for these skeletons over time; originally making these with a straight backbone, he has since experimented with using a coil spring backbone capable of moving when the wind blows. On one skeleton in particular, Davidson used an old saxophone to give off the appearance that the skeleton was playing music as he swayed.
"Our history is going away. I take the pieces and try to turn them into furniture or aesthetic art. Something that just preserves the history of the stuff that they aren't making anymore," said Davidson.
Davidson's mission statement on his website reiterates his desire to preserve the history of hard-to-find items.
"I started this business out of my passion for saving old Americana by restoring, refurbishing or repurposing it into something useful whether it be static art or functional furniture," according to his statement. "It breaks my heart to walk through the small appliance department of Wal­mart and hear toasters screaming 'Help me, I used to be a '57 Chevy.'"
While Davidson has made many different art pieces for many different people since he began Rustorcreations, his current project may just be his most ambitious. Davidson is currently building a house on land he owns and plans for every piece of furniture to be made out of the pieces he has collected and made. Davidson plans on not only forming a sink out of an old washer/dryer piece but also plans to turn the bed of an old truck into his bed frame.
Only a small percentage of the items Davidson creates are actually special requests. Most are ideas that popped into his head, many inspired by pieces he finds at a junkyard or otherwise stumbles upon.
"When I'm building a piece and it's not for somebody, I build so that if I'm stuck with it, I'm not actually 'stuck' with it. I make sure it's something I like," said Davidson.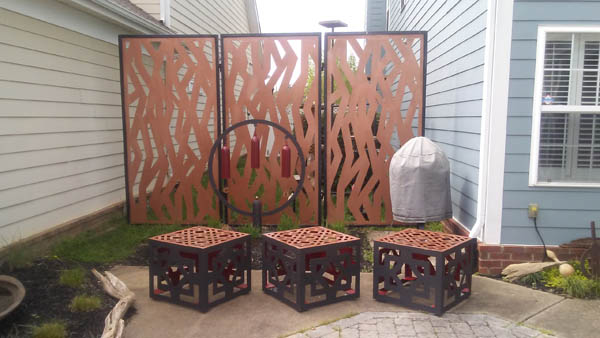 When a piece has been sitting for a long time and Davidson hasn't been able to sell it, he sometimes will simply give it away. He doesn't always know the people he gives it to, but at times it just "feels like the right thing to do."
Most of the time, when a piece catches his eye he already knows what he wants to do with it. Davidson recalls several times when he would find old grass shears and use them as the head for the roadrunner pieces he has created in larger quantity than most of his works; another item the artist has produced multiple times are owls made from horseshoes.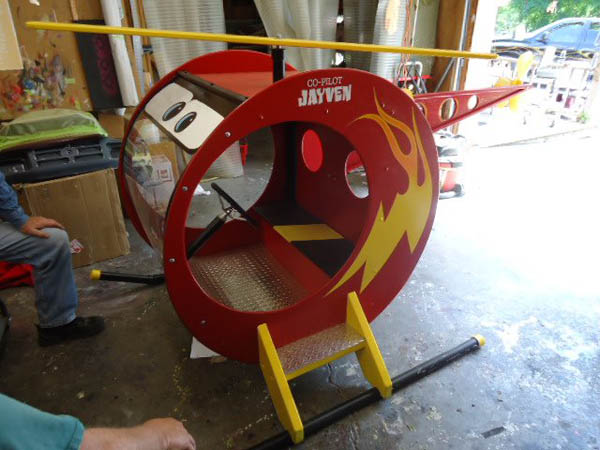 As a business, Davidson said the market can tend to fluctuate. The first time he went to the art and craft show in Bell Buckle to sell his items he made $1,200, he said. The next time he barely made enough to pay for the gas and booth fee.
Davidson is a one-man operation and isn't able to make a living just selling the sculptures. He also works maintenance jobs, though one of them is at a storage complex where he can also work on his sculptures. Davidson said he plans on purchasing an airplane hangar where he intends to set up shop for creating and storing his tools, his plasma cutting table and his creations.
For a look at some more of Davidson's creations, go to his website page at rustorcreations.com. Davidson also has some pieces on display at The Rusted Tulip, 3863 Franklin Rd., Murfreesboro.