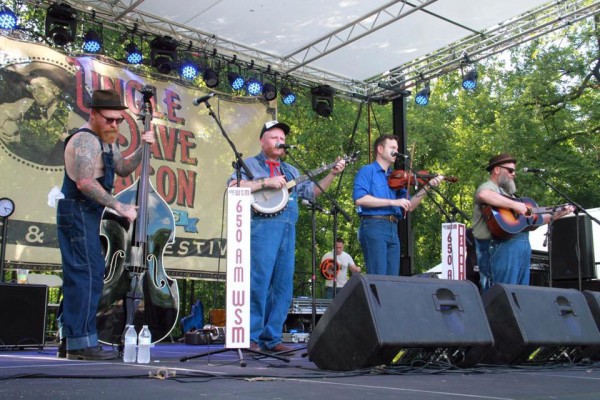 Middle Tennessee-based string band the Glade City Rounders have devoted more than 10 years to sharing the stylings of their musical luminaries, from hometown hero Uncle Dave Macon to Mississippi jug band Cannon's Jug Stompers.
Richard "Squirrel" McLain (banjo, vocals, kazoo), William See (fiddles, vocals, kazoo, harmonica) and Josh Smith (guitar, jug, vocals)—three of the four current members—formed the Glade City Rounders out of a deep appreciation for old-time banjo, string band and jug band music, especially that derived from Tennessee.
Originally a trio, McLain, See and Smith found familiar musical chemistry in upright bassist Randy Hill, who was in town for Uncle Dave Macon Days a few years ago, and soon welcomed him to the family. With the addition of Hill, the Glade City Rounders went on to release their sophomore album, Don't Get Weary. This summer, the band is in the midst of festival dates while working on a third album expected in early 2018.
The group's passion for old-time Southern recordings, paired with each member's musical mastery, breathes new life into traditional songs, some more than a century old. When seeing the Glade City Rounders perform, there's one thing for certain: feet will stomp, hands will clap and a good time will be had.
We spoke with Josh Smith about the band's recent set at Bluegrass Underground, their musical influences and what they are working on now. Look out for the Rounders at Muddy Roots Music Festival (Cookeville), Hoedown on the Harpeth (Kingston Springs) and other area events.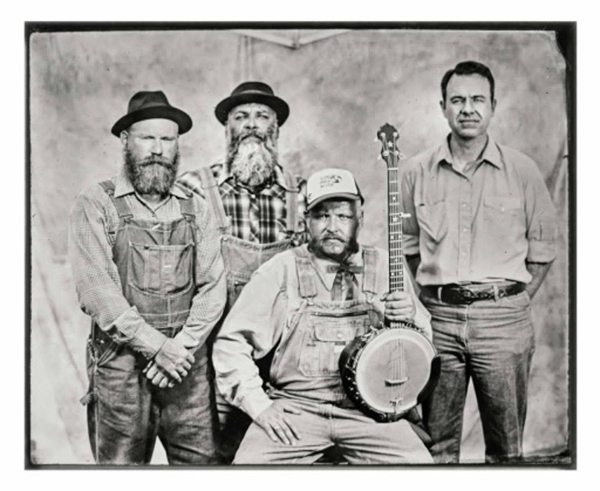 Murfreesboro Pulse: To start things off, can you tell me about how the Glade City Rounders came to be?
Smith: A little over 10 years ago, Richard McLain, William See and I met at Breakin' Up Winter, a traditional music event hosted by the Nashville Old-Time String Band Association at Cedars of Lebanon State Park, near Gladeville, Tenn. William and I were already in an old-time band called the Gallinippers, but shortly after, the band went on hiatus, and the Glade City Rounders formed. We met Randy Hill about three or four years ago at Uncle Dave Macon Days; he played some bass with us backstage and we were instantly in awe of his playing style. Shortly after, we made it official and added him to the roster. We felt like Randy completed our sound and he was an all-around good fit.
A lot of Glade City Rounders' recorded music includes reimagined covers of older material. How do you choose which songs to record, and how do the songs translate from the original to fit the band's style?
We listen to a lot of old recordings from 78 rpm records, and we have a real love for these artists and songs. Some songs just stick out to us, whether it be the melody, the lyrics or overall feel of the original recording. Normally, one member will present a song at rehearsal. We'll listen to the original, and then we spend the next week or so thinking about how we can arrange the song. Our goal is to capture the energy in which these recordings were made originally, while still putting the Glade City Rounder spin on it. While some of the songs were recorded 80 or 100 years ago, you can still hear the high level of enthusiasm and musicianship in these recordings, through all the hisses and pops.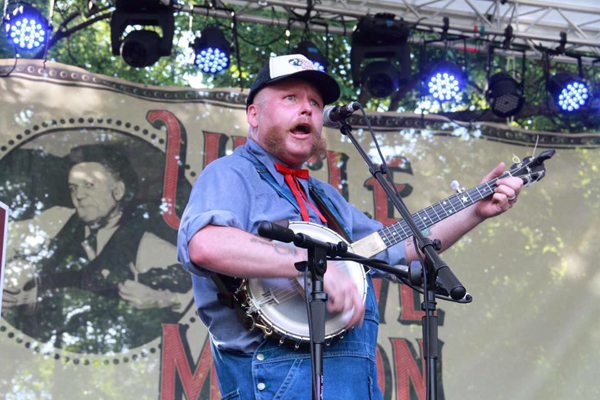 The group has performed at many old-time/bluegrass festivals like Uncle Dave Macon Days, Muddy Roots, and this year at Hoedown on the Harpeth, Colorado's High Mountain Hay Fever and others across the country. What do you enjoy most about these festival settings?
We love performing at festivals, mostly due to the fans and people we meet there. At these festivals, the attendees are normally music lovers that are truly interested in the music. It's a lot of fun to be able to play the music we love and expose fans to musical styles that they might not normally get to hear. At most of these festivals, an old-time string and jug band is something you do not see often. I have so many people come up after shows to tell me they have never seen a jug band or anyone play the jug in their life. This would have been very common about 90 or 100 years ago, but now, it's just become a lost art. One of the biggest rewards is introducing this older music to ears that might not have heard it otherwise and finding that folks love it as much as we do.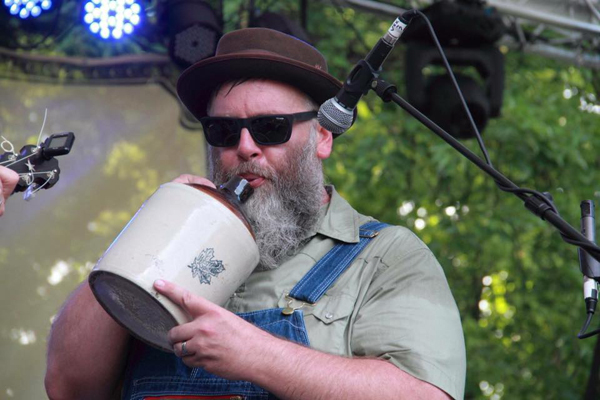 Also on the subject of Uncle Dave Macon Days: Uncle Dave Macon and his Fruit Jar Drinkers are cited as one of the band's musical influences. Can you talk about Macon's influence, as well as other artists you all enjoy?
Uncle Dave Macon is one of our local hometown music legends. When we all met, all those years ago, one thing we had in common was a love for Uncle Dave Macon's music and his performance style. Although none of us ever saw him perform live, we have listened extensively to his recordings and studied everything about him. [McLain] embodies the spirit of Uncle Dave Macon better than anyone I have ever seen. His banjo playing and singing is exactly what I would imagine an Uncle Dave performance to be. Besides Uncle Dave Macon, the Glade City Rounders have been highly influenced by musicians and bands like the Skillet Lickers, Gus Cannon & His Jug Stompers, the Memphis Jug Band, Charlie Poole, the Weems Family, Dr. Humphrey Bates & His Possum Hunters, Fiddlin' Arthur Smith and more. Other artists that we have also been influenced by include Buddy Ingram, Charlie Acuff, Ed Long, Rob Pearcy and the Stillhouse Reelers.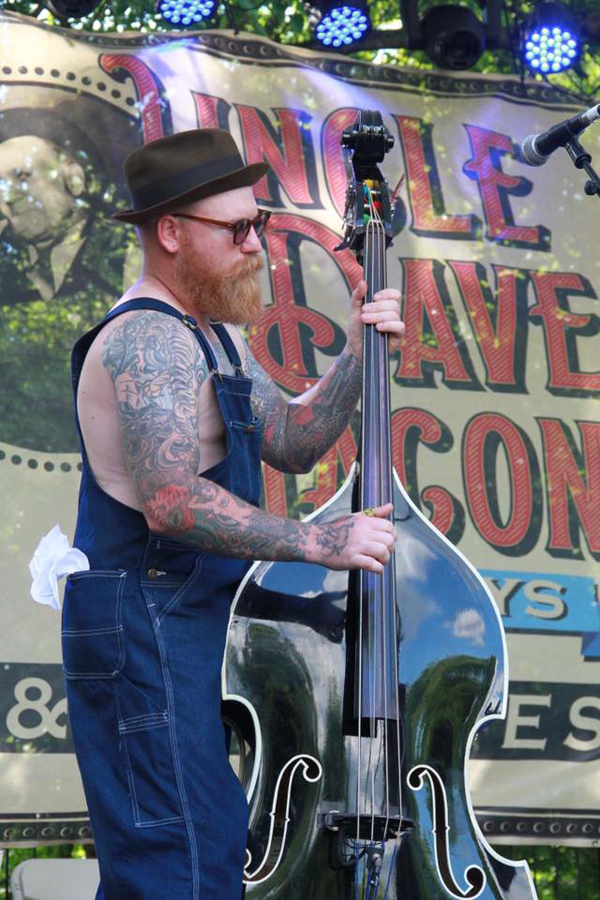 The Glade City Rounders very recently opened for Larry Stephenson at Bluegrass Underground. How was that experience?
It was an amazing experience and something we always wanted to do. The venue is unique in itself, and the lighting and huge chandelier set the mood very well. Besides that, the team that organizes Bluegrass Underground is a class act and creates a first-rate experience for the fans and the artists. Since we do play a lot of outdoor festivals, we really appreciated being able to play in an environment that was 55 degrees all the time, when it was a steamy 95 degrees outside. We also had a great sense of pride to stand on the stage where so many great musicians have performed. The sound was perfect, and it was packed with a great crowd.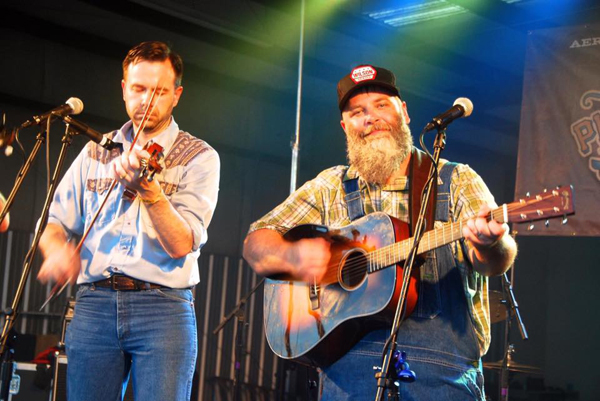 I also really love the creativity that went into the music videos for "Georgia Crawl" and "Leavin' Home." Can you talk about the creative process for these two projects?
Well, we usually have a song that just seems to have a good story line that we can envision playing out in our mind. [See] normally starts the rolling of this creative ball when it comes to the music videos. He originated the idea for the song "Leavin' Home," and drew out the storyboard himself. On both of these video projects, we enlisted the help of Nashville artist Casey McBride for the filming and production, and he really helped make our ideas come to life. We wanted them to be somewhat humorous and representative of our band. Since our shows are high-energy, fun and playful, we wanted to convey that feeling with our music videos. There will definitely be more music videos to come from the Glade City Rounders in the future.
Looking ahead for the Glade City Rounders, do you have any new music or projects in the works?
We have some really exciting projects in the works. Our third studio album is about 75 percent complete and will be finished in late 2017 and ready for release in early 2018. We believe it is our best album yet. There has been talk of a third official music video, but we are just starting to put ideas together for this.
~~~
Keep up with the band on Facebook at Glade City Rounders or at gladecityrounders.com.