When Stephen Vire was a boy growing up in rural Kentucky, he often worked the garden, he said. Not because he considered it a fun pastime, but because it was part of his household chore assignments.
"My parents told me, 'If you want to eat, you'll help out in the garden,'" Vire said.
A few decades later, after Vire and his wife, Diane, decided to exit their computer hardware repair business in Nashville after operating it for 25 years, they purchased some land in Rockvale, not far from Highway 99.
"We had to de-stress," Vire said.
Now, the Vires not only do plenty of gardening, they keep goats; Stephen often sports a shirt that proclaims "I like to play in the dirt," and they pickle and jelly up a storm in the kitchen in their home preparing jars of pickled cucumbers, pickled beets, pickled eggs, hot sauces, jellies and relishes for fans of their Somewhere Place Else Farm brand.
"We thought we'd be retired, but we're working harder than ever," Stephen says with a laugh. "We were intending to garden just for us.
"We were growing cucumbers out the ying-yang," he continues, bragging on his wife's Sweet Lime Pickles, based on an old family recipe (and containing lime as in calcium oxide powder, not the citrus fruit).
"The lime gives it a nice crunch," Vire said.
A friend encouraged the couple to produce some of their fine products to sell, and in 2010 Somewhere Place Else Farm became one of the first vendors at the Murfreesboro Saturday Market.
Vire said this move was partially to prove his friend wrong and shut him up about how the Vires should be selling to the public, but customers enjoyed the products, and demand grew.
"So we went crazy and built a commercial kitchen," Vire said.
This summer, Somewhere Place Else Farm is producing 300 to 400 jars per week of pickled items and jellies.
They pickle asparagus, Brussels sprouts, okra, baby corn, green beans and other vegetables. They now pickle about 150 dozen eggs each month for their customers, and season them with various levels of spice. They produce strawberry jelly, blackberry jelly, moonshine jelly, watermelon jelly, plum jelly and other flavors. Somewhere Place Else has created a wonderful "sweet heat" Wicked Dripping Sauce, a golden, syrupy concoction of sugar, jalapeño juice and other seasonings (try it on fried chicken!), a watermelon salsa and an incredibly dangerous Hell on Earth hot sauce (just a dab'll do you).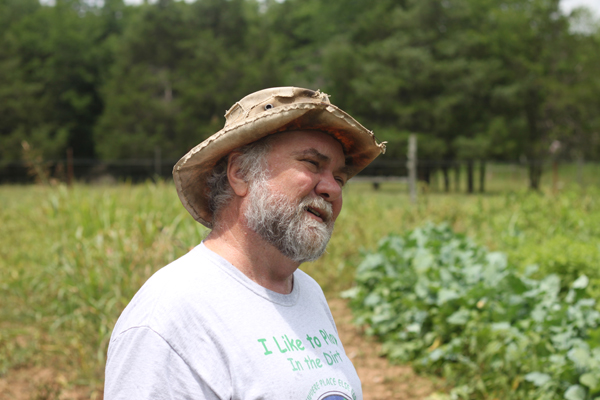 Many of the ingredients used in the Somewhere Place Else jars comes from Middle Tennessee, much of it from other farmers at the Murfreesboro Saturday Market.
"About 60 percent of the produce we pickle is local," Vire said.
He says it should be even higher than that, but knee problems this year have interfered significantly with his own 2017 gardening plans.
"Okra will grow here like crazy," says Vire, already scheming for next spring.
Find the fine Somewhere Place Else products at the weekly Murfreesboro Saturday Market, the monthly Nashville Flea Market or at Sunshine Nutrition, Broad Street Beverage, Epps Mill Market and other Murfreesboro area retailers.
While most familiar with the Somewhere Place Else brand know about the jarred goods, the Vires also raise goats at the 23-acre farm—they currently have about 30 fainting goat/bush goat mixes; they also raise Great Pyrenees dogs—a country music superstar showed up on the Vires' doorstep not long ago and ended up taking home two of the massive dogs.
While the fainting goat is now primarily a novelty breed, Vire says, his animals do have their usefulness. The goats "trim the fence rows and keep the fields," while Chuy and the other Great Pyrenees keep the coyotes away.
For more information on Somewhere Place Else Farm, visit somewhereplaceelse.com.