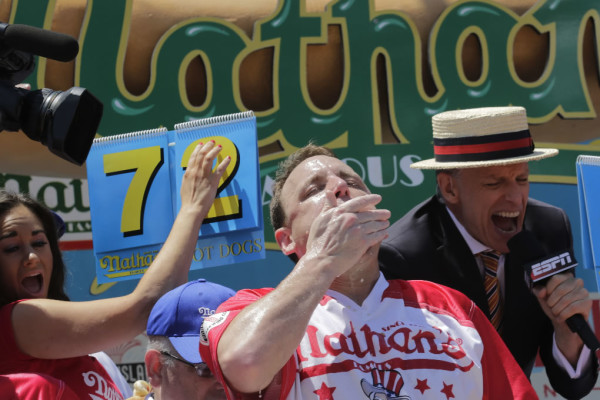 The Train Daddy is back, bringing sports news, life lessons and politically incorrect talk to you, the loyal readers of Middle Tennessee. July is the month of the wiener. That's right, no discrimination, each one of us loves small weiners, long weiners, crooked weiners, cute little smoky weiners, and even mutilated, deformed weiners. They are all delicious and we as Americans would never discriminate against the weiner, considering we eat nearly 200 million of the tasty weiner dogs on America's Independence Day!
I wish I were an Oscar Meyer weiner, that is what I'd truly like to be. 'Cause if I were an Oscar Meyer weiner, everyone would be in love with me!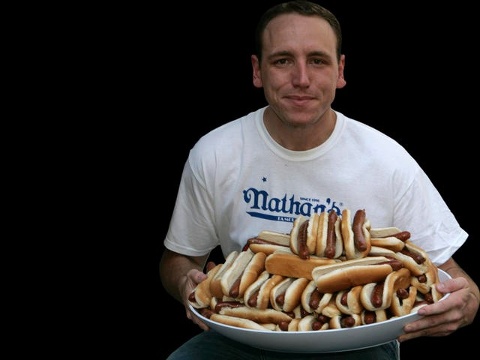 Every July 4th there are two guarantees for me. I have to watch Independence Day and pretend to be Will Smith—a man who blows up aliens, marries a stripper, saves the president and shows the world how badass America is. For just a couple hours, I am Will Smith! The other guarantee every year is watching the live broadcast of the Nathan's Hot Dog Eating Contest. In this case, I pretend to be Joey Chestnut—a middle-aged white man with superhero powers, those being the ability to eat a stupid amount of weiners in 10 minutes. Some morons claim that professional eating is no sport. Come on, man! I say smack the naysayers with a weiner, a 100% beefy, all-natural, beautiful Nathan's brand weiner. Then, and only then, will they understand that professional eating truly is a sport. Joey Chestnut's skill with a weiner is far more impressive than Terrific Tom Brady's skill with a football or King James' skill on the basketball court. They call Lebron King James. Please? The true King of sports is Joey Chestnut, the eater of 72 weiners and buns in 10 minutes. All hail King Weiner!
Okay, so enough of this weiner nonsense. Lets dive into this article. We'll praise America, bash liberals, talk boxing and end with some Tennessee sports!
It's July in Tennessee, a time to blow stuff up, eat food, grill out, eat more food and spend time outdoors with family and friends, all in the name of Lady Liberty, a sexy lass indeed! We live in a great country, a country that deserves its citizens' respect, a country where all of her citizens, no matter their race or gender, can find success. Don't blame others for your shortcomings. We all have a road to walk—some are tougher than others—but we all have a shot at happiness and success in this country. It is part of the greatness and beauty of Lady Liberty! Some liberals may condemn what I just said as shortsighted and offensive. But it really is that simple—liberals want to blame the successful for the problems of the unsuccessful. They preach tolerance and yet have become the party of intolerance. Though one fact remains after you put aside politics, activist groups and random point of views, America is a country that gives opportunity to all its citizens. In short, don't disrespect this country, or Captain America may come whoop your ass!
What I meant to say is that we all should be thankful to be born into a country where billions of people around the globe would give up everything just for a chance to live here and a chance at the American dream. Remember that the next time you want to whine about the problems and shortcomings of this country! God bless America, and happy July 4 to you and your loved ones!
Manny "Pacman" Pacquiao was robbed. That's right, no doubt about it. I love fights, I love the MMA, I love boxing, but boxing has an issue with its image. There are only two possible reasons why Manny Pacquiao lost that recent decision: incompetent judges, or corruption. Granted, his fight versus Jeff Horn was amazing, and both men deserve praise for their performances. Boxing is doing one thing right at least: airing this fight on ESPN and announcing future fights to be aired on the network. It expands the interest of the sport and saves people money, not having to shell out cash for every title bout out there.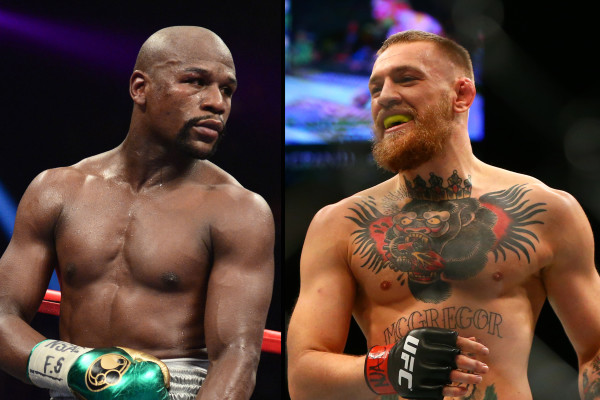 That will not be the case for the Aug. 26 Mega-Fight featuring Money Mayweather vs. Connor McGregor. Its boxing vs. MMA. This fight will cost you probably $100 if you want to watch it in the confines of your own home. Ridiculous, I know! The liberals should be complaining about that type of injustice. That's a cause I could get behind. That price tag alone and the hype for this fight will break every cash record there is to break. For years, I have spoken of my distaste for Floyd Mayweather. He is arrogant and his fights bore me. It is a fact, though, that Mayweather is undefeated and ridiculously intelligent inside of the ring. McGregor is young, unlike Floyd. Yet Connor may be as arrogant as Mayweather.
The critics claim that this fight is a farce. They claim Floyd will outbox and outsmart Connor handily inside the ring. Others state that Floyd should be worried and should have stayed retired. Connor is younger, stronger and has better stamina. While Floyd is older, he has an entire career of boxing knowledge; this is Connor's first professional bout! Either way, win or lose, both fighters are going to make hundreds of millions. Its so ridiculous how much revenue will stream in from this mega-fight. This fight will be the first Pay-Per-View fight in many years that I will pay to watch. I had no interest in Mayweather vs. Pacquiao; the result was what I predicted and the fight worse than I imagined. This fight, on the other hand, is unpredictable, and I like unpredictable!
That's enough boxing talk, let's talk Predators!
Sincerely, I want to say thank you to the team and the fans. What a year! The Stanley Cup playoffs, baby. It was so much fun watching, and the world paid attention to Smashville and our lunatic fans! During the playoffs I went to Dick's Sporting Goods looking for some fresh new sports attire. It was a madhouse! I saw mothers beating other mothers, fighting over the last of the children's shirts. I saw children fighting each other. One little kid screamed that he was Subban and knocked out two baby teeth from another kid just standing by. It was crazy, but it was real passion! In a country where dodgeball is considered too violent for our children due to the feelings of the other feeble players, hockey's violence is welcomed. It's a sport where grown men beat the crap out of each other and can shake hands after it's all over. There is more a child can learn from that sentiment than any of this liberal hug-yourself garbage! The world would be better off with violent little children running around beating each other with hockey sticks.
The Titans have pumped up the offense, adding Corey Davis and Eric Decker this off-season. Meanwhile the Jags, Texans and Colts have been adding to their defenses. General Manager Jon Robinson is playing chess, and Marcus Mariota is his queen. A game plan that focuses on putting the pieces around the young signal caller sounds like success! The ultimate goal here is being able to outscore the rest of the AFC South. Playoffs, baby! Giving the young quarterback these playmakers makes this offense a force. The running game is stout, the offensive line is unbreakable and adding these playmakers makes this offense a juggernaut. The defense is still average, and if they can improve their play I believe this offense can make a splash in the 2017 season.
After the excitement of the Nashville Predators' run, the Titans are looking to show the country how special Nashville really is, a city full of talent and passionate fans!
The Train's out the station. Choo-choo!