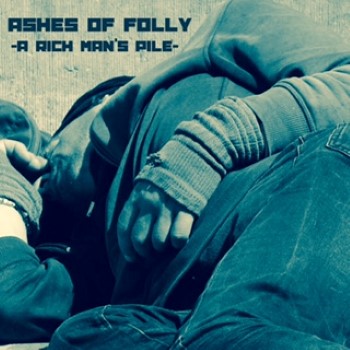 Ashes of Folly has followed up its 2016 EP, Ka Tet, and its 2015 full-length debut, The Chemical Plan, with yet another solid rock release.
A Rich Man's Pile, a five-song project, not only continues the personal and anecdotal rock stylings of the band, but also adds in some new sonic flavors that contribute to a welcome change of pace. The biggest changes on the new EP come with the band itself: vocalist/guitarist Rick Perry, bassist Kevin Torbett and drummer Sammy Baker are now joined by Jeff Keeran on the keys, while Perry adds acoustic guitars to his arsenal.
The title track focuses on a brief period of Perry's life when he was homeless. A synth line that brings to mind The Cars snakes in and out of the track, but it's only one example of the varied keyboard textures newest member Keeran brings to the band's palette. His country-tinged piano, at times evoking elements of '70s-era Pink Floyd, joins Perry's acoustic guitars for an organic-sounding blend on "In Your Head," an unrequited-love ballad that gradually evolves into a grungier affair as electric guitars begin to dominate.
There's a similar one-two-punch effect on the biting "Salty," though the sober vibe somehow feels incompatible with the use of the "salty" adjective (which I see as more of a humorous online insult, not a serious description).
The other two tracks on the EP also provide mixed results. "Classic," a discussion of bands turning beats to plastic, pits a piledriving, drum-driven rhythm against a somewhat repetitive chorus. The closer, "Meet the Man," features stellar lyrics about someone on the way to meet their long-lost father but constantly being dragged down by their own mistakes and flaws. While yet another mid-tempo number, Baker's spasms of syncopated drumming add rhythmic interest with a dynamic clatter that can seem a bit disorienting.
Those aspects are really only minor blemishes; A Rich Man's Pile is a well-crafted EP of melodic and mildly inventive rock that pushes Ashes of Folly's '90s-inspired sound to the next level.
A Rich Man's Pile by Ashes of Folly is available on Bandcamp, iTunes, Amazon and Spotify.