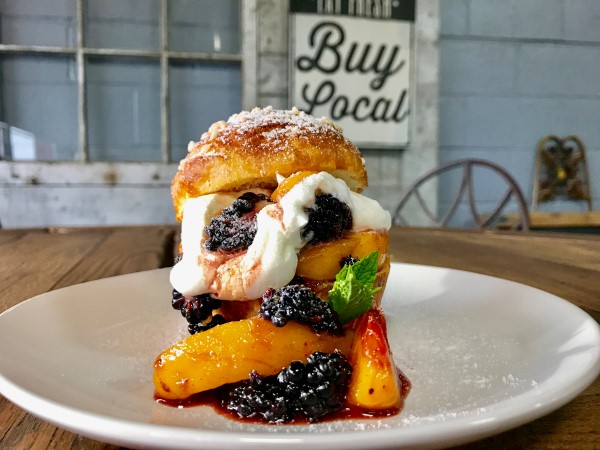 Must-knows:
There is nothing more "Tennessee summer" than this recipe.
Live a little—this is just a concept. It's all up to you how you want to interpret it!
Ingredients (for approximately four servings):
Fresh brioche bread: 4 buns, or 8 slices from a loaf
2 fresh ripe peaches
½ pint blackberries (or whatever fruit makes you happy . . . add cherries, strawberries, raspberries . . .)
2–3 tablespoons brown sugar
Pinch of cinnamon
Pinch of salt
Lemon juice of half a lemon
Shot or two of Jack Daniel's Tennessee Whiskey . . . or bourbon, or spiced rum, or whatever makes you happy!
Sweetened whipped cream (or Cool Whip, or vanilla ice cream)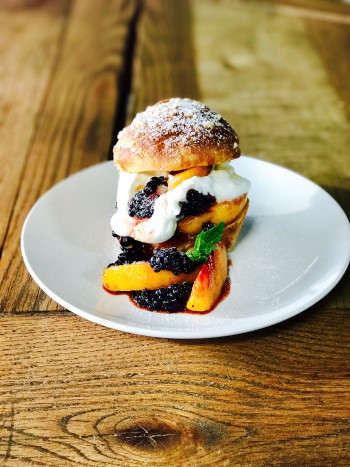 Assembly:
Peel the peaches and cut into thin slices, half the blackberries (or cut-up strawberries, halve and pit cherries, etc.) and place in a bowl.
Add brown sugar, cinnamon, salt, lemon juice and Jack Daniel's. Toss to coat and allow to set in the refrigerator for 15–20 minutes.
Split open slider buns or place slice of brioche on a plate. Top with a spoonful of macerated fruit, making sure to get some of the juices so it can absorb into the brioche.
Top fruit with whipped cream, Cool Whip or vanilla ice cream. Top with a small spoonful of additional fruit and top of bun or other slice of brioche.
Enjoy!
Extra fun: Make french toast with slices of brioche and use the fruit to top for breakfast.
(Don't miss out on Simply Pure Sweets' breads at the Murfreesboro Saturday Market; they will have brioche during August for you to try out this recipe!)