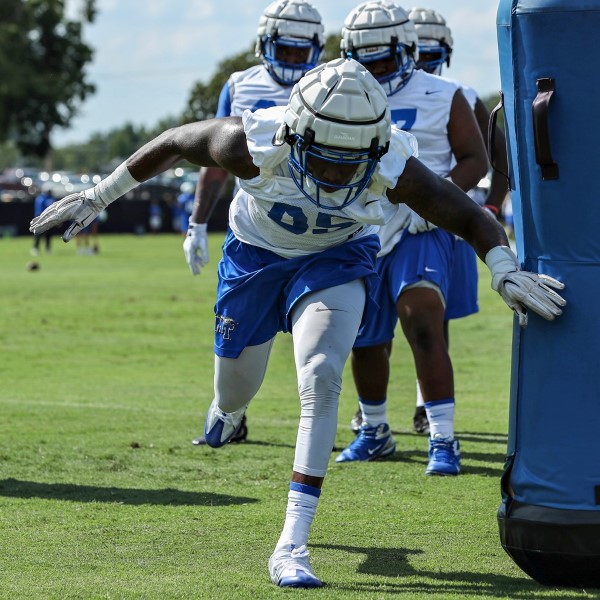 With fall camp underway in early August for the Blue Raiders, the focus for this season is taking the next step. After what has been a successful run of seven bowl-eligible seasons over the last eight years, the fan base has been looking for more. Now the coaches and players are demanding it as well.
"It's everything for us right now. That's the mindset we've taken all offseason. Both sides of the ball, we're just hungry, ready to roll," stated junior quarterback Brent Stockstill. "We've done some good things in the past, had some okay years, but we're going to take the next step. We got to win the conference championship, win a bowl game, and I think we have the guys to do it."
The conference title is also on the elder Stockstill's mind, and he knows what it will take to get there.
"Obviously, we've got to play better defense. That's where it starts. If we can play better defensively and continue to improve on offense and in the kicking game I think in November, when the dust settles, we'll have a chance to compete for it," said MTSU Head Coach Rick Stockstill.
And under the tutelage of new defensive coordinator Scott Shafer, the defense looks primed for drastic improvement.
Over the last two seasons, the mantra of the Blue Raider defense had been "bend, don't break." However, after allowing 35.8 points per game, the 2016 season indicated the defense was more broken than bent.
Shafer has a proven track record of repairing defenses quickly. In his first season leading the Syracuse Orange defense they moved from 114th nationally to 37th. His defensive scheme should be much more aggressive than the somewhat passive scheme of former MTSU defensive coordinator Tyrone Nix.
"This year we're focusing on getting 11 guys around the ball and flying to the ball every play," said senior linebacker D.J. Sanders.
Of the change in defensive philosophy, sophomore defensive tackle Malik Manciel said, "We're playing faster. We have a defense where everybody wants to get to the ball and make a play."
A great running game will go a long way in helping that defense stay rested, however it is certainly the biggest question on offense going into the season.
MT lost three starters on the offensive line, and lost nearly 2,200 yards of offensive production in I'tavius Mathers. Going into fall camp, there is no obvious front-runner to pick up Mathers' mantle, but offensive coordinator Tony Franklin pointed at the fact that Mathers was expected to be the third-team running back at this point last season. Even so, it's more likely the Blue Raiders will return to a running-back-by-committee approach. Likely candidates to be in that committee include sophomore Terrelle West, senior Shane Tucker and junior Desmond Anderson. Newcomers junior Maurice Gordon and freshman Brad Anderson also stand a chance to factor in.
The passing game, however, is in no question at all, which is a big improvement from this time last year when injuries decimated the receiving corps. However, those injuries gave junior Patrick Smith and sophomore Ty Lee the opportunity to prove themselves, and both will join junior Richie James on the first team. The much anticipated Jocquez Bruce, a former Tennessee commit, is finally healthy and ready to prove his hype, and freshmen Tyrese Johnson and Zack Dobson may also get their chance.
The Blue Raiders hope to improve on many numbers from last year, but the one they hope to improve the most is attendance.
"Football is not a fun sport to practice," says coach Stockstill. "So, your reward is that one game on Saturday. That's the celebration, you want to celebrate all that work. You want to come out and see a packed house. So, it's important to the players, it's important to me."
Middle Tennessee ranked 110th nationally in capacity percentage in 2016, however they ranked seventh nationally in total offense. What better way is there to spend a Saturday in the fall than outside watching the best offense in the state? Come support your local team, they want you there.
For tickets and more information on MTSU football, visit goblueraiders.com