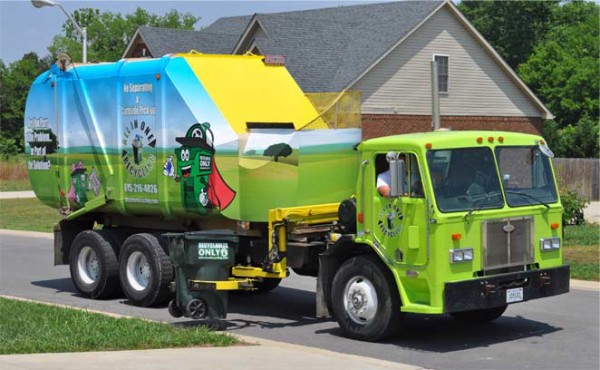 Many Murfreesboro consumers have recently accused local recycling pickup service All In One Recycling of not living up to its service agreements in Murfreesboro.
The business claims on its website that "we are your simple recycling solution," and the operation, based at a facility at 824 Industrial Dr., tells area households and businesses that a monthly fee of just $14 will secure a collection of "all your paper, plastics, aluminum, tin, steel and cardboard" from your curb every two weeks. Seeing All In One promote its involvement in community projects like the local Earth Day Celebration, the Special Kids Race and the Rutherford County Solid Waste Advisory/Steering Council for the Middle Point Landfill might make one think that they care about Rutherford County and that they're dedicated to community needs.
But to many disgruntled customers, All In One Recycling's business practices in recent months show a complete lack of regard for its neighbors. The Murfreesboro Pulse has received several complaints from the community that prompted a look at the business. Looking at a hundred online reviews and comments on the business shows the community feedback on All In One to be overwhelmingly negative.
"We canceled our service over a month ago, and they continue to draft money out of our bank account," Gary Ingle said. "They almost never pick up, they reschedule due to truck issues and then they don't show up for the reschedule. They do not answer the phone or respond to emails. Stay far away from this company. It is a complete ripoff."
Numerous customers express their frustration over paying for a service they are not receiving and not being able to even communicate with the company.
"They have not picked our can up for six weeks. My wife and I have called at least a hundred times to cancel. No response, no email response, but they sure did charge my next year fee on time," Donnie Hitchcock said.
The commentary about the failures of the business is pretty consistent: frequent failure to pick up recyclables, almost no communication and poor customer service, customers being billed after ending their contracts with the business, and an overall departure from what was expected from the companies in months prior.
"Their service is deplorable!" Sandy Wise said. "In the three months that we have been signed up with All In One Recycling, only once have they picked up on time . . . emails and phone calls are not returned."
The volume of negative feedback has been documented by the Better Business Bureau, who shares that All In One Recycling has an "F rating" based on its 20 unanimously negative reviews, and a current total of 65 customer complaints. The BBB even issued an alert earlier this summer that summarized the overall problems found in all reviews, stating that All in One Recycling in Murfreesboro "has generated numerous customer complaints citing the company's failure to provide recycling collection services, failure to make refunds for prepaid services and blocking consumers from removing their credit card information from the company website."
All In One did send out a statement to customers acknowledging the lack of service and promising to do better, though the negative reviews keep coming.
"As a Realtor who used All In One Recycling for years, and recommended them to many clients," Steve Holeman tells the Pulse "the management change and subsequent downhill customer service impacted me greatly. Once they started missing several pickups starting early this spring, I sent many emails and attempted to call several times, and after no response, gave notice the best way I could (email and web message) to cancel my account. They charged a credit card on file anyway, with no notice or acknowledgment, for another year and continued to not provide the service. I filed a dispute with the credit card company and also with the Better Business Bureau. Of course, they notified the BBB that they were not accepting BBB complaints for resolution any longer. I think I may have gotten an email around 60 days ago from someone apologizing and saying they would refund my money; however, no action has been taken and their cart is still sitting by the road for pickup."
The Pulse made several attempts to reach out to All In One Recycling. Only one phone call was successfully answered by a receptionist, and the message was not returned. Wanting to hear the sentiments from the business and its plan is to address the complaints, I visited the front office and spoke to "Ray."
"I have nothing to say! You can go ahead and leave now," was Ray's statement. During a phone call to clarify Ray's relationship to the business, the receptionist hung up.
The words and actions of a business send an overall message to others; if there's a failure to provide appropriate services and to listen to the feedback of unsatisfied customers, what message does that send? What good is a blanket apology and the "we'll do better" promise broadly delivered to those who can't get their money back? (By the way, the competitive service Stones River Recycling refunds a consumer's purchase 48 hours after cancellation.)
How will the community address the problems of All In One Recycling, and come together to "take out the trash?"