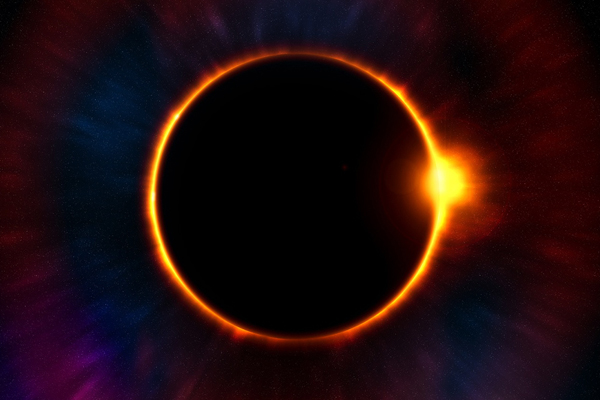 On Monday, Aug. 21, millions of people across the United States will observe a total solar eclipse, the first to span the U.S. since 1918.
The rare event, which is being referred to as the "Great American Eclipse," will sweep across the U.S. in a narrow band—from Oregon to South Carolina—over a span of almost two hours. Lucky for Middle Tennessee residents, Murfreesboro and surrounding areas fall within the 70-mile radius allowing them to experience the full spectacle.
According to NASA projections, Murfreesboro will fall in the "path of totality" at about 1:29 p.m., in which the moon's shadow will completely block out the the sun, revealing a "hidden, halo-like corona." During the span of about a minute, expect to feel a slight drop in temperature as the sky darkens and thousands of heads position toward the sky.
For those wondering when the next eclipse of this significance will occur, Eric Klumpe, a professor in MTSU's Department of Physics and Astronomy, says you will have to wait until 2566, making this year's event a once-in-a-lifetime experience. The last time the Murfreesboro area witnessed a total eclipse was in 1478.
"When you think about it, that was before Columbus reached this continent . . . Europe was still going through a Renaissance when Murfreesboro had an eclipse like this," Klumpe says. "If that doesn't get you excited about making this a priority for your summer, I don't know what would."
WHERE TO WATCH
According to NASA's official eclipse website, Murfreesboro resides on the southern edge of the path of totality.
One of the largest events in the area is at Middle Tennessee State University, where thousands of students and visitors will attend a four-hour watch party, according to a release.
"This eclipse is unusual, very unusual, in that it's cutting right through populated areas," said Bud Fischer, dean of the MTSU College of Basic and Applied Sciences. "Frankly, if you don't make the effort to experience it, you will miss the event of a lifetime."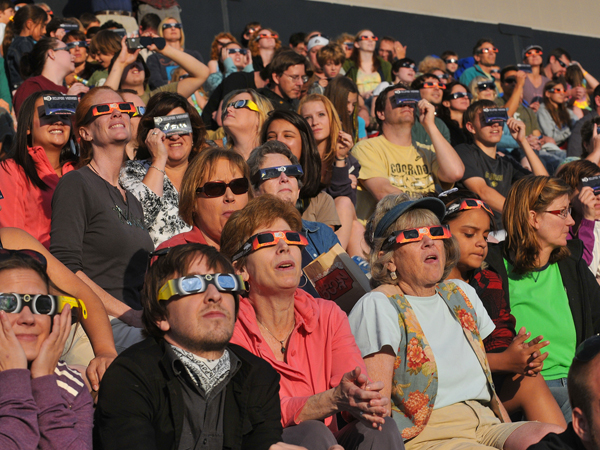 According to the Tennessee Valley Authority, tens of thousands of people are expected to travel through the state to view the Aug. 21 cosmic event. Experts at TVA are gearing up for the event by ensuring its public sites are ready to handle the expected crowds.
"We're preparing for the eclipse like any other busy holiday weekend," said Jerry Fouse, TVA's recreation strategy specialist, in a release. "With all the folks visiting, we want our recreation areas perfect so they keep coming back."
With several campgrounds already booked for overnight stay, there are many state parks within driving distance from Murfreesboro, including Cedars of Lebanon State Park (2 minutes, 19 seconds of totality), Bicentennial Capitol Mall State Park (1 minute, 55 seconds) and Radnor Lake State Park (1 minute, 15 seconds).
"We're open for this unique opportunity, and we want everyone to safely see the eclipse and enjoy the Valley's southern hospitality," Fouse adds.
SAFETY
According to MTSU physics and astronomy professor Chuck Higgins, the department will live-stream the event on screens outside the observatory building so that people can safely view the eclipse. In addition to the livestream, there will be viewing resources available for guests, such as special eclipse glasses, telescopes with solar filters and hydrogen alpha telescopes.
"If you're going to look directly at the sun, you absolutely need the special solar eclipse glasses," Higgins adds in an instructional video on eclipse safety. "Only during totality . . . when the moon is completely covering the sun . . . can you look directly at the sun."
______
UPCOMING EVENTS
MTSU professors are helping Murfreesboro residents make the most of the eclipse with public events leading up to Aug. 21. MTSU's Department of Physics and Astronomy will host two "Star Parties" on Aug. 4 and 11, as well as an on-campus panel discussion with U.S. astronomers Aug. 20.
If you would like to experience the "Great American Eclipse" with others, check out these Middle Tennessee happenings on Aug. 21, including the special four-hour event at MTSU:
Middle Tennessee State University (Science Building Courtyard), 1301 E. Main St.
11 a.m.–3 p.m.
The event will feature performances by artists on Match Records, MTSU's student-run record label, from 11 a.m.–12:30 p.m., as well as various tents with activities run by faculty. From 12:30 p.m.–1:15 p.m., the stage will feature a science show with professors prepping the crowd for the solar phenomenon. The totality will be at 1:29 p.m. and last about two minutes.
Mayday Brewery
521 Old Salem Rd., 11 a.m.–3 p.m.
Pink Floyd tribute band Us and Them will perform Dark Side of the Moon in entirety, beginning at 12:46 p.m., which will bring the climax of the album's last cut, "Eclipse," during the total eclipse of the sun at 1:29 p.m. After the eclipse, the band will play a few more "sunny" tunes. Additionally, Mayday head brewer Kelsey Nelson will debut a small batch, "Eclipse," a habanero stout to represent the heat of the sun behind the dark moon.
Siegel Park Pavilion, 515 Cherry Ln.
1 p.m.
Solar viewing glasses will be provided on a first-come, first-served basis.
Linebaugh Public Library, 105 W. Vine St.
1 p.m.
The library, in partnership with STAR Library Education Network, will provide viewing glasses and STEM activities related to the eclipse.
Community Care of Rutherford County, 901 E. County Farm Rd.
12–3 p.m.
The nursing home and health care facility will hold an eclipse viewing for residents and guests.
Court Square in Downtown McMinnville, 110 S. Court Square, McMinnville
11 a.m.–3 p.m.
This viewing includes a full performance of Pink Floyd's Dark Side of the Moon by the Pink Floyd Appreciation Society, viewing glasses and astronomy-themed arts and crafts.
Stones River National Battlefield, Visitor Center
10 a.m.–3 p.m.
Activities ranging from astronomical to historical will be available prior to the solar eclipse. The first 1,500 visitors will receive a complimentary pair of eclipse viewing glasses.
Skydive Tennessee, 807 William Northern Blvd., Tullahoma
During totality
Skydive Tennessee is offering the chance to experience the solar eclipse 14,000 feet in the air. Skydive and freefall through the air during the moment of totality with the establishment's special eclipse skydiving package, which includes a video. Visit skydivetullahoma.com for more details.
Jug Creek Distillery, 1049 Oregon Rd., Lascassas
Aug. 19–21
Jug Creek will host a weekend of music, games, cocktails and a whole-hog barbecue the Saturday and Sunday before Monday's eclipse.
Additionally, MTSU's "Star Parties" will be held Aug. 4 and Aug. 11 at 7:30 p.m.in McWherter Learning Resources Center Room 221. A Sunday, Aug. 20, panel discussion will be in Science Building Room 1006 at 3 p.m.
To read more about the Aug. 21 event and to view an interactive map, visit NASA's official eclipse web site, eclipse2017.nasa.gov.