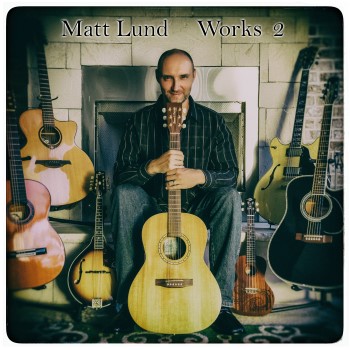 MTSU adjunct professor Matt Lund is a musical virtuoso with his hand in many genres. He's in the Christian rock group Rescued Souls, the progressive rock band Axe of God, the classic cover act The Time Raiders and the jazz fusion project The Lund McVey Group. On Works 2, Lund combines compositional elements from those projects into one release that showcases the MTSU Jazz Studies grad's high level of skill.
Works 2 is the sequel to Lund's last solo effort, Works (2006), and features the musician using a vast collection of string instruments (which are shown on the album's cover). The songs focus on "hope, faith and love," with Lund virtually splitting the album in secular and religious halves, throwing some instrumentals in along the way.
Lund leads with the love songs, which are the most accessible tracks on Works 2. "I'll Tell You Later" features beautifully composed string parts (especially the mandolin). The loose, almost improvisational sounding "I'm Gonna Write a Song About It" follows, full of rudimentary rhymes over a jangling acoustic guitar part and wielding a childlike sense of fun.
Other tracks in this romantic-themed portion are the kinda schmaltzy (but well-arranged) "Before I Knew You" and the rolling "My Family Line," which would benefit from a fuller, more fleshed-out instrumental.
The Christian side of the record is bit less exciting unless you're seeking worship songs. However, this side does bring probably the best song on the album, "Closer to God." It's upbeat, heartfelt and doesn't hang around too long. It combines a love story with Lund's faith, and it's filled with passionate, strong melodies and a solid instrumental solo.
The other strong cuts on Works 2 are the instrumentals, "Now I Can See" and "Anatomic Sub-Lexer, Pt. 2." The tracks are sprawling pieces that exhibit Lund's compositional and progressive strengths. "Love of My Life" could come off as rough-sounding at first listen due to its stop-and-start structure, but if you sit back and let the music take you on a journey, it comes off as a score-like piece with highs and lows that could soundtrack any story of your choosing.
While it has some issues for passing listeners not interested in lengthy songs or worship-based tracks, Works 2 is undeniably a work of passion and skill that showcases one of Murfreesboro's most talented musicians in a sweet spot of creativity.
Matt Lund's Works 2 is available on CD Baby, Apple Music, Spotify and mattlundmusic.com.