Choo-choo! The Train Daddy is back, bringing sports news, life lessons and politically incorrect talk to you, the good people of Middle Tennessee!
Thanks to processed food and social media, America is fat! We have a bunch of fatties out there who think their opinions on social media mean something. We have fat kids with tablets up their butts who don't even know the difference between a football and basketball. I'm serious, I saw an 8-year-old recently who didn't know what a basketball was, and went right back to playing Mine Craft with no interest in physical activity. It saddened my heart. Where are you going with this Train Daddy? You're being mean.
I guess what I am trying to say is sports and the outdoors are important, far more important than your stupid selfies and excessive time wasted on the Internet. Do something physical. Go outside, throw a ball, take a walk in the woods, plant a tree, help the elderly with yard work, pull some weeds, plant some weed, smoke some weed, whatever, just work something other than your fingers!
People think me cynical at times, but I wish for a Zombie Apocalypse, not Armageddon or the end of the world, just a nice generational battle with zombies and an end to social media.
Why? Because we would sort the weak from the strong, and man would once again learn to survive on instinct and knowledge of nature. I would hunt for food, protect my family and friends, and destroy any Zombie or man who came to make a claim on my land. Sounds awesome!
Okay, enough rambling. So what do we have for you this issue? Football season is nearing, so we have to praise the glorious team known as the Tennessee Titans; we'll do a little Mayweather vs. McGregor talk as the Mega Fight nears and we'll do a small amount of Kaepernick bashing, since that's always fun. But we'll start with man vs. fish. This isn't Jonah vs. the whale, this is . . .
Phelps vs. Shark!
Michael Phelps and The Discovery Channel tricked the world. People believed Phelps would race a real great white shark. I almost believed it myself after months of fake advertising by the network.
The Discovery Channel broke records, marking the highest-rated Shark Week special and viewership reached nearly 15 million people that day. The network staged a mock race between Phelps, a 28-time Olympic medal winner vs. a CGI shark. For months, The Discovery Channel, through articles and commercials, made it appear Phelps would race a real shark. Anticipation grew, only for millions of fans to freak out after a steroid-looking computerized Jaws whooped Phelps in the 100 meters.
Viewers felt cheated; they wanted a real shark. Phelps' top speed in the water is 6 mph. A shark can hit 25 mph. The Discovery Channel should make up for it and throw Ryan Lochte in the water with a real shark. That would be justice for lying and making America look bad on an Olympic stage. Throw Ryan in water, shark bites torso off, awesome!
Tennessee Titans, baby! We like it, we love it, we want some more of it! The Predators made Smashville proud, and there is a feeling still lingering in the air—CHAMPIONSHIP—and it needs to be quenched! The Preds were so close, no regrets there, they are a hell of a team, but it's football time in Tennessee now!
The Preds showed us one truth: that the city of Nashville and surrounding areas love sports, love winning, and love gathering to party and support the the cause. Before you know it, the billionaires of MLB, NBA and the MLS will be trying to push their way into this city. It's special!
The Titans have high hopes this season, so all the experts say. Most impressive to me is the preseason power rankings. USA Today recently came out with its projections, giving the Titans a division title, No. 3 seed in the AFC and a 12–4 record to finish the regular season.
Vegas can smell what's cooking in Nashville (hot chicken, baby!). Vegas oddsmakers have the Titans winning the AFC South. Place your bets—Mariota is the chosen one.

Eric Decker Time!
I am so excited to have this receiver as a Titan; his amazing red zone success, combined with Marcus Mariota's red zone success, equals a lot of touchdowns!
Sports Illustrated even went so far as to call the Titans Super Bowl contenders after the signing of Decker. Stats tell all, so let me throw some stats your way.
Throughout quarterback Marcus Mariota's short career in the NFL he has completed 60 out of 94 passes in the red zone. More impressive is the fact that 33 have been touchdowns with 0 interceptions. Among 52 quarterbacks during this time period with more than 10 red zone passes, Mariota ranks first in touchdown percentage, fourth in completion percentage and first in interception percentage.
Yes! Now, let me break down Eric Decker's red zone success and you will understand the reason this duo could break serious records this season.
Decker was signed in June, being released late in the offseason by the Jets. Since 2012, Decker's 43 receiving touchdowns rank fifth, his 4,535 receiving yards rank 18th and his 33 red-zone touchdown receptions rank second. Not bad for a dirty white boy.
Decker joins a receiving group that includes veteran Rishard Matthews, highly anticipated draft pick Corey Davis and third-round pick Taywan Taylor with Harry Douglas, Treasure McBride and Tajae Sharpe competing for slots. Not to mention the awesome depth at tight end, led by veteran superstar and one of my favorite Titans, Delanie Walker.
So that's why I point out the red zone stats of Mariota and Decker, a duo that will rock the AFC South. Not to mention Decker becomes one heck of a fantasy play—sleeper pick, you heard it here!
The Titans finished 9–7 last season, losing a couple of heartbreakers and ending in devastation when Marcus had his leg removed from his body in week 16 (he recovered, though). The team didn't lose any key players this offseason, and GM Jon Robinson has created a team with excellent depth.
This team is built to outscore the rest of the AFC South. They have to win these games vs. Indy, the Jags and the Texans. They have struggled against these division opponents over the past decade. I predict an 11–5 season. This team is playoff bound, anything else is a severe disappointment. Make the Me-Ma proud, Titans!
Colin Still Jobless
New subject! Colin Kaepernick bit the hand that fed him, and now he sits in limbo. Poetic justice, right?
Over and over I have written about my love for this country and my deep respect for the thousands upon thousands of dead American soldiers who fought for you, for me, for this land. What did Colin expect would happen? He disrespected the flag, the military, generalized all police officers as killers, childishly wore socks depicting cops as pigs. Colin even supported the life works of a man like Fidel Castro as good deeds. Come on, man!
Kaepernick made his decisions; now the owners of the NFL have made theirs. Capitalism and the free market at work, homie. The anthem protest was one thing, but expressing divisive sociopolitical views and embracing militant groups, I say again: come on, man!
The National Review recently released a poll, showing the National Anthem protest was the top reason fans tuned out the NFL as ratings plummeted last season. Research company J.D. Power took 9,200 fans and found the anthem protest was top of the list!
Sources close to Kaepernick state he will stand for the anthem this season. How convenient, now that his money is running out. I imagine before the season is over Colin will be on a team. He is a better option at backup than most of the current backups, and some say a few starters.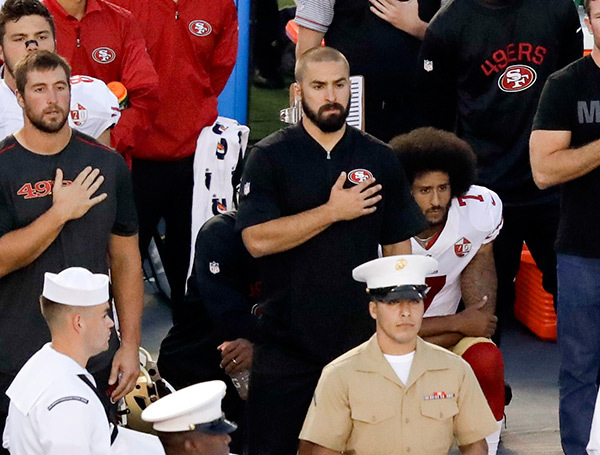 Then why still jobless? Because owners understand the backlash from fans and sponsors wouldn't be worth it. Crazy ESPN personalities, even a couple of congressmen have stated Kaep is being blackballed and the NFL should fix it. The commissioner stated that he doesn't believe that's true.
Colin made his decisions and there is nothing wrong with NFL owners wanting to keep that circus at bay.
Even Giants co-owner John Mars stated, "All my years being in the league, I never received more emotional mail from people then I did about this issue; 'If any of your players do that, we are never coming to another Giants game.' It wasn't one or two letters, it was a lot."
Maybe the Ravens will sign him? Training camp is underway, and the season is close. Injuries will add up and some desperate owner will sign Colin. He should apologize, at least acknowledge the field was a selfish staging ground for these protests. These players make millions upon millions of dollars to play with a ball. If I paid someone that much, I would say shut up and focus on football.
Enough Colin talk, it's almost fight night!
Last issue we broke down specifics about the upcoming Mega Fight taking place in Vegas on Aug. 26: Floyd Money Mayweather vs. Connor Irish McGregor.
Mayweather, an arrogant punk and one of the best boxers in the history of the sport, is coming out of retirement to risk his perfect 49–0 record vs. a madman. It sounds like Money needs money.
His opponent, also an arrogant punk, is a mixed martial artist who dominates the octagon, a young Irishman who fights with pure passion and grace. It's special to watch.
Many boxing experts claim this fight is a farce. I don't believe that. It's the real deal and opens the door to better fights. Boxing needs superstars as the UFC has dominated in popularity for over a decade.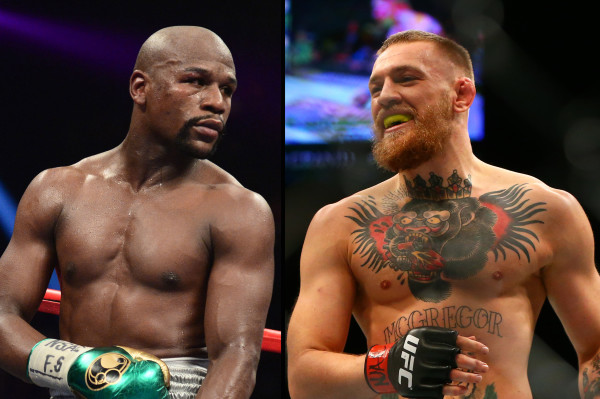 Is Floyd too old at 40? Can Connor survive a smarter boxer in Floyd? Can Floyd handle a landed power punch from Connor? Can Connor even compete in his first pro boxing match? All good questions, but this is my statement: I believe Connor has to knock out Floyd to win; Floyd doesn't have to knock out Connor to win, nor could he. Connor will never outbox Floyd and win a judges' decision, yet Connor has the power to do what no man has done—knock Floyd out!
My prediction: gambling habits take Connor, my brain takes Floyd. Regardless it will be interesting and a better fight than Pacman vs. Floyd.
That's all, folks! The Train is ready to roll into the station. I love writing these articles. I do it for you, the reader. If I can make you laugh or think, that's my reward. I understand sometimes I jest and make controversial jokes, but don't blame me, I warn you at the beginning of every article. I don't take for granted the opportunities this country offers me. Live life to the fullest; live life by the 5 F's: Faith, Family, Football, Food and Friends. Choo-choo!