The Blue Raiders' Sept. 16 trip to Minneapolis could not have gotten off to a worse start.
After being listed as questionable on the injury report all week, quarterback Brent Stockstill was ruled out just 30 minutes before kickoff.
"Driving in, this is an awesome place. Just the college atmosphere around the stadium and then when you get in here, it's pretty special. So obviously as a competitor, this is one that I wanted to be out there for," Stockstill stated.
With Stockstill out, quarterback John Urzua was given the starting nod, but receiver Richie James was expected to receive plenty of snaps in the Wildcat formation. He did take a few of those snaps, one of which led to a 22-yard run, but those plans were dashed early in the second quarter when James went down with an ankle injury.
When asked about how the injury transpired, James replied, "Guy hit real low and took my ankle out. I don't know if he twisted it or not. He made a really good tackle and then next play, I felt it. I kept playing the next play and I realized that I was really hurt."
James never returned to the game, and the offense never found its rhythm.
One of the few things that did get off to a good start was the MTSU defense. They limited the Golden Gophers to a field goal on the opening possession of the game, then forced them into three consecutive three-and-outs. However, the offense's inability to help the defense stay off the field eventually took its toll. The Blue Raiders may have stymied the much-hyped running game of Vanderbilt, but the same could not be said in this one.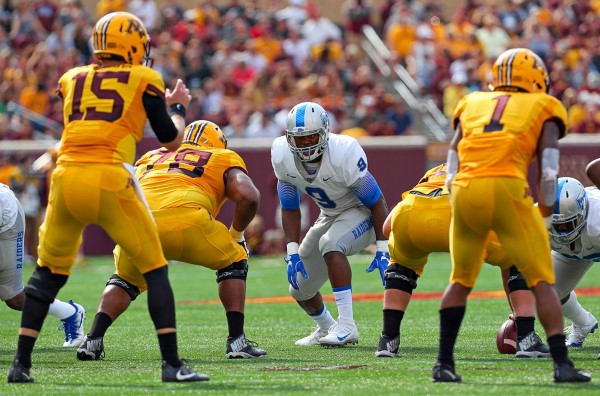 Minnesota finished the game with 221 rushing yards. Running backs Kobe McCrary and Rodney Smith each finished with 107 rushing yards, and McCrary punched in three touchdowns on the ground on the way to a 34–3 victory for the Gophers.
After the game, Brent Stockstill revealed he had been diagnosed with a cracked sternum. He remains day-to-day.
The Blue Raider rushing attack remains anemic. Through three games, Middle averaged just 63 yards on the ground per game, and a paltry 2.2 yards per carry. With the daunting gauntlet of three consecutive Power 5 teams over, coach Rick Stockstill expects the output from the backfield to improve.
The MTSU Blue Raiders will welcome a return to Floyd Stadium on Saturday, Sept. 23, as they host Bowling Green.
The Blue Raiders have finally completed what coach Stockstill has referred to as "The Gauntlet." Middle Tennessee is the only team in Conference USA that opened its schedule against three consecutive Power 5 opponents, and they came out the other side with a 1–2 record. However, Stockstill has liked what he's seen out of this team during that stretch.
"It's a tough three-game stretch to open the season. I told them I was really disappointed how we played in Minnesota, but I'm not the least bit discouraged. I believe in this team and I think there's something to it. We've just got to try to get our guys healthy, improve in the areas that we need to improve on, and worry about this Bowling Green team and not worry about what's taken place these first three weeks," Stockstill stated.
After games at Syracuse and at Minnesota, the Blue Raiders will be relieved to host the Bowling Green Falcons in the friendly confines of Floyd Stadium. Though no opponent can ever be taken too lightly, Bowling Green should, by far, be Middle's easiest test thus far.
The Falcons are off to a 0–3 start to the season, but they have had no cake walk schedule themselves. They opened the season at Michigan State, followed by a home stand South Dakota, currently ranked 13th in the Football Championship Series Top 25. Last week Bowling Green took to the road against Northwestern.
Over that span the Falcons have allowed 554 yards of total offense per game with 244 of those yards gained on the ground. Considering Bowling Green's struggles against the run, one might think this is the week MT finally gets something out of their running game, but coach Stockstill is holding his reservations.
"You can judge pretty good right now that our running game stinks. Who we've played has nothing to do with it," said Stockstill.
Offensively, Bowling Green returns running back Josh Cleveland, who rushed for 153 yards on just 18 carries against Middle last season. Despite the strong competition the Falcons have faced, Cleveland is off to a good start to the season as he has averaged 5.2 yards per carry. Coach Stockstill doesn't foresee a repeat performance, however.
"We are a lot better of a defense this year than we were last year. It will be a challenge, but one I know our defense is up to," said Stockstill.
The Blue Raiders will face a new quarterback from the one they faced last season. True freshman Jarret Doege took his first snaps last week against Northwestern and impressively completed 66.7 percent of his passes, albeit he averaged only 7.5 yards per completion. As a recruit, Doege was rated a 3-star by most recruiting services. His brother, Seth, also was a collegiate quarterback and spent a brief stint in the NFL with the Atlanta Falcons. He now is the wide receivers coach at Bowling Green.
Although they get a break from Power 5 opponents this week, the Blue Raiders will not get a break from injuries. Both quarterback Brent Stockstill and receiver Richie James are gametime decisions against the Falcons. Without their two stars, the Blue Raider offense will struggle no matter what defense they face.
The game will kickoff at Floyd Stadium at 6 p.m.