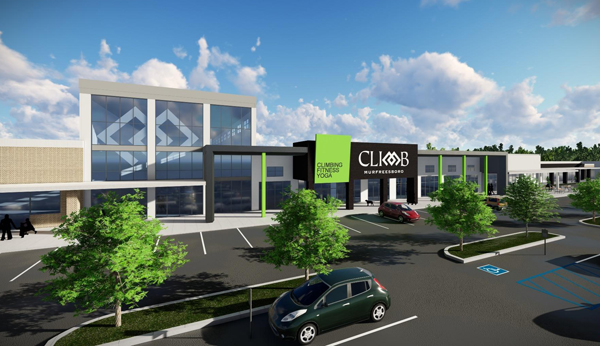 Climb Nashville is planning to retrofit the old Hastings building on Memorial Boulevard into Climb Murfreesboro, the company reported last month.
Opening in spring 2018, Climb Murfreesboro will offer 45-foot climbing walls, bouldering areas for free climbing, workout and cardio equipment, and yoga.
Tom Frye with Baker Story McDonald Properties said that he wants the gym to be the centerpiece to revitalize the multi-tenant shopping center that had fallen on tough times in recent years.
Frye said he also wants to develop a four-acre wetland with a trailhead and bikeway that would run between MTSU and the gym.
___
Float Nashville to Open Murfreesboro Location
Another Nashville attraction, Float Nashville, plans to bring its brand to the 'Boro.
In a Facebook Live post, Float Nashville owners Amy Grimes and Mark Chessir announced they will open a new location in Murfreesboro. Called Float Alchemy, the new 5,800-square-foot location will offer the same amenities as the Nashville flotation center, just on a larger scale.
"We've learned a lot since we opened Float Nashville," Grimes said. "And there are some other things, some modalities and things that will help our clients."
Along with four float tanks, Float Alchemy will offer a sauna, cryotherapy and massage therapy.
The new facility will be at 131 Cason Ln. in the former location of Gish's Amish Furniture.
On Float Nashville's Facebook page, it explains that floating in an isolation tank can reduce stress, anxiety and pain while enhancing creativity and performance.
___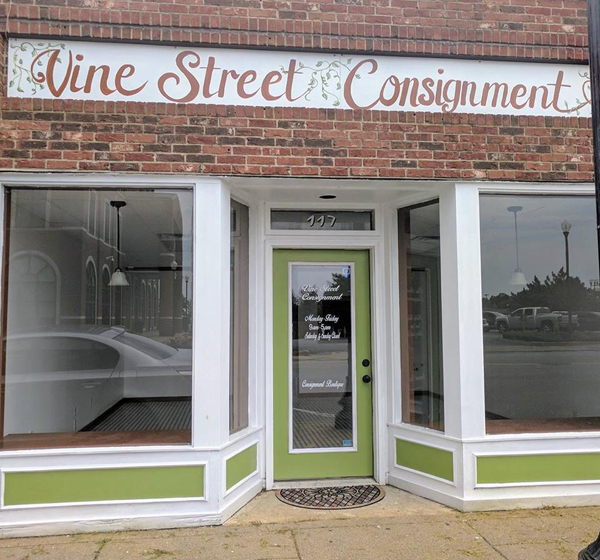 Activity on Vine Street
Two new stores have come to downtown. Vine Street Consignment and Vine Studios have opened on, you guessed it, Vine Street.
The consignment store is now open at 117 E. Vine St. It specializes in small items like children's clothing, shoes and toys, home decor, appliances and electronics.
Because of a lack of space, the store is not accepting any furniture for consignment.
___
Vine Studios will be located about a block over at 118 W. Vine St. in the old Daffodilly Design location.
Co-owned by photographers Erick Blackwood and Andrew Morton, the 2,300-square-foot space will be used mainly for photography but will also be available for video shoots, workshops, art shows, pop-up trunk shows, corporate events, acoustic sessions, weddings, rehearsal dinners, small elopement ceremonies and more. To book the space, email booking@vinestudios.net.
___
Food News
Murfreesboro-based Toot's will bring its good food and fun to West Murfreesboro.
Toot's West will open on Franklin Road near Publix in the Blackman community, owner Wade Hays said recently.
Hays said he hopes to break ground on the new building soon, with the opening date set tentatively for next summer. Toot's operates locations on Broad Street, Church Street and on Sam Ridley Parkway in Smyrna.
___
Another dining option is preparing to open in North Murfreesboro. Xiaos' Hibachi and Sushi is going in next to Newks and Sprout's Farmers Market off Memorial Boulevard.
___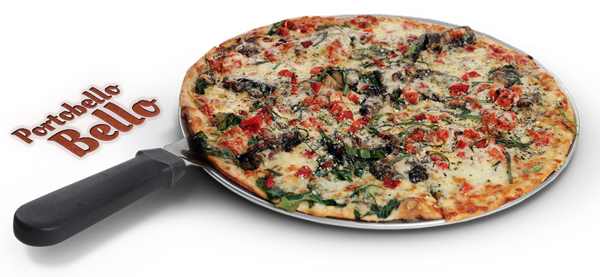 Over on the other side of town, BoomBozz Craft Pizza & Taphouse will build a new spot near Chicken Salad Chick.
Bryan S. Beach, BoomBozz chief operations officer, described the establishment as a family-friendly, sports-themed restaurant with 20 televisions and strong support for local sports teams.
Set to open in late fall 2018, the Louisville-based chain offers gourmet pizzas and craft beers.
___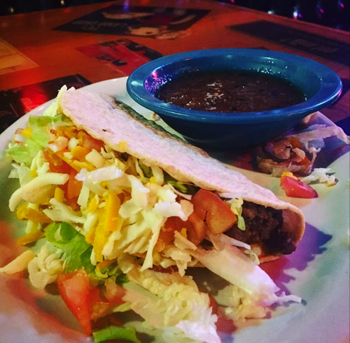 The spot that once housed Peiwei is getting a new lease on life thanks to Taco Garage.
If you thought choosing a favorite taco place was hard before, just wait until another Texas-born shop opens in The Gateway.
Joining Freebirds World Burrito, Blue Coast and Fuzzy's Taco Shop (I left Chili's out for a reason), Taco Garage is the latest addition to a crowded market.
Founded in San Antonio in 2005, Taco Garage serves breakfast, lunch and dinner in made-from-scratch tortillas with Mexican coffee or margaritas, depending on what you want for breakfast.
A popular craft beer market and bar is set to begin construction on its newest location in Smyrna next to Kroger on Sam Ridley Parkway.
___
The Casual Pints' planned Smyrna location will feature 32 rotating taps, with an emphasis on local and regional brewers, as well as to-go packaged beer sales and growler refills.
"We are very excited to open this location and serve the community of Smyrna in a meaningful way," Smyrna owner Chris Norris said.
The franchise's location also offers remote services via its Casual Pint Truck, which caters craft beer to events, tailgates, corporate gatherings, weddings, fundraisers and more. Construction on the Casual Pint began in August and is set to be completed in late fall or early winter. Norris said its grand opening will include giveaways, VIP events and more.
___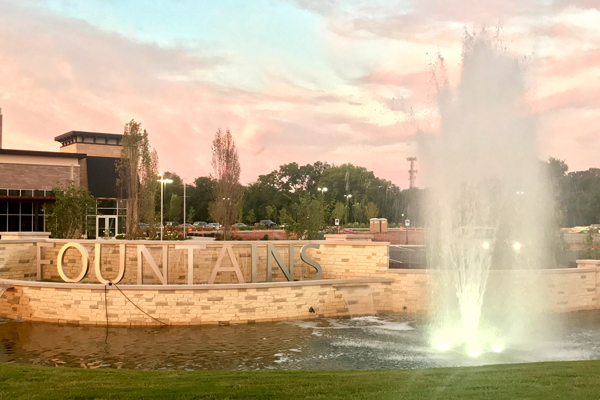 Fountains at The Gateway Starts Filling Up
Fountains at The Gateway opened two more attractions in August and have three more set for September, joining the businesses that have already opened their doors.
A 31-acre, Class A (i.e. fancy) commercial and residential development located at 1500 Medical Center Pkwy. in Murfreesboro, Fountains is home to Board & Brush, Fuzzy's Taco Shop and Anytime Fitness.
"Fountains at Gateway serves a unique mix of purposes—as a corporate office campus, upscale retail and dining district, and community event venue," developer Scott Graby said.
Graby broke ground on his $80 million masterpiece in 2015. When finished, it will include 400,000 square feet of office space in three office buildings, 70,000 square feet of retail in three freestanding buildings and street-level retail space in the office buildings, as well as a 100-unit apartment community and a midsize business hotel.
In the meantime, businesses keep trickling into the high-end development.
___
In August, Nothing Bundt Cakes and The Social Chair opened in Fountains at The Gateway.
Nothing Bundt Cakes sells a wide range of bundt cakes in various flavors and sizes, from bite-sized "Bundtinis" to larger 10-inch cakes.
The Murfreesboro bakery is the third location for Nashville-area franchise owner and foodservice industry veteran Jeff Warne and his wife, Lynne.
"We are excited to open our newest location where we can be more accessible to the many Rutherford County customers who have already become familiar with our premium-quality cakes," Warne said of his third bakery.
___
The Social Chair is a full-service blowout bar offering affordable luxury services such as signature-style blowouts, formal updos and makeup application.
"Our clients will enjoy a friendly, upscale setting and complimentary beverage while our talented stylists work their magic," said Jessica Shields, who owns the business with her husband, Matt Shields.
In September, two new concepts, The Soda Bar and Homegrown Marketplace, will open in a 2,524-square-foot space retail space in the Fountains at Gateway office building, Graby said.
___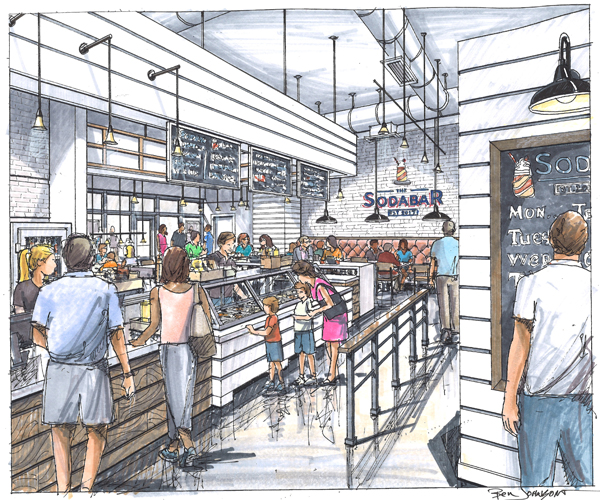 The Soda Bar is a dessert shop that will offer specialty ice creams, craft sodas, floats, Hawaiian shaved ice, coffees and signature takeout treats such as cookie dough.
Hearthstone worked with consultants Karen Ford and Danielle Worrell, owners of Goodness Gracious at Readyville Mill and previous owners of The Front Porch Cafe, to hone the concept for The Soda Bar.
___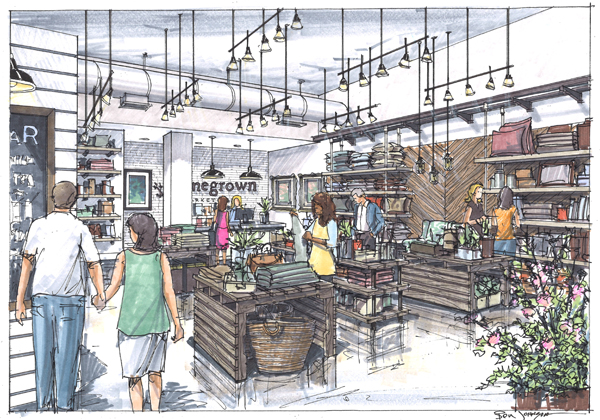 Homegrown Marketplace is a home decor and gift shop that will offer a wide range of items and furniture as well as stationery, gift items and locally produced specialty food items. The new concept will be an opportunity for local and regional artists, artisans and craftsmen to showcase their goods, Graby said.
Graby said the decor of The Soda Bar and Homegrown Marketplace will reflect a modern farmhouse style with stained floors, shiplap and pendant lighting. Plans include an indoor-outdoor soda bar that opens onto Fountains Plaza and an outdoor kiosk that allows customers to order outside and receive a text when their orders are ready.
"The interior architecture and store operations are designed for customer enjoyment and convenience, allowing customers to stay engaged in the events and activities on the plaza," Graby said. "In the winter, when we open the plaza ice rink, the menu will be modified to include signature hot chocolates and other seasonal delights."
___
Also in September, Murfreesboro fashion fixture e.Allen will open in Fountains to offer designer collections for women, luxury denim, fine boots and shoes, handcrafted jewelry and gifts.
With Murfreesboro resident Elizabeth Allen at the helm, e.Allen specializes in wardrobe styling and teaching customers not only what fashions to wear but how to wear them.
Two more eateries, Burger Republic and Kitchen Fresh, are due in October.
___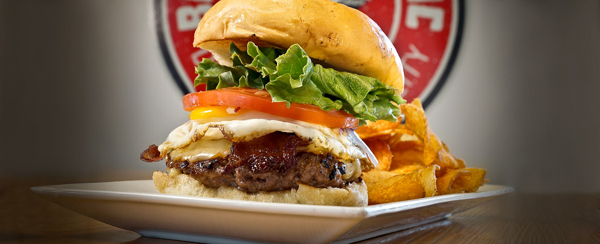 Burger Republic is an original and "fiercely independent" concept specializing in from-scratch gourmet burgers, American craft beers and hand-spun milkshakes; also offers a variety of non-beef sandwiches, entrée salads and sides.
The Nashville-based restaurant and bar concept is owned by Drew Jackman and Jeff Warne (who is also the Nothing Bundt Cake franchisee).
___
Kitchen Fresh is a new, fast-casual restaurant concept built around healthy, organic, chef-inspired food. All food is made from scratch and fresh-to-order. Meals are served in bowls with ingredients selected by each customer and prepared by Kitchen Fresh staff for dine-in or takeout.
Co-owners Brandon Whitsett and Asmir Pervan are successful business owners of Core Construction & Consulting, a national remodeling company and insurance claims specialist based in Murfreesboro.
___
Before the end of the year, Tressler & Associates Law Office and Tressler Title, a boutique law firm and title company with shared offices in Lebanon, Mt. Juliet and Nashville, will open its permanent office in Fountains.
Todd Tressler, owner and founder, said the Tressler team has been an active part of the vibrant Murfreesboro business scene for several years and that he looks forward to serving new and existing clients in their new offices.