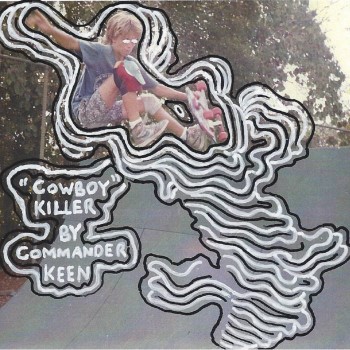 Cookeville-based Commander Keen is back with its second release of 2017, a 15-minute EP of fast and fuzzy cuts evoking the mood of a night out at a dive bar or a heated house show.
Cowboy Killer finds vocalist and guitarist Blake Marlow, bassist Matt Billings and percussionist Zach Ramsey re-tackling two of the band's earlier tracks and adding two new songs.
The re-recordings, "Brain Waves" and "Nashville Pts. I–III," are the strongest songs on the four-song release. "Brain Waves" originally appeared on 2012's Basement Sex EP in an extremely low-fi fashion. The new coat of paint brings out just enough clarity to make the song listenable but still leaves the track's druggy aesthetic in place. It features some sunny guitar work paired with beach imagery akin to modern indie rock acts Wavves and Surfer Blood.
"Nashville Pts. I–III" evolved from two different versions of the song, one from 2014's Low Budget Dreams and a 10-minute rendition on 2015's Melter EP; I believe this more refined version is the best of the trio. Things start out with a grungy take on what could have been a simple indie rock cut, with some rough-around-the-edges vocals and lyrics about being "the ugliest boy/girl in this ugly town" and enjoying a Nashville night. While the song starts as a mixed bag, it builds up to a wild jam, filled with stellar guitar solos.
As for the two originals, they fit in between the two aforementioned cuts in the tracklist, and serve as a bit of a sonic transition between the opener's bright elements and the insanity of "Nashville." The title track mixes nice guitar parts with some punk-like vocals and rhythms, and has a good vibe, but it isn't quite as memorable as you'd expect a title track to be. "God Is on the Mountain" follows with some ramped-up indie guitars that accelerate into a punk frenzy.
Overall, Cowboy Killer is a fast and furious listen that's ideal for fans of all things garage and grunge. It could even win over listeners who like their indie rock a bit cleaner, if they can get into the rougher vocal delivery.
Commander Keen's Cowboy Killer is available digitally and physically on Bandcamp.