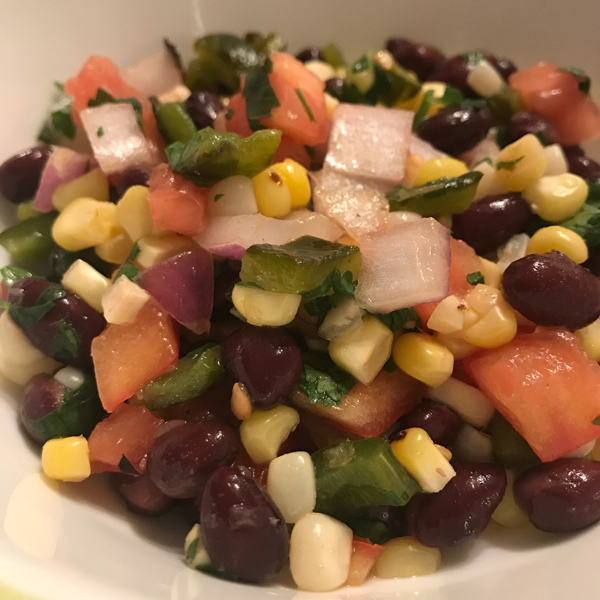 A stroll around the Farmers Market on Saturday morning will reveal endless vibrant colors and a wide variety of produce. The options are never-ending of the potential dishes that could be made!
With that being said, I really wanted to pay homage to a few of the local products that are vibrant as we near the end of summer.
Roasted Market Salsa
Ingredients
2 ears sweet corn
1 large or 2 medium tomatoes, diced
1 large poblano pepper
½ red onion, diced
1–2 cloves garlic, minced
½ bunch cilantro, chopped
1 can black beans, drained and rinsed
Juice of 1 lime
Olive oil
Cumin
Chipotle chili powder
Salt
Drizzle corn and poblano pepper with olive oil. Season corn with cumin, chili powder and salt. Grill corn and poblano pepper. Corn should be just marked and cooked through. Poblanos should be blistered and well cooked. Remove from grill and allow to cool slightly.
Cut corn from cob and place in a bowl. Remove seeds from poblano and dice, add to corn.
Combine all remaining ingredients with corn and poblanos. Toss with salt and lime juice as desired.
Salsa can be eaten alone with tortilla chips or used to top tacos, chicken and more.
I fixed some chicken tacos featuring the salsa, and they were clean, fresh and full of flavor—corn tortillas with simple grilled chicken, topped with the salsa and a little queso fresco. Pair these with some Spanish rice and sliced avocado, and enjoy!