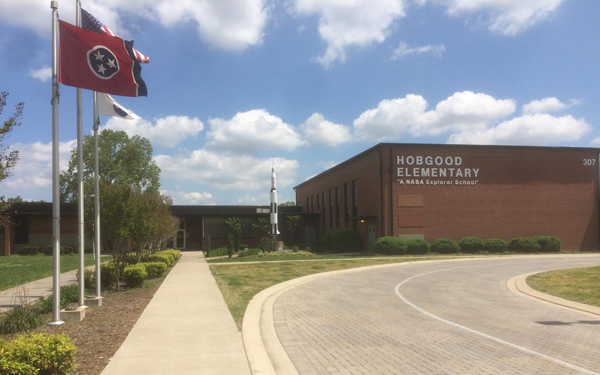 The Crawford family didn't get a staggering amount of compensation for damages after three of their children were wrongfully arrested in a sweep of kids at Hobgood Elementary School and other city schools.
The $85,000 settlement they received from the city of Murfreesboro and Officer Chrystal Templeton pales in comparison to the awards numerous people netted in recent years from Rutherford County after being fired by former Sheriff Robert Arnold, who's serving a 50-month prison sentence for official corruption. Rutherford County is chipping in only an additional $1,500 to avoid all possible claims.
The main difference is that those who sued Rutherford County could claim they wrongfully lost wages and benefits. The Crawford kids, on the other hand, couldn't prove that their livelihoods were damaged, nor their earning power. But they suffered nevertheless.
One child was handcuffed at the school and taken away, and two others were detained in April 2016 even though they weren't at the scene of a bullying incident that led to their arrests, according to their lawsuit.
They "suffered great humiliation and embarrassment" because of the arrests, as well as "fear and anxiety" toward law enforcement, the lawsuit claims. In other words, they don't trust the police and probably never will.
Who could blame them or their parents for never trusting any law enforcement officer again? After all, when Templeton came to their home to find out the names of children involved in the punches that spurred the whole case, they cooperated.
A few days later, they were taken to teenage jail, even though they were hardly teens. Even worse, according to the lawsuit, one of them was at a basketball team party at CiCis Pizza during the incident, another was ill at home and the third one was believed to be heard on video asking a little boy to stop hitting others.
How such an incident escalated to arrests should be embarrassing for the police department and the entire city of Murfreesboro, not for these three youngsters.
Luckily, we have a silver lining.
Three lawsuits filed against Murfreesboro, Rutherford County and the officers involved in this mess led to a major victory for local kids.
A new federal court order prohibits Rutherford County from holding minors at the Juvenile Detention Center until they go through a detention hearing. The judge also frowned on an "always arrest" policy put into place in 2003 along with a "filter system" used to determine whether juveniles would be detained or released until a detention hearing.
For years, apparently, many children were being arrested, brought to detention and held there instead of simply being cited to court. As a result, we trained a generation of children to hate the legal system and learn how to deal with life in a jail cell. More or less, we prepared them for life at 940 (the dreaded county jail).
It's little wonder we have General Sessions and Circuit Court dockets so full that people can't even get into the courtrooms. Rutherford County's also building a $70 million-plus judicial complex with parking garage to handle the staggering number of defendants and cases.
Getting here wasn't easy. We had to arrest a whole lot of people. Getting out of it won't be simple, either, because Murfreesboro's population, at roughly 131,000, is expected to hit 228,000 in less than 20 years. That's a lot more people for officers to cuff and take to jail. Maybe, though, they'll start giving kids a break.
Guarding the Henhouse
County Attorney Josh McCreary and fellow members of Hudson, Reed and McCreary showed dismay in a Rutherford County Ethics Committee meeting where they faced accusations of unethical conduct, conflicts of interest and wrongful billing. They couldn't believe they were defending themselves against allegations by the Rutherford Neighborhood Alliance when all they had done was follow county policy.
It was enough to make a grown man cry. (Well, almost. I think I did miss a Braves game on TV in order to cover the meeting.)
Much of the complaint stemmed from a $10,000 invoice the firm (once led by former County Attorney Jim Cope) sent the county for time its associates spent discussing a contract with the county for legal services. In other words, we paid them to figure out how much they would charge.
No doubt, they had to work hard to come up with a contract enabling the county attorney to collect $74,000 a year plus county benefits, in addition to fees for legal services and still more fees to handle lawsuits handled by the county's third-party insurer.
The Rutherford County Commission had to work even harder to say, "Sure, that sounds like a great deal. After all, if we started a legal department we'd have to pay about five or six attorneys to handle all of our cases."
It doesn't help that the county's had a bunch of goofballs in charge, causing it to pay millions in settlements the past few years, plus the accompanying legal fees. All told, the county spent $1.75 million on legal services in the past two fiscal years, most of that going to McCreary's firm.
Incidentally, Cope, who resigned in October 2016 shortly before pleading guilty to federal insider trading, reworked the legal services contract to make sure McCreary got the county attorney job if he had to step away for some reason.
No doubt, McCreary is an excellent attorney. Nobody is questioning his skills, which must be finely-honed to fight the lawsuits brought on by Rutherford County's idiocy over the last two decades.
But if Cope, McCreary and company really were working in the best interests of the people of Rutherford County, why would they charge the taxpayers $10,000 for time spent negotiating a contract? As County Commissioner Robert Peay asked in the Ethics Committee meeting, "Were you working for Rutherford County or for yourselves?"
Most people can answer that one without even hearing the evidence.
Those same people also would say the targets of an ethics complaint—in this case the county law firm—should not be allowed to give legal advice or opinions while defending themselves. The county hires outside counsel frequently when the county law firm has a conflict of interest. Believe it or not, Jim Cope recused himself when an ethics complaint was filed against former Sheriff Arnold.
This time should have been no different. (Incidentally, the committee cleared the firm in the ethics complaint.)
SROs on the Hook
The Rutherford County Sheriff's Office recently fired SRO Jimmy Sanford after charging him with assault, perjury and filing a false report. He allegedly injured a 16-year-old student at Smyrna West Alternative School after handcuffing the teen before taking him to juvenile detention.
For Sanford, this might have been the proverbial straw that broke the camel's back. The 15-year department veteran's number of disciplinary cases probably outnumbered Al Capone's total number of charges for income-tax evasion.
At least three principals requested he be removed from their schools for causing "dissension" and "embarrassment," and he lied to supervisors several times about being late to work and failing to follow orders. He also arrested teens for marijuana charges twice when told by a supervisor not to do it. In one case, he charged a student with marijuana possession for having pot seeds. But when a supervisor demanded he show him the marijuana seeds, he admitted the charge was based on a brownish piece of paper that smelled like weed.
Sanford, whose case remains under investigation, is hardly the first SRO to be fired.
The sheriff's office fired La Vergne Lake Elementary SRO Scot Appleton after finding he violated county electronic media policy by "repeatedly contacting a female he met online" using the sheriff's office and county school's email domains as well as his sheriff's office cellphone.
In addition, the department fired Blackman Middle SRO John Heath for inappropriate conduct toward a student's mother and the middle school boy who was on his wrestling squad. According to a lawsuit filed against Heath and the county, the SRO started lusting after the woman and demanded she send him topless photos. Instead, she sent him a photo of her face covered in a mud wrap.
He didn't get the message and kept harassing her, saying she owed him "big time." Once he did figure out she didn't want anything to do with him, he started harassing her son, calling him a "quitter," according to the lawsuit, and trashing him in front of other students.
Gee, we all know the benefits of tough love and discipline. But when a coach starts getting onto a kid because the boy's mom won't give in to his sexual fantasies, that's just wrong.
The bigger problem, however, lies inherently with the SRO program. Based on these incidents, it appears the SROs don't have enough work to do, leaving them idle time to surf the web and chase women.
The solution is simple: cut costs and require the officers to split their time between schools and go home at the end of the day. Instead, they're putting in hours coaching sports and working security at ball games, which results in lots of comp time, all of which the county's taxpayers fund.
The SRO program started with five officers in the early 1990s. It's done a lot of good. Before that, though, we didn't have any, and somehow—only God knows how—we survived without having armed officers walking our school halls. This is one time we need to step back in time because these guys have too much time on their hands—way too much time on their hands.