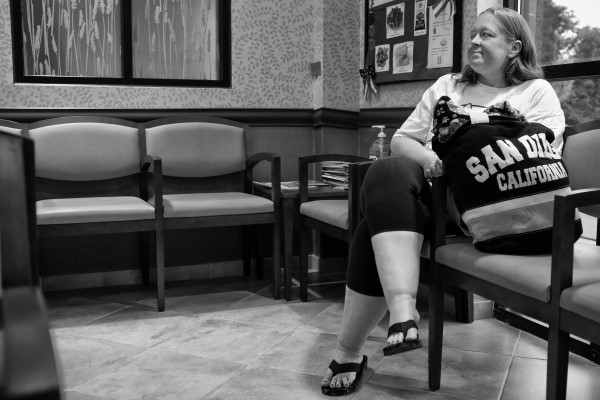 The sounds of beeping can be heard for a solid four hours while she sits quietly in a room surrounded by others. Around her are several people, one with a homemade quilt covering her legs, another woman who appears to be about 60 wrapped in a sleeping bag and a third listening to headphones. Another man appears to be about 40 years old and late for an appointment, as he constantly looks at his watch and questions the length of stay during this visit.
The dialysis clinic in Smyrna, Tenn., is filled with all walks of life. Some have hereditary blood disorders that date back to their childhood, while others have suffered from diabetes to the point where their kidneys no longer function properly. The list of causes goes on and on because there are so many illnesses, diseases or injuries that can damage the kidneys.
The National Kidney Foundation reports, "In the United States the two leading causes of kidney failure, also called end stage kidney disease or ESRD, are diabetes (also called Type 2, or adult onset diabetes) and high blood pressure."
When these diseases are controlled by treatment, the associated kidney disease can often be prevented or slowed down.
In Smyrna, Sarah Baker undergoes dialysis treatment at a local clinic three times per week, for four hours each visit.
"I have been on dialysis since 2008. I did receive a new kidney in 2014, but it only lasted nine months and now I am back on the transplant list and looking for a living donor," said Baker.
The Cleveland Clinic reports that kidney transplants from living donors (as opposed to a cadaver) have a better chance of success. Due to Baker's blood disorder, her body would function better with a kidney donated by a living donor.
Life is a challenge when you have to undergo dialysis three times each week for a total of 12 hours. Baker has two children and taking care of them, along with having time to herself, is not easy, she said. Luckily, her teenage daughter helps out with daily chores and more.
As far as making ends meet while having time for dialysis she said, "You learn to adjust, that is the biggest part. You work around the schedule because you have to, this is your life.
"I first had to start dialysis because when I was 9 years old I was diagnosed with Purpura, which is a rare blood disorder and it attacked my kidneys," Baker continued. As she aged her problems got worse. "Not having insurance, I didn't get to see a doctor because I couldn't afford to see a doctor," she said.
Failing to visit a clinic meant that her blood pressure went unchecked for quite some time until she started feeling extremely tired and completely worn out daily, despite her sleep patterns.
The blood disorder that she was diagnosed with at age 9 is rare; its full name is "Thrombotic Thrombocytopenic Purpura." Symptoms often include severe decreases in the number of platelets, abnormal destruction of red blood cells and disturbances in the nervous system and other organs, according to the National Organization for Rare Disorders.
While the exact cause of Purpura is not known, it is sometimes believed to be inherited. It can also occur as the result of AIDS, though this is not the case for Baker.
Baker recalls the news of when she was first told her kidneys had stopped working.
"When I went to work that day I knew something wasn't right," Baker recalls, explaining how she ended up leaving work early to visit the emergency room. Once at the hospital, she was told that her blood pressure was extremely high followed by the scary and devastating news: "I was in complete renal failure." Her kidneys had stopped working.
"You come in regardless, even if you're sick you come here," Baker said while describing how grueling of a schedule she holds when it comes to her dialysis treatment. Basically, if she wants to live she has to continue her dialysis until she has a new kidney.
DaVita Incorporated manufactures dialysis machines. According to the company, "The dialysis machine mixes and monitors dialysate, the fluid that helps remove the unwanted waste products from the blood. It also helps get your electrolytes and minerals to their proper levels in your body. The machine also monitors the flow of your blood while it is outside of your body.
For the second time in Baker's life, she is awaiting that new kidney while on a list. But, it is not a small list and she is joined by over 100,000 others waiting for a kidney. The National Kidney Foundation reports that 4,761 people died in 2014 while waiting for a kidney to become available. Another 3,668 became sick while waiting for a kidney, too sick to receive the needed surgery even if one was found.
The good news is that someone can donate a kidney that is specific to Baker. In other words, you can donate a kidney for a friend, loved one or total stranger and designate that the person named receives your transplant. To make that happen, you call the Vanderbilt Kidney Donation Center at (615) 936-0695 and tell them you want to test your blood type to see if it will be a match for Sarah Baker.
After you undergo the simple blood test, they will call you to let you know what steps can be taken next. Keep in mind that if you do donate a kidney to Baker, all of your medical costs are covered and you can live a normal life with only one kidney, but of course you should check with your doctor before moving forward with testing.