It is a practice that has existed since college athletics became a profitable venture—pay a smaller program to come lose a game at your venue. Those games are supposed to be guaranteed wins. Why, who would pay almost a million dollars for a loss? Syracuse is who.
After MTSU's lackluster 2017 football home-opener against Vanderbilt, few gave the Blue Raiders a chance against the Orange. Vegas had them as 7.5-point underdogs. ESPN gave Syracuse a 87 percent win probability. The Orange fan base tweeted all week about how many scores the vaunted Syracuse passing offense would put up against the MT defense. None of them said it would be only 23 points.
"It's a big confidence booster," safety Jovante Moffatt said of slowing the high octane Orange offense. "I still feel like there were a lot of things we could have done better, but at the end of the day we did what we were supposed to do."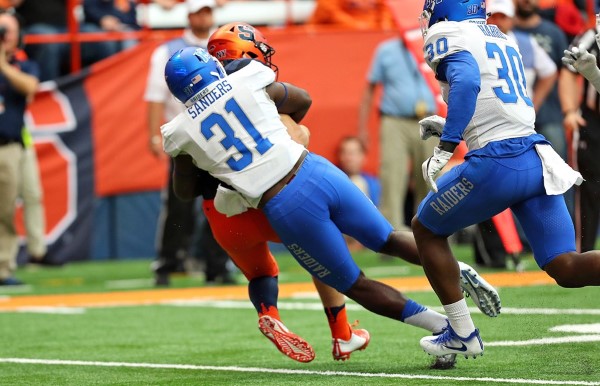 Khalil Brooks logged eight tackles, 2.5 tackles for a loss and 1.5 sacks, which was good enough to earn Conference USA Defensive Player of the Week honors. However, it was true freshman safety Reed Blankenship who was the biggest surprise. Blankenship was around the ball all day while he accumulated five tackles. With less than five minutes in a 30–23 game, the Syracuse offense was threatening to send the game into overtime. However, it was Blankenship who made an amazing diving interception to put the game on ice.
The offense showed vast improvement from week one to week two, however it still struggled in many of the same areas. The Orange were able to apply plenty of pressure throughout the first half (the offensive line seemed to shore things up in the second half) and the running game was still largely ineffective.
"Still not good enough. That's not our standard as an offense," quarterback Brent Stockstill said.
Stockstill himself showed marked improvement after what he described as an "embarrassing" performance against Vanderbilt. His 269 passing yards and three second-half touchdown passes against Syracuse garnered him a share of C-USA Offensive Player of the Week honors.
The Blue Raiders celebrated their big road win over a Power 5 school over the weekend, but they will try to do that again this week as they travel to play Minnesota.
MTSU will head to Minneapolis on Saturday, Sept. 16, to play their third consecutive Power 5 opponent, and a familiar face will be on the opposing sideline.
P.J. Fleck, one of the hottest young coaches in the nation, is in his first season as head coach of the Minnesota Golden Gophers. He previously was the head coach at Western Michigan, Middle Tennessee's 2015 Bahamas Bowl opponent. However, don't expect to see a lot of the same offense you saw in the Bahamas Bowl.
Minnesota lacks the likes of a Corey Davis/Daniel Braverman tandem that Fleck had at Western Michigan, so the Golden Gophers have relied primarily on the run game thus far. They have recorded 103 rush attempts in only two games while going to the air just 30 times.
Though they don't pass often, they tend to connect for huge gains when they do. Receiver Tamarion Johnson leads the Big Ten in receiving yards (268) and receiving yards per reception (26.8).
Of course, those big pass plays would not be possible without an effective run game, and Minnesota certainly has one of those. Running backs Rodney Smith and Shannon Brooks have each compiled more than 160 yards on the ground this season, with Brooks being more of a homerun threat.
The Blue Raiders showed the ability to stop a potent rushing attack against Vanderbilt, however they also showed the focus on stopping the run leaves them susceptible to large pass plays. Cleaning up the missed assignments that derailed them in the home opener will be paramount to their hopes of pulling off two consecutive upsets.
Also paramount to their success in the football game will be the play of the offensive line. They will need to play more like they did in their last two quarters and less like they did in their first six if they hope to get a victory in Minneapolis. The Golden Gophers have proven to be a stingy defense, allowing only 243 yards per game in their first two contests. They have also flashed the ability to get into the back field with three sacks and 10 tackles for loss.
The game will kickoff at 2:30 p.m. central time, Sept. 16, and will be aired on the Big Ten Network.