To some, Saturday mornings at Murfreesboro Vacuum Cleaner and Sewing Center may appear like an ordinary business day. Although the shop is open until 2 p.m. each Saturday, owner Kenneth Leonard Jr. gathers in the back with family and friends all morning to play a blend of bluegrass, country and gospel.
The musical tradition began more than 20 years ago, when Leonard's brother and uncle would bring lunch back to the store and play guitar. Eventually, Leonard and his father, Kenneth Leonard Sr., joined the fun.
"[My uncle and brother] would go get lunch, and we'd eat chicken wings and pick," Leonard says. "Eventually my dad and I joined in, too."
With the front door propped open and facing Memorial Boulevard, customers occasionally pop in for a question or to drop off an appliance. It's also not unusual for the phone to ring during a song. When this happens, Leonard, who sometimes joins in on guitar and bass, stops what he's doing and carries out business as usual.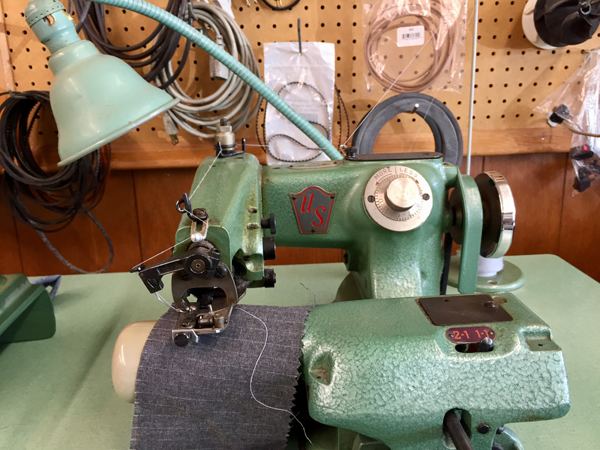 "That's how this evolved into what it is today," Leonard explains. "Customers would come into the shop and then end up coming back the next week to play with the rest of us."
The back room features a couple kitchen appliances and just enough space for a group of about 15 musicians, along with several guitars, microphones and music stands. While some friends and family members have either moved away or passed on, many members of the current group have met each Saturday for about 15 years.
"We all do our own things during the week, but Saturday is our day to catch up and play music," Leonard says. "Customers sometimes even stick around and listen to a song or two."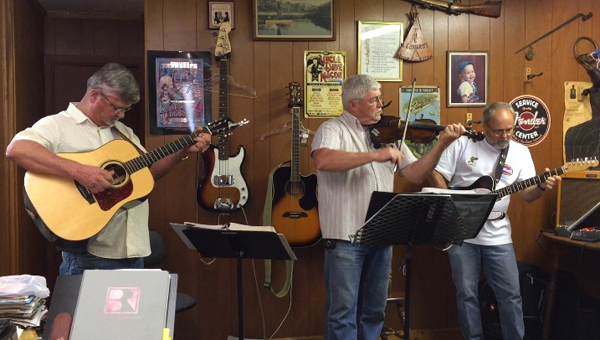 Inside the performance room, the walls are lined with posters and other country music memorabilia. The Tennessean's 2013 George Jones memorial cover is positioned over the stovetop. Guitars, both acoustic and electric, hang on the walls, ready to be taken down and strummed at any moment. Among the framed photos are images of Loretta Lynn, Elvis and Johnny Cash, as well as photographs of the group's Bob Godsey with his musical hero, the late Glen Campbell.
For Leonard and company, he says the fun and fellowship that comes with playing music helps the tradition live on. For three hours, the musicians take turns singing a couple songs while the rest of the group plays along on guitars, fiddles, mandolins and banjos. They even share friendly banter between songs.
"You've gotta keep up," someone quips after a song ends. "I think you were leaving skid marks on the ground," someone else chimes in, laughing.
"You'll hear some cutting up while you're here," Hiram Lester explains. He is a Saturday morning regular and has been for several years. "But we're all here to have fun and play music."
The songs, though mostly traditional country, span many decades. Melba Leonard, Kenneth's mother, leads "The Tip of My Fingers," a delicate country ballad written and recorded by country artist Bill Anderson in 1960. Linda and Bob Godsey duet on "You're the Reason God Made Oklahoma." Later in the morning, Gary Allen, accompanied by his electric guitar, covers Brooks & Dunn's "Neon Moon." Allen's father, Jack Allen, sits nearby, strumming and singing along.
"We all like country and gospel," Melba Leonard says after the group wraps things up for the day. She cites Patsy Cline as one of her favorites.
"We might throw in a little bluegrass or rock 'n' roll," Lester adds. "For the most part, we like country . . . like Hank Williams and Conway Twitty."
On every day but Sunday, Leonard can be found selling and repairing vacuum cleaners and sewing machines, a trade he learned from his father. It's a hard-pressed occupation, he admits, but he looks forward to the Saturday gatherings.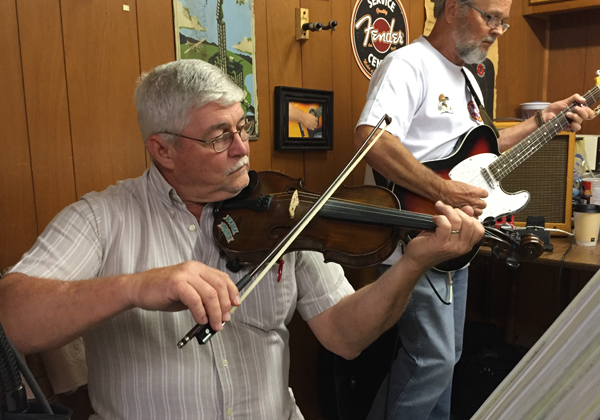 "Work is hectic throughout the week, so Saturday is our day of enjoyment," he says. "I'm usually working most of the time, but at least I get to listen to the music while doing other things."
Murfreesboro Vacuum Cleaner and Sewing Center is located at 1013 Memorial Blvd. Although Saturday mornings remain a friends-and-family affair, interested parties can hear most members of the group perform at Westbrook Towers every fourth Saturday at 6 p.m.