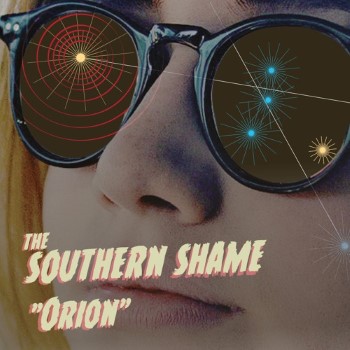 The Southern Shame, a Middle Tennessee outlaw-country three-piece, has played local spots like The Boro Bar & Grill numerous times since forming in 2006. Frontman/producer Jason Fox, percussionist Tracy Ratzlaff and bassist Andy Wortman dropped the living-room-recorded EP, Orion, in the summer of 2017, which features a mix of accessible influences packed into an acoustic Americana sound.
The 7-track release takes its name from the singer Jimmy "Orion" Ellis, an Elvis Presley soundalike who wore a mask to perpetuate the myth that the King was alive and recording songs under a mysterious alias. The song "The Ballad of Jimmy Ellis" is a riveting tribute to the singer and the documentary that tells his life story, Orion: The Man Who Would Be King.
That isn't the only classic influence on the EP. The tracks "Contract Lover" and "Rascal" give off some major David Bowie vibes. Fox's vocals on "Contract Lover" sound like the late Thin White Duke going through a country singer-songwriter phase. "Rascal" takes Bowie's epic "Ziggy Stardust" swagger and compresses it into the Southern Shame's acoustic-based sound. You can also hear the band's '60s pop influences on songs like "As If" and "Forget Nashville." You can even get a touch of Bob Dylan's country moments throughout the EP.
The only drawbacks of Orion lie in some of the vocal parts. Sometimes they're not enunciated clearly, especially on the opener, "Woke Up This Morning," and at points they're mixed too low and blend in a bit too much with the instrumentation. These factors take some focus away from Fox's lyrics, but also allow the guitar melodies, song structures and instrumental elements to shine through.
While the influences are present, the way that The Southern Shame transforms them into something new is what makes Orion such a good release. You may go in expecting a straightforward outlaw or singer-songwriter record, but you come out the other side with an accessible and memorable batch of songs from a group has the chops to win over many audiences to come.
The Southern Shame's Orion EP is available on Bandcamp, Spotify, iTunes, Apple Music, Amazon and Google Play.