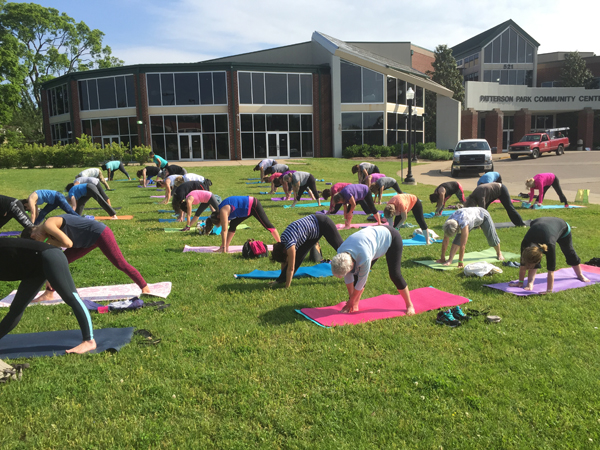 September is national yoga month, an ideal time to take a look at some of the activities around the Murfreesboro community and learn how you can get involved.
Have you ever asked yourself, while flipping through Instagram or seeing commercials of individuals in unique handstands and awkward positions that leave you in amazement, what is the big fuss about yoga and why is it such a hot attraction?
Doing yoga is like so many others things in life: it is either by force or by choice.
Kim Hillsman Dunaway, a yoga instructor at Patterson Park Community Center, says it all started for her after a Beachbody program called Chalene Extreme helped alleviate "muscle soreness and tightness."
"I tried Hot Power Yoga for a year and half and got hooked," she states. "And ultimately got the itch to teach."
Dunaway, who began yoga in 2012, currently teaches classes on Mondays and Wednesdays at 4:20 p.m. as well as on Tuesdays and Thursdays at 8:30 a.m. Her inspiration derives from role models such as Faith Hunter, Dharma Mittra, and two of her teachers, Jessalynn Hakanson and Shae Bryant. This path has opened extraordinary opportunities for her, including upcoming projects like a Boro Yoga Conference at the Doubletree on Sept. 23, 2017, and the second Boro Yoga Festival in April 2018.
Now, what are some of the other health benefits of yoga?
Mykal Harris, a yoga instructor at Nat Yoga & Meditation, explains that some of the benefits include "increased flexibility, increased muscle strength and tone, improved circulation and respiration as well as better temperament and emotional control."
Harris would tell anyone interested, "Don't be intimidated, and start small"; a beginners' class shouldn't involve complex twists and manipulations, or require great strength.
Dunaway offers similar suggestions, and suggests to those interested "to drop your expectations and be a sponge." Furthermore, she advises new instructors "to continue to be a student and take advantage of workshops, festivals, retreats and additional training."
The popular saying in yoga, "practice and all is coming," sums it up well. Anyone who is willing to put in the time and effort will eventually get better at it, and see benefits from it, just like weightlifting or boxing or anything else.
Another lingering question floating in the air: is it primarily women that practice yoga?
Sometimes we see projections of women practicing yoga more than men but Harris says "that is actually ironic because in the beginning, in India, women weren't allowed to do yoga at all."
Dunaway points out that "women have looser hips and shoulders," with "men tending to be less flexible," Harris says.
They both agree that it is beneficial for men, so let's jump on the bandwagon and push aside our egos, men. Being surrounded by motivating ladies will definitely help push fellows to be a part of this yoga team spirit.
Teaming up with others always makes a workout encouraging and helps holds you accountable to others, which is what Harris is doing with two other ladies in town with a program called MelaYoga. Once a month at the Patterson Park Community Center, they offer a free class at 10:15 a.m.; upcoming dates to join them include Sept. 16, Oct. 21, Nov. 18 and Dec. 16.
If you haven't done yoga before, this would be a perfect time.
Local men and women are welcome to take advantage of the many classes in our city of Murfreesboro; you don't have to go anywhere else, because the 'Boro has your fitness needs covered.
Be a better you every day!
___
If you'd like to get involved in yoga, check out some of these Murfreesboro locations and find one that fits your schedule, budget, goals and lifestyle; classes range from meditation to power yoga and Hatha to Vinyasa:
Arden Yoga
524 N. University St.
(615) 648-4232
Barre 11
2223-F NW Broad St.
(615) 410-2235
Garage Barre
106 S. Maple St.
(813) 785-3246
Gold's Gym
1713 Old Fort Pkwy., 313 S. Church St., 1691 Memorial Blvd.
(615) 956-6016
Murfreesboro Athletic Club
710 Memorial Blvd.
(615) 396-0999
NAT Yoga & Meditation
505 Cason Ln.
(615) 656-0965
Patterson Park Community Center  
521 Mercury Blvd.
(615) 893-7439
Pure Barre
1970 Medical Center Pkwy.
(615) 203-3129
Shae Bryant Wellness
locations vary
(615) 450-1882
Sports*Com  
2310 Memorial Blvd.
(615) 895-5040
Yoga on the Square
423 W. Lytle St.
(615) 904-9642