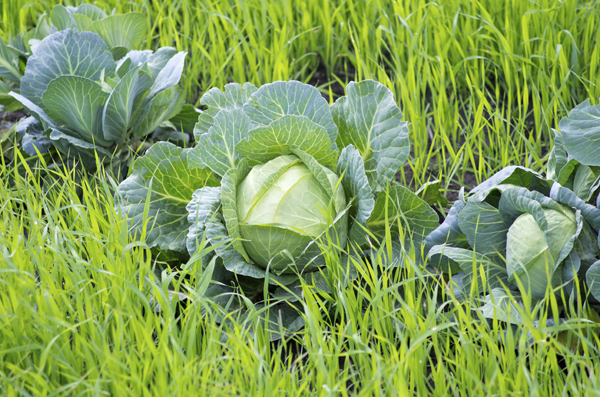 Harken, gardeners, and employ the benefits of a cover crop during the winter months. Why? Several reasons: open, bare fields lose nutrients and top soil. As gardeners, we want to keep both.
Although cover crops can be used year-round and fill many needs within a small farm or garden system, the primary purpose of a cover crop planting in the fall is to stop soil erosion and minimize water runoff which carries away topsoil. Other reasons for planting a cover crop can include weed control, enhanced soil structure, improved organic matter, reduced soil erosion, a supplied mulch, water conservation, the preservation of soil nutrients and increasing the available nitrogen, which improves plant growth and greenery.
The planting time is important for the establishment of an end-of-season cover crop. A study at East Tennessee AgResearch and Education Center confirmed the best time to plant cover crops in this area is in October. The vegetable production is minimal or finished. The seeds planted by mid-October had greater soil coverage than those planted any later. Temperature and precipitation can be more challenging as the fall progresses. November plantings are getting too late for a high germination ratio. A grain/legume planting in early- to mid-October would generate the highest soil coverage until the spring as well as a good nitrogen fix for next year's garden.
The addition of cover crops to a gardening plan furnishes organic matter that will boost soil quality. So although the purpose of your cover crop this fall will be to protect the topsoil that you already have, the additional organic matter tilled and turned into the soil will have the additional benefit of improved soil structure. The tilling and turning should be done before the cover crop flowers in the spring, unless it is buckwheat. Bees love buckwheat. The breakdown of the turned plant material creates spaces and pores within the soil, which improves water retention and overall soil quality. So, you do want to seed thickly to provide for the many benefits. It will look like a greenish brown mulch.
The same study compared small grain and legumes being grown individually and as a combination (biculture) in the same field. There were 36 treatments which included a plot of each plant as a monoculture, all possible legume-grain combinations and a no-crop check plot. Legumes were inoculated with bacteria in order to fix nitrogen. Nitrogen fixation is a process in which inorganic compounds are modified for use as a basic building block for the plant, making nitrogen available for plant growth and greenery.
The highest performing individual plots were also the highest performing bicultures. Not surprisingly, the bicultures were more successful in covering the soil. Planting two cover crops together, a grain and a legume, does result in optimum benefits for both. Either rye, triticale (a combination of wheat and rye) or wheat planted with hairy vetch (another nitrogen builder), winter pea or crimson clover (considered a green manure as it can be tilled in at any time) would achieve this goal. Rye breaks up hard soils. It has strong roots and root hairs.
The top combinations of bicultures in the study were: 1. Triticale and winter pea; 2. Triticale and crimson clover; 3. Triticale and hairy vetch; 4. Rye and crimson clover; 5. Rye and winter pea (good nitrogen builder); 6. Barley and crimson clover; 7. Rye and hairy vetch; 8. Triticale and red clover; 9. Barley and winter pea. The top combinations were determined by biomass, weed suppression and percent of soil coverage. Covers containing rye did better when planted in late October through November. This is good to know if you can't get your cover crop in by mid-October.
Not listed here is buckwheat, which I have grown. It is a delicate looking plant that releases phosphorous to the soil. Its roots help to break up the soil. Tilled in, it builds organic matter. As stated before, bees love it.
If all else fails, you can cover your garden soil with leaves, straw or pine mulch. Each turns into the soil well in the spring and adds to the porosity and structure of the soil. They can also be added to your compost pile with your untreated grass clippings.
Farmers Market and Arts Festival
October is the final month for the Farmers Market in the Community Center of UT Extension on John R. Rice Boulevard. Not only are the farmers there, but local crafters are there as well throughout October. Yes! It is the Fall Market/Art Festival 2017. For more information, call 615-898-7710.
Classes continue throughout the month!
Oct. 3:
Regenerative Agriculture – Richard Lee, Certified Master Gardener
Improve your soil and crop diversity.
Oct. 6:
Healthy DIY Freezer Meals – Tiffany Schmidt, Extension Agent
Prep now and eat later!
Oct. 10:
Tools & Equipment Hacks for Gardeners – Mitchell Mote, Extension Agent
Get the most out of your yard tools.
Oct. 13:
STEAM Festival, Selecting Bulbs & Other Perennials – Anthony Tuggle, Extension Agent
Select bulbs and perennials for your gardener.
Oct. 17:
STEAM Festival, Minimizing Food Waste – Misty Layne-Watkins, Extension Agent
Save money while identifying ways to reduce food waste.
Oct. 20:
STEAM Festival, Flexible Fencing – Kim Hall, Extension Agent
Learn how to keep small animals out of your garden with flexible electric fencing.
Oct. 24:
Selecting High Quality Plants – Anthony Tuggle, Extension Agent
Learn how to determine, then select highest quality plants for your home and garden.
Oct. 27:
Hands-Only CPR, Two Steps to Staying Alive – Misty Layne-Watkins, Extension Agent
Learning hands-only CPR is an easy and effective way for you to improve the chances of survival of those who suffer cardiac arrest in your vicinity.
There are two fundraising lunch dates for the United Way and the Read to Succeed program. A chili and dessert lunch will be held from 10 a.m. until noon on Friday, Oct. 20, followed by a soup and dessert lunch on Oct. 27. Lunch is $5.