Chattanooga-based Strung Like a Horse is a high-octane force to be reckoned with—and not just because they play a mean kazoo and know how to have a good time onstage.
The group,which first formed loosely nearly a decade ago, is comprised of Clay Maselle (vocals, guitar, mandolin, kazoo), B.J. Hightower (upright bass, harmonies), Eric Crisp (drums, bells) and Paddy King (fiddle). The band has since crafted a sound like no other: think riveting folk-rock with punk-inspired vocals and touches of psychedelic and metal, all of which are brought to life with bluegrass instrumentation. Strung Like a Horse has captured this eclectic blend of styles on two full-length releases, Free and Live at Lindsay St.
Catch the band's tour de force of a live show at Hippie Hill's Fall Fest, held Oct. 27 and 28. Joining the band are The Broke Strings, Newsome Corbett, Charlie Bonnet and other artists, along with an Elvis impersonator, a costume contest and hay rides.
We spoke with B.J. Hightower about Strung Like a Horse's origin, how bluegrass appeals to all generations and what the they're working on now: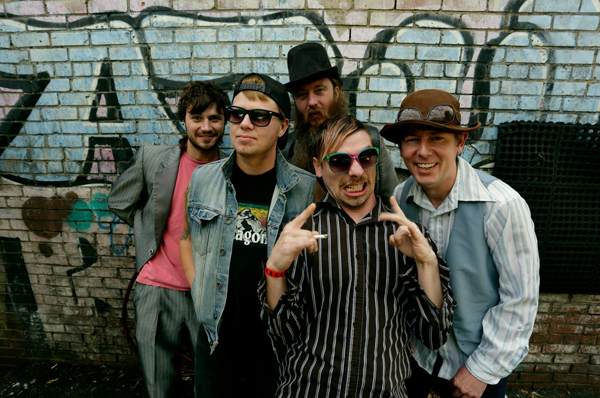 Murfreesboro Pulse: To start things off, can you tell me how Strung Like a Horse came to be?
Hightower: Well, seven or eight years ago Clay and Ben and a couple of former members met in Chattanooga. They didn't care much for traditional bluegrass, and they weren't all that great at copying other styles of music, but they really dug oddball bands like Split Lip Rayfield and John Hartford. From there, they decided to try and play something loosely resembling bluegrass as fast as they possibly could.
It was just for fun at that point. The desire to play out led them to choose a name, so Clay suggested "Strung Like a Horse." One member immediately quit. In an ad hoc fashion they worked their way through a few free shows and bar tabs in local venues until the local "battle of the bands" style competition came up. Having nothing to lose, they submitted and were accepted.
Strung didn't win that competition, but the fiddle player and bassist from the second-place band took notice. As that band began to wane, members began to gravitate toward Strung Like a Horse. It was the fiddler first, then the bass player. Somewhere along the way they attracted a talented but eccentric percussionist. The lineup was complete and a new/old sound was born.
How would you describe the group's sound?
Strung Like a Horse's sound is high-energy folk-rock, with hints of psychedelic and metal, sung with punk-inspired vocals and played on, mostly, bluegrass instrumentation.
Butch Ross, possibly the best and most innovative mountain dulcimer player in the world, once cleverly noted, "Your music and my music are a lot alike; no matter what you may think you sound like, it's a lot closer to bluegrass than you think."
Call it bluegrass or fill-in-the-blank-grass or whatever, but it reaches across generations. Toddlers, Millenials, X-ers, Y-ers and Baby Boomers too, there's something in there for everybody.
With so many instruments played among the group, what's the writing process for new music?
We write and rehearse two days a week. Usually, Clay will bring a mostly finished idea and the rest of us will add instrumentation and harmonies. We write collaboratively too. We have our own studio set up to record all our new songs as soon as they are complete enough so that we don't forget anything. We write and rehearse in the studio so that we will be comfortable recording. That's a huge help. We can pop out a demo quickly and send it home with all the members so we can all live with it for awhile. The next time we get together if we want to change it we just record another and the cycle repeats until we're happy with it.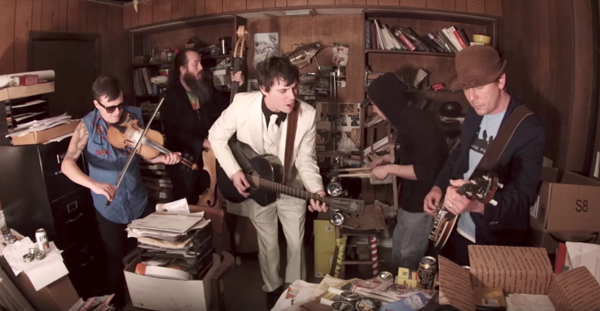 I also really enjoy the videos for "Gypsy Jane" and "Glad." Talk about the band's creative process when it comes to music videos.
Those videos were a collaboration between Clay Maselle and [cinematographer] Tomas Donoso. We all got together and chose a direction, then Clay and Tomas took over. They write the script, make the story boards, choose locations and locate props. The rest of us and many volunteers assemble to shoot and Tomas films.
We also do a thing on Facebook called #toiletseatcovers. We pick a cover song we like and play them in a bathroom somewhere.
They're a lot of fun and really popular.
From what I can tell, the band is known for high-energy performances. What can people expect when seeing Strung Like a Horse live?
A lot of energy right out of the gate. All of us really put it out there for you. Clever lyrics, ripping solos, mind-blowing fiddling, soaring harmonies and frenzied drumming are all part of the package. Dancey rhythms and loads of dynamics keep it interesting. It's not just a blazefest. Most first-time fans tell us we are a lot of fun and that they have never seen anything like it.
Do you have any new projects in the works?
We're always working on new music. On any given night we will likely break out a new tune. As far as projects go, we have a new album or two in the works. Writing has been really productive this year. We decided to play fewer dates so we could spend more time making new music and it's paid off in spades. We think they might take us to some new places.
Is there anything else you'd like to add?
There's also top hats, kazoos, a strange gramophone and a chair instrument covered in "found" objects. You'll have to experience that in person.
~~
Find more on Hippie Hill at facebook.com/hippiehilltn and facebook.com/hillfolkentertainment; keep up with Strung Like a Horse at strunglikeahorse.com.