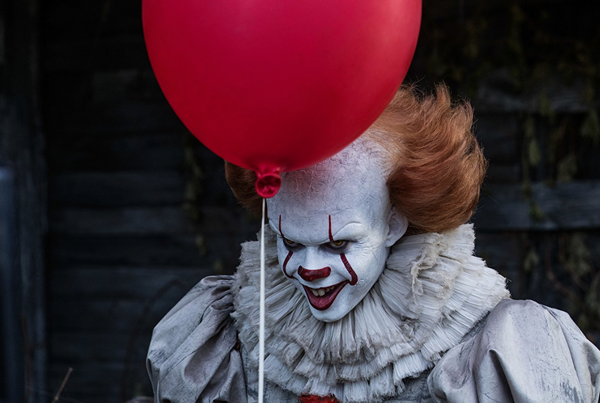 The latest adaptation of Stephen King's famous novel It could have felt like an unwanted cash-grab remake, another infinitely forgettable Total Recall (2012) starring Colin Farrell, or a Point Break (2015) starring Some Guy and Who? Like both of those time-wasters, there is already an iconic version of It from the early nineties; the television miniseries It (1990) starring the inimitable Tim Curry as Pennywise the clown created an entire generation of coulrophobes. While the rest of the miniseries may not hold up today, Curry's Pennywise certainly does, yet here I type, 27 years later, crowning a new king of the clowns.
The difference maker is the R-rating, allowing director Andy Muschietti to take King's tale of horror to darker and more gruesome places. The opening scene boldly announces the film's intentions. Perfectly capturing the ennui of a rainy weekend afternoon, young Georgie loses his paper boat down a drain. When Pennywise pops his head up to give Georgie the boat back, the film pulls no punches as Pennywise violently drags Georgie down with him. The disappearance of Georgie and other kids seems to go overlooked in the northwest town of Derry, except by Georgie's older brother Bill and his friends the Losers Club, a band of foul-mouthed and bullied misfits who all start seeing visions of a mysterious scary clown.
Bill Skarsgård's portrayal of Pennywise is unsettling and memorable (it must run in the family), with a childlike quality that makes his It extra creepy even without the quick-shuffle, shaky-head walk, or the overused, overloud sound cues. Some of It's incarnations of fear, however, are even better, notably the pus-oozing, club-footed leper that terrorizes the hypochondriac of the group. It succeeds largely as a horror movie, but it's the camaraderie of its young protagonists that elevate It to greatness.
Derry and the Losers Club are quintessential Steven King, a sepia-toned suburban town and its crass and charismatic kids beset upon by monsters both real and imaginary. Up against the constant threat of violent bullies, varying degrees of terrible parents (as a point, there's not a single good adult in the movie), and an actual demonic clown trying to kill them, the seven children are constantly cracking wise in the crude way only kids can, like they're taking every new cuss out for a test drive to find their favorite. (Stranger Things' Finn Wolfhard is a standout, though there's not a bad apple in the bunch.) It's one of my favorite genres, from The Goonies to another excellent Stephen King adaptation, Stand By Me. As a dark, cartoonish adventure that hits all the right notes, It easily earns a spot on that list.