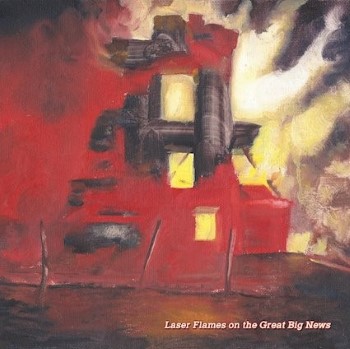 Laser Flames on the Great Big News is a metal band with a long name, lengthy songs and big ideas.
The band features the stylings of John Judkins (guitars, vocals), Stevie Bailey (guitars, vocals) Brian Myers (bass) and James Turk (drums), and this self-titled effort pulls together six tracks over the span of 42 minutes.
The quartet crafts a lot of dense, expansive tracks with multiple movements contained within them. While that (and the detailed, poetic lyrics) show that the group puts a ton of effort into their output, it can be daunting for a listener. Tracks 3 through 6 are each over seven minutes in length, so it's very easy for songs to blur together and for lyrics to glossed over.
That's why the best moments on this album for me occur during the intro and second track. "Intro" features some haunting guitar lines paired with driving bass. It serves as a precursor to the epic aspects to come.
The Judkins-led cut, "31 Years," is the most accessible point in the album. Commanding guitar licks lead into blistering and punchy solos. Plus, Bailey's backup vocals make the song feel large and powerful. All this paired with the lyrics about being tormented by the past make up what is the most potent dose of Laser Flames' sound yet.
The lengthy songs that remain aren't completely inaccessible, though. They're instrumentally sound and there are some more interesting elements that pop up in the midst of the onslaught of high-context lyrics and movement changes.
"Lashes" has some unexpected Americana elements during select parts; "Beloved" features some solid, intense growls and screams towards the tail end of the 11-minute epic; Bailey's vocals draw some Grace Slick comparisons on the album's closer, "Flame High."
Laser Flames' self-titled album is a dense hard-rock project made for listeners eager to sink their teeth into something expansive and complex—proceed with caution!
Laser Flames on the Great Big News' self-titled album can be heard digitally on Bandcamp, Spotify, Apple Music, Google Music and Amazon. Physical copies can be found at Media Rerun, 2820 S. Rutherford Blvd. in Murfreesboro.