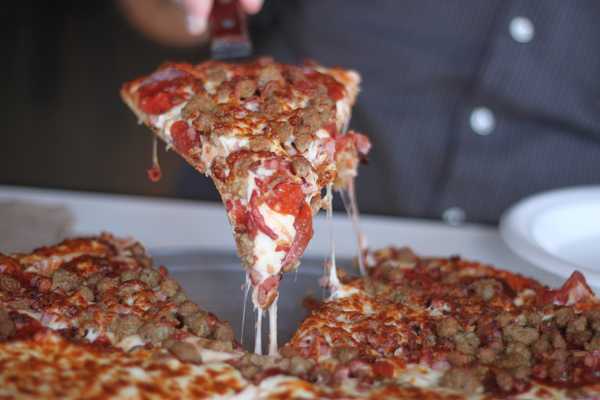 As far as crowd-pleasing foods go, pizza is one of the top contenders. Not only are pizzas completely customizable, but it's also easy to find a pie that suits any budget or taste, if you know where to look. From thick, thin, pan, stuffed or gluten-free crusts to cheese, pepperoni, veggie or meat lovers toppings, pizza is a go-to option during sporting events, at parties, for lunch or dinner—and sometimes breakfast, too, if any leftovers survive in the fridge.
Murfreesboro is home to more than 40 restaurants serving up pizza, from a few family-owned establishments to the faithful chains. Although we no longer have places like La Bella, Mr. Nick's, Fox's Pizza Den and Bruno's Pizza, the city has welcomed many new names within the past year including Uncle Maddio's Pizza, Donato's Pizza and BoomBozz Craft Pizza and Tap House (coming soon).
Despite the ease of ordering pizza online and having it delivered within the hour, we at the Pulse often love a slice (or three!) from one of the many local pizzerias. Check out some of our favorites below, as well as a full list of where to find fantastic pies across town:
___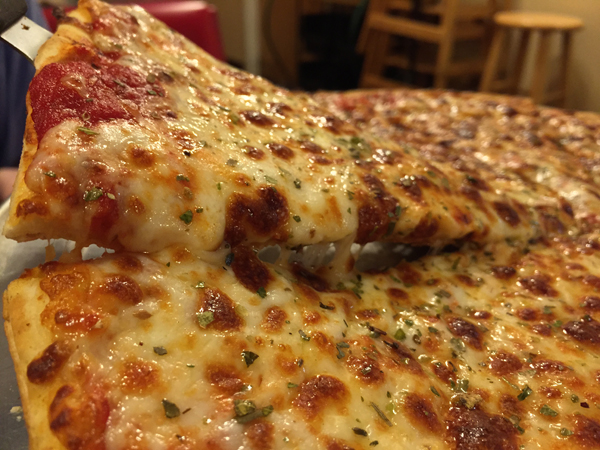 Ahart's Pizza Garden
Ahart's Pizza Garden, originally owned and operated by Randy and Bonita Ahart, experienced a change in ownership in early 2014. Since the swap, owners Kerri and Jim Ter-Mors have spruced up the indoor and outdoor dining spaces with new booths, added patio games and lined the walls with local high school sports decor.
As for the menu, this pizzeria takes standard items like pizza, pasta, salad and sandwiches and gives you several specialty options from which to choose. The cheese pizza, generously topped with Italian seasoning, is a great place to start for new patrons, but it's just as tempting to order one of the specialty pizzas or calzones.
Some of those pizzas include Texas fajita (chicken, avocado, jalapeños, cheddar cheese, red onions), brunch (ham, bacon, scrambled eggs), The Boro (basil, sun-dried tomatoes, feta and garlic), as well as standard offerings like buffalo chicken, Hawaiian and Greek. Another draw for Ahart's is their pizza moon, or a stuffed pizza served calzone style, which can be ordered with the same ingredients as the specialty pizzas.
2476 Old Fort Pkwy., 615-494-9797
Sat.–Thurs.: 11 a.m.–9 p.m.; Friday: 11 a.m.–10 p.m.
Individual pizza: $7.99 and up; Pasta: $9.50–11; Calzones: $8.99 (small)
___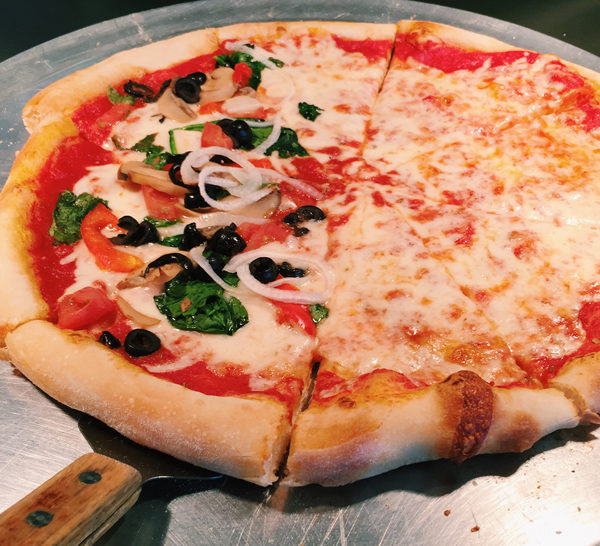 Sal's Pizzeria
Murfreesboro almost lost one of its most beloved pizza joints in 2013 when Sal's closed its South Church Street location. However, the family-owned pizzeria reopened two years later at The Oaks Shopping Center on North Thompson Lane and has been serving New York-style pizza ever since. Sal Oliveri, the restaurant's original owner, died late last year, but his legacy and recipes live on. Oliveri's upbringing in Sicily gifted him the craft of pizza making, a trade he put to use upon moving to New York City.
Before deciding on toppings, choose between pizza-by-the-slice or a whole pizza served either hand-tossed round or Sicilian. There's never a bad time to visit Sal's during business hours, but there's an all-you-can-eat lunch buffet offered every day from 11 a.m. until 2 p.m. for $8.99. The menu extends far beyond pies with various appetizers, pasta, paninis, calamari and desserts.
536 N. Thompson Ln., D, 615-956-7531
Mon.–Thurs.: 10 a.m.–10 p.m.; Fri.–Sat.: 10 a.m.-11 p.m.; Sun., 10 a.m.–9 p.m.
Cheese pizza: $10.50 and up; Pasta: $10 and up
___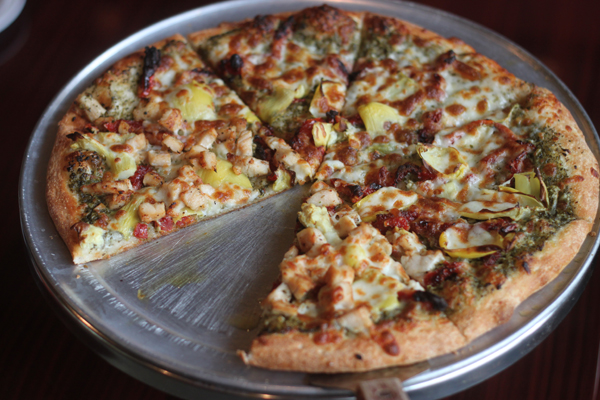 Luca's Pizzeria
Sal's isn't the only place you can find New York-style in the 'Boro, as Luca's Pizzeria also specializes in thin-crust. While Luca's doesn't stray too far from the normal offerings, the food tastes fresh and homemade, "just like Nonna (Italian for grandmother) makes it," they take pride in saying. The garlic knots are a big hit here, and it is also important to note Luca's offers gluten-free crust, an item noticeably missing from many pizza locales around town. Because tables are limited inside, Luca's operates primarily as takeout and delivery (up to five miles away).
2658 New Salem Rd., 615-900-1045
Mon.–Thurs., 11 a.m.–9 p.m.; Fri.–Sat., 11 a.m.–10 p.m.; closed Sunday
12-in. cheese: $10; 12-in. Sicilian: $11.99; garlic knots (dozen): $4.99
___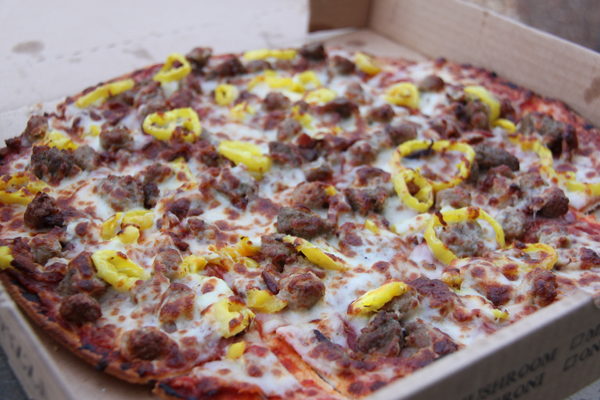 Spooky's Pizza
Just in time for the scariest month of the year, you can find unique options at Spooky's Pizza. Its ghoulishly-named menu items lend a hand to its "spooky" aesthetic with Skin 'n' Bones, a pizza with black olives, bell peppers and onions, or Zombie Feast, a pizza with meatballs, pepperoni, Canadian bacon, sausage and bacon. Hell Cheeses Over is loaded with cheese, beef, bacon and onions. While chains typically use skim-milk cheese, all pizzas at Spooky's are made with 100 percent whole-milk mozzarella. And if for some reason you're not in the mood for pizza, Spooky's offers several burger options, wings and more.
5995 Lebanon Rd., (615) 217-5000
Mon.–Thurs.: 4–8 p.m.; Fri.–Sat.: 11 a.m.–9 p.m.; Sun.: 12–8 p.m.
Specialty pizzas: $15.99 and up; Burgers: $7.50 and up
spookyspizzatn.com
___
The Pizzas of Murfreesboro:
Ahart's Pizza Garden
2476 Old Fort Pkwy.
615-494-9797
BJ's Restaurant & Brewhouse
2455 Medical Center Pkwy.
615-956-2560
The Boulevard Bar & Grille
2154 Middle Tennessee Blvd.
615-624-8002
Chuck E. Cheese
1720 Old Fort Pkwy.
615-217-8842
Cici's
710 Memorial Blvd. STE 220
615-867-4424
Coconut Bay Cafe
210 Stones River Mall Blvd.
615-494-0504
DJ's Pizza & Steak House
805 W. Main St., Woodbury
615-563-2821
Domino's
1515 Warrior Dr.
615-890-0893
118 N. Baird Ln.
615-896-0028
235 MTCS Rd.
615-890-2602
115 Enon Springs Rd. W., Smyrna
615-459-0041
Donato's
3284 Franklin Rd.
615-900-5500
Gondolier
219 NW Broad St.
615-396-8484
Hungry Howies
2015 Lascassas Pk.
615-900-3971
Jet's
2975 S. Rutherford Blvd.
615-890-1214
4167 Franklin Rd.
615-904-7277
3325 Memorial Blvd.
615-896-5550
Jonathan's Grille
2911 Medical Center Pkwy.
615-410-7960
Little Caesar's
2962 S. Rutherford Blvd.
615-890-6600
2932 Old Fort Pkwy.
615-904-1800
1811 Memorial Blvd.
615-896-6600
1880 Almaville Rd, Smyrna
615-355-9901
La Tavola Ristorante Italiano
114 Front St., Smyrna
615-984-4771
Lions Pizza Den
113 N. Cannon St., Woodbury
615-563-1212
Luca's Pizzeria
2658 New Salen Rd.
615-900-1045
Marco's
1624 New Salem Rd
615-907-9998
1208 E. Northfield Blvd.
615-895-9755
Marina's on the Square
125 N. Maple St.
615-849-8881
Mellow Mushroom
2955 S. Rutherford Blvd.
615-890-8898
Milano II
114 E. College St.
615-624-7390
Nobody's Grille & BBQ
2227 Old Fort Pkwy.
615-962-8019
Old Chicago
1835 Old Fort Pkwy.
615-225-3200
Papa John's
1741 S. Rutherford Blvd.
615-896-7272
2441 Old Fort Pkwy.
615-849-3700
2365 Memorial Blvd.
615-890-7272
Papa Murphy's
3183 S. Church St.
615-439-6199
2706 Old Fort Pkwy.
615-867-6588
2445 Memorial Blvd.
615-895-5335
Pie Five Pizza
450 Sam Ridley Pkwy., Smyrna
615-984-7607
Pizza Hut
1114 Mercury Blvd.
615-896-0657
2438 S. Church St.
(615) 898-0996
2575 Old Fort Pkwy.
615-217-7557
1718 Memorial Blvd.
615-898-0100
812 Nissan Dr., Smyrna
615-459-3759
Pizza Inn
2395 New Salem Rd.
615-900-1751
Roma Pizza & Pasta
1728 W. Northfield Blvd.
615-890-4611
1621 Middle Tennessee Blvd.
615-890-0615
587 S. Lowry St., Smyrna
615-223-6020
Sal's Pizzeria
536 N. Thompson Ln.
615-956-7531
Salvo's Pizza
701 President Pl., Smyrna
615-220-6030
Sam's Sports Bar
1720 Old Fort Pkwy.
615-904-6464
Sauce
2858 S. Church St.
615-624-8258
Sir Pizza
110 Barfield Crescent Rd.
615-890-8989
1902 E. Main St.
615-893-2111
3219 Memorial Blvd.
615-890-9798
Spooky's Pizza
5995 Lebanon Rd.
615-217-5000
Station Grill
2053 Lascassas Pk.
615-295-2583
Sub Stop
306 W. Vine St.
615-546-4656
Uncle Maddio's
125 Wendlewood Dr.
615-217-4044
Your Pie
1970 Medical Center Pkwy.
615-396-8925