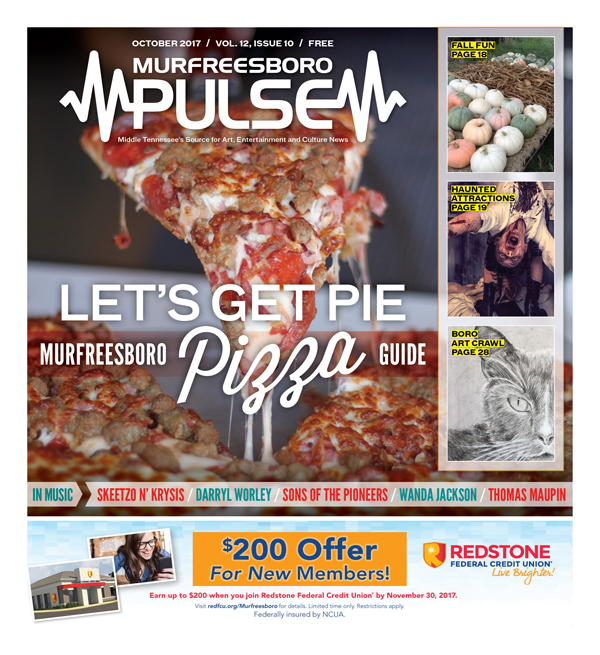 FEATURES:
Radio Rebirth: Part II
Music City Roots finds a home on WMOT 89.5.
Strung Like a Horse
High-energy string band to perform at Hippie Hill Fall Fest.
Fall Fun
Pumpkins, corn mazes and more at local farms.
Haunted Attractions
Spooky Middle Tennessee woods and houses will get your pulse pounding.
Boro Art Crawl
Oct. 13 event celebrates local creative community.
Let's Get Pie
A guide to the many pizzas of Murfreesboro
IN EVERY ISSUE:
Events
This Month
Boots and Brews, Black Cat Bash, Harvest Days and more!
Sounds
Concerts
Jason Loewenstein, Graham Anthem Band and more!
Music Notes
Skeetzo N' Krysis;
The Justin Reed Show
Darryl Worley
Bluegrass Underground Relocates
Album Reviews
Laser Flames on the Great Big News
King Brian
Gardening
Covering your crops
The Pulse Stops Here: Planning for Death
Plan for death now, before it's too late.
Pet Health
Keeping your dog's weight under control.
Art
Rhinovirus Paints Custom Pulse Racks
CFA plans 2018 Exhibits
Poetry
Kerri French and other poets gather at Southern Festival of Books.
Reviews
Living Room Cinema
Haunting Legends
News
Business Buzz
Krispy Kreme in the works; Cat Cafe; Taco John's and more!
Opinion
The Stockard Report
County faces yet another lawsuit.
Views of a Conservative
The police do not unfairly target black criminals.
Live Exceptionally . . . Well!
Talk to strangers?
Sports
Sports Talk
NFL players alienate fans with protests.
MTSU Sports
Blue Raiders enter October at 2–3.
Bodybuilding
Tips for preparing for a competition