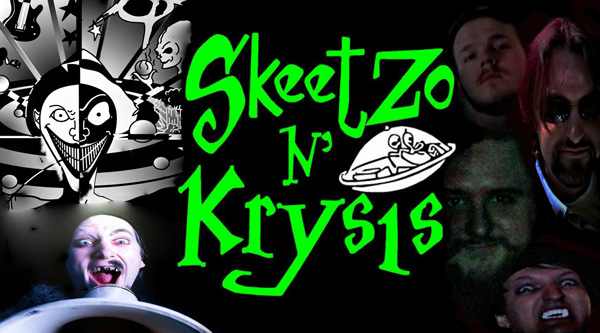 Local rock 'n' roll band SkeetZo N' Krysis is difficult to describe but fun to watch. This month, catch them performing at the Meyers Creek Haunted Woods attraction in Murfreesboro on Friday, Oct. 13, beginning at 7:30 p.m. while haunted attraction attendees wait to enter the haunted woods.This live musical performance at a haunted house should be a fun and fantastic addition; Lead singer Michael Laster mentioned that the band will give waiting customers "something to do other than look at their phones the entire time." Given the nature of their shows, his comment is an understatement.
Laster, the only original member of the band still remaining since its inception, has a vision, characters and a full backstory for the persona he and his bandmates adopt on stage. Laster takes on the role of a man who accidentally consumed two aliens that fell into a vat of moonshine, and the aliens fight to control the one body. Laster shaves half of his face and head for performances to show the differences between the two and to drive the "split personality-type act" home to the audience. The SkeetZo N' Krysis self-titled record that debuted in 2014 helps tell the story of how these extraterrestrials came to find themselves trapped in a human body and the misadventures they embark on as the new controllers of the lead singer and guitarist.
Known for being over the top and shocking in performance, it seems that playing at a haunted attraction is a perfect fit for the Murfreesboro band.
"I'm really super thankful and excited that we get to play in front of an audience like this, because that's our target audience, they'll get us," Laster commented about this opportunity.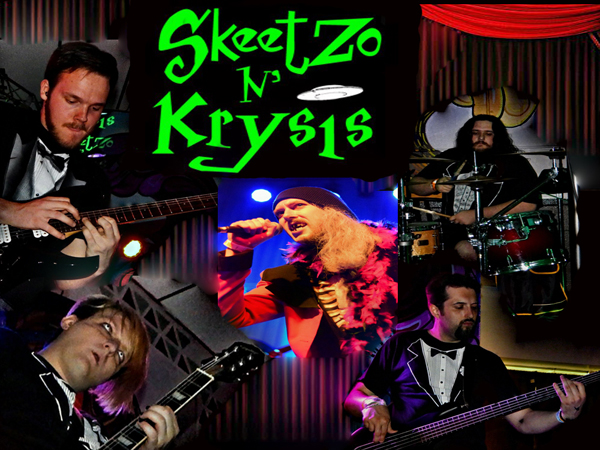 SkeetZo N' Krysis' aesthetic as a band should be a wonderful addition for patrons who are waiting to get scared and a treat for those who come out on the other side of the haunted woods.
Laster reached out to the proprietors at Meyers Creek and they responded with intrigue but were a little concerned after seeing how wild and crazy their sets can get, seeing as how this is advertised as a family-friendly attraction. Not to worry, though. SkeetZo N' Krysis has a more PG-themed set prepared to accommodate events like these The upcoming Oct. 13 set will include some original music, crowd-pleasers and even some Halloween classics to entertain patrons, according to Laster.
Meyers Creek is one of the most highly praised Halloween attractions in the area. It's been around for a decade and every year operators make sure to shake up their sets and acts so that those who love to return are kept on their toes. The actors all seem to be dedicated to their roles but are clearly having fun. And you won't get scared for nothing: the owners at Meyers Creek also give some of the proceeds to the philanthropy group Relay for Life.
Meyers Creek Haunted Woods is located at 4734 John Bragg Hwy. in Murfreesboro; head over to meyerscreekhauntedwoods.com to check out their full calendar for the season and order tickets online.