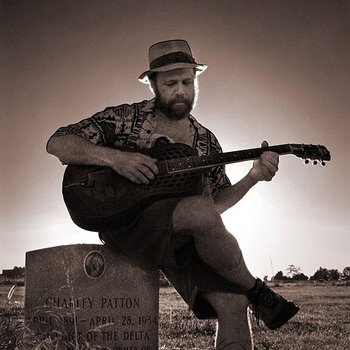 Documentary photographer and local musician Bill Steber first stepped onto the historically rich soil of the Mississippi Delta 25 years ago, an experience he credits as having changed the trajectory of his life.
Steber, a Tennessean staff photographer at the time, was on assignment to document the recently completed Natchez Trace Parkway when he got the notion to explore unfamiliar territory. When it was time to abandon the Trace and return to Nashville, Steber, joined by a colleague and native Mississippian, turned onto Highway 61 with a list of blues musicians and where to find them.
"I was thunderstruck driving through the Delta. . . . I thought, 'I don't know if I've lived here before, but this feels like a place that I need to be,'" he explains. "Just driving through the landscape while listening to the music in the context of the place it came from suddenly made deeper sense."
Highway 61 eventually deposited Steber in Leland, Mississippi, a town located in the heart of the Delta and home to the late bluesman and folk artist James "Son" Thomas. Thomas, who was approaching his late 60s at the time, lived in a shotgun shack decorated throughout with clay skull sculptures, a signature style that recalled his days as a gravedigger.
"I walked in and the first thing I saw was a woman in a full-size casket," Steber explains. "The sculptured woman's head was made out of styrofoam, and on a shelf right above the casket was a clay skull that he had made with aluminum foil eye sockets and real human teeth."
Steber, fascinated with the world he had just stepped into, was greeted by Thomas' son, Pat, who guided him to the back room to meet the musician. He describes his meeting with Thomas as a "singular transformative moment."
"[Thomas] had lit a cigarette but never took a draw . . . the entire length of the cigarette was one big arching ash," he recalls. "He then made his way to the front room with his guitar and played some music."
Despite working 50-hour weeks at The Tennessean, Steber stockpiled vacation time and returned to the Delta whenever he had the opportunity to escape Middle Tennessee. When he arrived in Leland the following May, he discovered Thomas was in and out of the hospital battling health issues. By June, Thomas had died.
"I had just met this person and wanted to spend so much time with him, and then he was gone," Steber says. "So I thought, 'What else is here that is disappearing on a daily basis?'"
For the next two decades, Steber would go on to document the blues culture, or more specifically what was left of the culture, before traditions began to vanish along with the people who kept the spirit of the Delta alive. Throughout the '90s and early '00s, Steber photographed church revivals and river baptisms, hoodoo practitioners and juke joints (including a performance by B.B. King at Club Ebony in 1994), as well as anything else that caught his eye along the old "blues highway."
"I was desperately trying to find what was left of the blues culture and document it before it was gone, literally just before it was gone," he says. "There were several people I met within months of them passing on, and more that I wasn't even able to meet."
Steber recalls the late Scott Dunbar, a bluesman in his mid-90s when they met in 1994, as one of the many musicians who died after just one visit. He traveled across the border into Louisiana and back to Woodville, Mississippi, before finally finding Dunbar, who shared with him a copy of the only LP he recorded, along with photographs and stories spanning decades.
"Less than two weeks later, I was in Clarksdale [Mississippi], at a place called the Stackhouse run by Jim O'Neal, founder of Rooster Blues record company," Steber says. "I told him how excited I was to have found Dunbar . . . and he said, 'No, we got a call this morning that he died' . . . and just like that he was gone."
Since beginning the project, Steber's photographic work has been featured in galleries as close as MTSU's Baldwin Gallery and as far as Brussels, Belgium. To this day, he is sifting through photos, interviews and recordings in hopes that they will all be published someday.
In the meantime, Steber (or Hambone Willie Nevil as you might know him) can often be found with various musical instruments in place of a camera, performing in local outfits the Jake Leg Stompers and Hoodoo Men. The latter, an eclectic blues duo comprised of Steber and Sammy Baker, will release (WHEN?) its debut album, Goofer Dust, produced by Luther Dickinson of the North Mississippi All Stars and the Black Crowes. Mayday Brewery hosts a release show on Saturday, Nov. 4.
"I saw performing the music as an extension of what I was doing with the documentary work," Steber says. "If I can tell a person's story through my own music, I can still be an ambassador to the culture, but in a different format."
"What's important for me is that people seek out the original practitioners and the richness of the Mississippi blues culture," he adds.
For a look at more of Steber's photography and stories behind each photo, visit steberphoto.com. To keep up with his musical projects, visit The Jake Leg Stompers and the Hoodoo Men pages on Facebook.