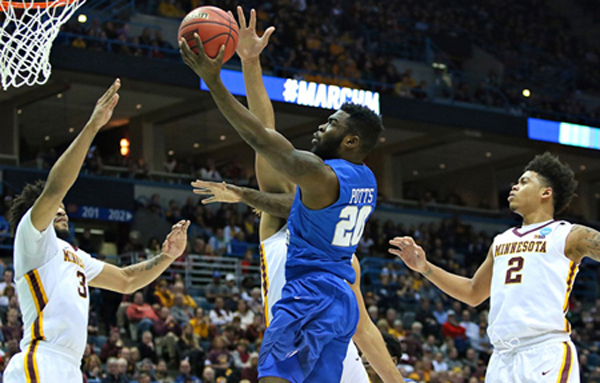 Coach Kermit Davis looks to continue building Middle Tennessee basketball into a national brand as the 2017–18 season approaches. After having advanced to the field of 32 in the NCAA Tournament in consecutive seasons, continuing to build that brand will be a greater challenge than before. Davis knows that his recent success has presented lofty expectations.
"You try to push forward on a national scale of college basketball, you know the sustainability part, we've experienced the success that we've had over the last six or seven years," Davis states. "Then obviously the push towards the excellence and even moving forward become tougher and tougher, but it is something we are excited to be a part of."
A great deal of that recent success is owed to Reggie Upshaw, both from a production standpoint and as a leader, but how do the Blue Raiders move on from arguably the greatest player to ever don the blue and white?
"I think if you ask anybody on our team from a leadership standpoint and having the loudest voice in the gym it's Giddy Potts," Davis said.
Potts has already proven what he can do statistically. He is just 568 points shy of the MT career record, which is only 16 more than he scored last year. Now he takes on the role of the primary leader, and the players are responding.
When comparing the leadership styles of Upshaw and Potts, junior forward Karl Gamble doesn't see a major change.
"Their leadership styles are the same but I would say Reggie is a more in-your-face type of guy. So Reggie sees something, Reggie is going to say something," Gamble said. "That's pretty much how our whole program is, we don't sugarcoat anything. If you're doing something wrong we're going to tell you. So that's what pretty much makes us how we are."
Not only will the Blue Raiders have to replace leadership, but they also must replace a tremendous amount of production they lost in Upshaw and 2017 Conference USA Player of the Year JaCorey Williams.
To help offset those losses, Davis has brought in three JUCO transfers and a graduate transfer in Nick King.
King previously played at both Memphis and Alabama before becoming a Blue Raider. Davis describes him as a "hybrid four that can shoot and play-make" and calls him "a natural rebounder" which sounds refreshingly similar to Upshaw.
To make up for the loss of Williams, Davis is looking for major leaps forward from Brandon Walters and Karl Gamble. Walters looked great off the bench in the Tournament last season, posting 21 points and 11 rebounds in just 31 minutes of play over those two games. Gamble will need to take a much larger leap as he has struggled to earn significant minutes in his first two seasons.
Though some questions exist at forward, the Blue Raiders will be strong at guard. In addition to Potts, MT returns Tyrik Dixon, Ed Simpson and Antwain Johnson. Davis also feels that freshman Therren Shelton-Szmidt could get an opportunity to play early.
The Blue Raiders will be tested early, as nine of the team's first 12 opponents played in either the NIT or NCAA Tournament last season.
MTSU plays its lone exhibition game Nov. 2 at Murphy Center against Arkansas-Fort Smith. The game tips at 7:30 p.m.
NOVEMBER HOME GAMES:
Nov. 10, 11 a.m.
Trevecca
Nov. 16, 6:30 p.m.
Belmont
Nov. 21, 6:30 p.m.
Florida Gulf Coast