Murfreesboro's already crowded restaurant scene has even less elbow room, owing to new openings in October.
Burger Republic, a Nashville-based concept specializing in gourmet burgers, American craft beers and hand-spun milkshakes, opened in October on Medical Center Parkway.
The 4,026-square-foot restaurant, located within the Fountains at Gateway complex, features 12 flat-screen TVs and a bar that showcases its wide array of craft beer offerings, which includes many high-gravity and specialty brews.
Burger Republic starts its burgers with 100% fresh certified Angus beef that is hand-formed into a patty and cooked to order on a flat-top grill to sear in the juicy flavor. Local and regional products play a key role in the lineup, such as Benton's bacon and Charpier's brioche buns.
___
If you'd rather have Mexican, two new taquerias have opened on South Church Street.
Taqueria Toluca has opened at 2021 S. Church in the old Burger King between Regal Inn and Uncle Sandy's gas station. The building is also the former location of Sal's Pizzeria. The taco shop offers authentic Mexican tacos with the choice of five different proteins.
And Oscar's Taco Shop has opened a new restaurant at 3138 S. Church St. The family-friendly restaurant offers fresh Southern California/Mexican food for breakfast, lunch and dinner.
___
North Carolina-based Cook Out has opened a second Murfreesboro restaurant on Memorial Boulevard, near what will soon be Climb Murfreesboro. The fast-food chain opened its first Murfreesboro location on South Rutherford Boulevard in 2013, where it serves up char-grilled burgers, chicken breasts, hot dogs and more than 40 varieties of milkshakes.
___
Bread and Butter Sandwich Co. is coming to Mercury Boulevard near the Waffle House.
According to its Facebook page, the restaurant "is committed to creating inspired, chef-driven meals that are handcrafted and are to be enjoyed between two slices of bread. We pride ourselves on using the finest ingredients from local merchants and treasured recipes."
No opening date has been announced yet.
___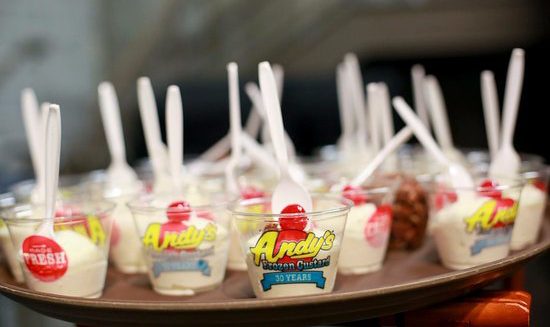 For dessert, the Murfreesboro Planning Commission approved plans for Andy's Frozen Custard to open a Murfreesboro location. The Missouri-based custard company offers frozen treats in a variety of flavors.
Owner Brad Feuerbacher recently stated that the restaurant should be open by late spring or early summer on Memorial Boulevard near SportsCom.
The commission also approved plans for a multi-tenant development on Medical Center Parkway that will include a Krispy Kreme.
___
It's not always good news on the restaurant front. Two well-known national brands have shuttered in the past month.
With little warning, Logan's Roadhouse on Broad Street closed—permanently, according to a flyer on the restaurant's door. Inquiries sent to the company's PR firm were not returned.
Jack in the Box on Memorial has also closed. A sign left on the restaurant's door directed customers to the 2181 Old Fort Pkwy. location.
Shoney's plans to reopen on South Church Street. A sign on the door says they are now hiring. Rumors of its permanent closing were, apparently, premature.
___
Let's Go Shopping
Health supplement store Fit Republic has opened at 202 N. Thompson Ln. Established in 2012, Fit Republic was founded to change health and fitness into a lifestyle.
Fit Republic offers free meal plans, free exercise plans and support on how to properly supplement a healthy lifestyle with its supplements, energy drinks and protein powders. Learn more at fitrepublicusa.com.
___
Big Lots held a grand opening for its newly renovated space in the old Kmart on Broad Street.
Crews have worked over the past six months transforming about 35,000 square feet of the nearly 100,000-square-foot store left vacant when Kmart closed in April 2016.
No word yet on what store might occupy the remaining space.
___
Another discount retailer, Liquidation Outlet, has reopened to do business in a new location. Owners of the outlet have constructed a new facility, located at 203 Southpointe Dr. in Murfreesboro.
___
Need shoes? Marti and Liz opened a new store behind the Walgreens on the corner of Thompson Lane and Medical Center Parkway. If you can't make it through the traffic, check out styles from the comfort of your home at martiandlizboutique.com.
___
Popular Murfreesboro music store Concert Musical Supply has opened a second location in Stones River Mall near PanSun and Claire's.
The West Main store is still open and full of instruments and classes.
___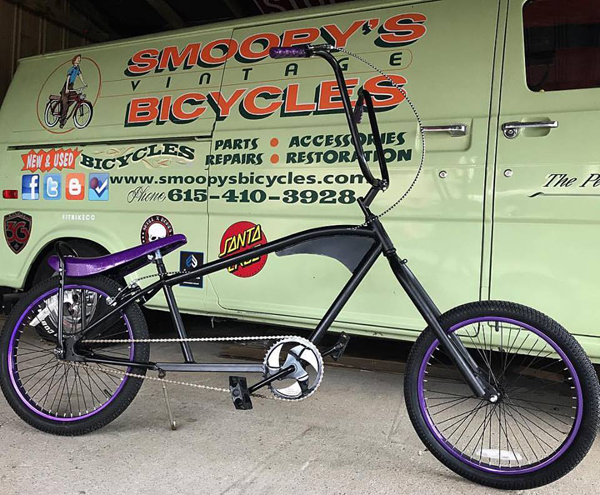 Smoopy's Reducing Hours
Smoopy's Vintage Bicycles announced on Facebook that the storefront's hours will be changing after 10 years and will continue by appointment only.
"I've been offered a wonderful job opportunity that, for the sake of my family, I cannot pass up; therefore, I've decided to pursue this opportunity and see where it leads me," Smoopy's owner Andrew Logan stated.
He said Smoopy's will stay at 2602 E. Main St. in Murfreesboro.
"We will also discontinue regular service and repair work, but will still offer all levels of our restoration services," Logan said.
Call 615-410-3928 to set up an appointment for parts, accessories, consultation and restoration services.
"Thank you for all your business and friendship these past 10 years," Logan said.
___
The Cloud Now Covers Murfreesboro
Whether a business needs a single server or a private data room, organizations can now store their digital data right here in Murfreesboro after the recent opening of Murfreesboro Data Center.
Jon Hoscheit and Scott Graby, after observing multiple corporate headquarters cropping up in Nashville and Franklin, asked themselves a question: why are they not coming to Murfreesboro?
"Some of the limitations were lack of class-A office space, and the lack of data centers," Hoscheit said regarding Murfreesboro. But the two businessmen aimed to change that.
Graby addressed the office space situation with his Fountains at the Gateway development, while the two partnered on Murfreesboro Data to address the local data storage limitation with a 208-rack capacity in eight independent, secure environments. All are housed within a very secure but outwardly nondescript building with convenient access to the Medical Center Parkway corridor and downtown Murfreesboro.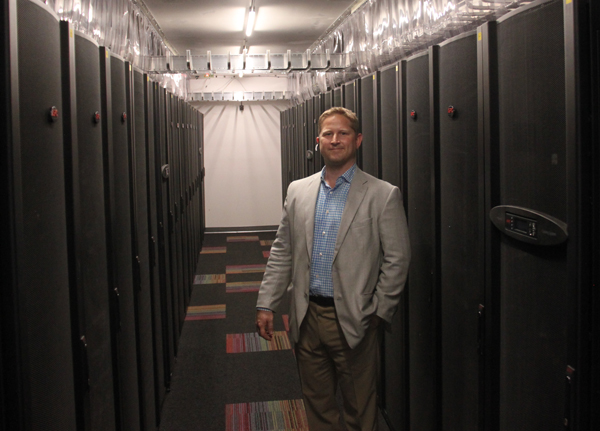 "The exterior can withstand 60,000 pounds of pressure," Hoscheit said, noting the building itself also acts as a Faraday cage, shielding the servers from electromagnetic energy disturbances.
Murfreesboro Data designed its building as a Tier 3 data center, with Tier 4 capabilities—either way, very secure, with very little down time—and as an N+2 facility, meaning that it boasts two backup sources of power: a battery room and "some of the largest diesel-powered generators known to man," Hoscheit said.
Crews placed the piping, power, fiber and internet infrastructure all under concrete, and features also include static-dissipating carpet. "It's very unusual to have carpet in a data center," Hoscheit said.
For more information, visit murfreesborodata.com.
___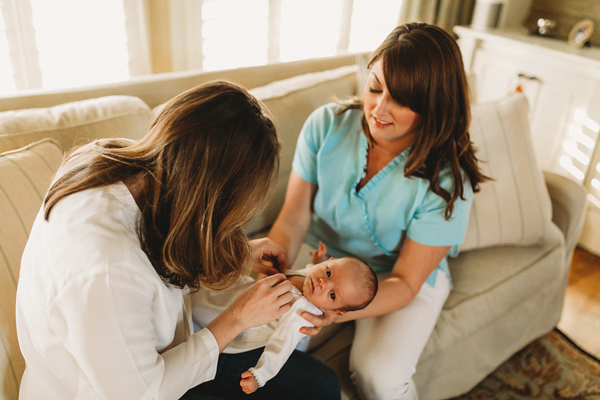 Local Woman Opens Service for New Families
Rachel Ramsey recently opened The Newborn Nurse, an in-home nursing service for new mothers.
Ramsey is a neonatal registered nurse with 12 years' experience helping during the transition that takes place in the days and weeks after birth.
"We provide lactation support, newborn education, daytime and overnight care," Ramsey said.
Her previous experience includes working at Saint Thomas Rutherford Hospital and teaching in the nursing program at MTSU.
For more information visit thenewbornnurse.com or call 615-785-7300.
___
The Latest in Local Lodging
Home2 Suites and Tru by Hilton, the only dual-brand property in Murfreesboro, will hold a grand opening at 4 p.m. on Thursday, Nov. 9.
The hotels, located at 909 N. Thompson Ln., welcome pets, and also feature free breakfast, a fitness center, pool and pool tables.
___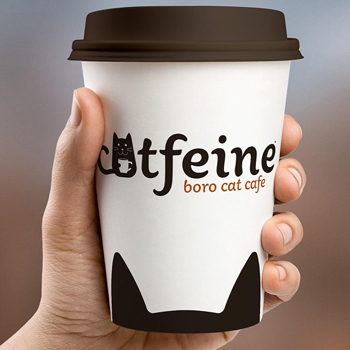 Paw-gress Reports on Cat Cafes
Taura Byrd, founder of Catfeine, has confirmed that Just Love Coffee Roasters will be the coffee partner for Murfreesboro's upcoming cat cafe.
Byrd also launched a branding campaign, designed by Nashville graphic designer Collin Herk. The new logo features a text treatment and cat icon she has named Brewster "for obvious reasons," Byrd said.
She has also partnered with Middle Tennessee Treasures (middletennesseetreasures.com) to provide the kitties that will be available for adoption.
Byrd said she is also working on a pop-up event at Cultivate Coworking and interested people should watch social media for more info.
Catfeine will have some cat cafe competition when it opens in 2018.
Keith and Kelly Palchat are working on Catnips: A Cat Cafe.
Both projects are in their infancy—kitten stages, if you will. The Palchats are busy visiting other cat cafes and getting their plans finalized, according to the Catnips Cat Cafe page on Facebook. Area friends of felines can also sign up for updates about Catnips at catnipscatcafe.com.
___
Nonprofit News
Locally Owned Murfreesboro will hold a fundraising drive through Dec. 31 for scholarships for aspiring young businesspeople from Rutherford County.
Each of the nonprofit's members' businesses will collect donations for the scholarships, which will be awarded to Rutherford County students in the MTSU College of Business. For a listing of member businesses, visit locallyownedmurfreesboro.org.
Sarah Gwinn from Greenhouse Ministries has launched a new nonprofit, Affordable Housing Futures. She plans for the entity to lead local efforts to provide comprehensive credit and housing-related education, outreach, advocacy, counseling and coaching through its flagship program, Help in Housing.
"We also want to develop affordable rental housing, houses for home ownership and provide greater access to home improvement services," Gwinn said via the Help in Housing page on Facebook.
___
Libraries Offer More Free Movies, Music, eBooks
Rutherford County Public Library System announced the availability of thousands of movies, television shows, music albums, eBooks, audiobooks and comics, all available for mobile and online access through a new partnership with hoopla digital.
Library cardholders in Rutherford County, Murfreesboro, Smyrna and Eagleville locations can download the free hoopla digital mobile app on their mobile device or visit hoopladigital.com to begin enjoying thousands of titles—from major Hollywood studios, record companies and publishers—available to borrow 24/7, for instant streaming or temporary downloading to their smartphones, tablets and computers.
___

Winterfest at Fountains at Gateway
Fountains at Gateway is bringing holiday spirit with Murfreesboro's first-ever outdoor ice skating rink at the Fountains Plaza. The attraction will offer ice skating for all ages, themed skate nights, movie nights, caroling and pictures with Santa. The venue will also be available to rent for private parties and events. For more information and admission prices, visit fountainswinterfest.com.