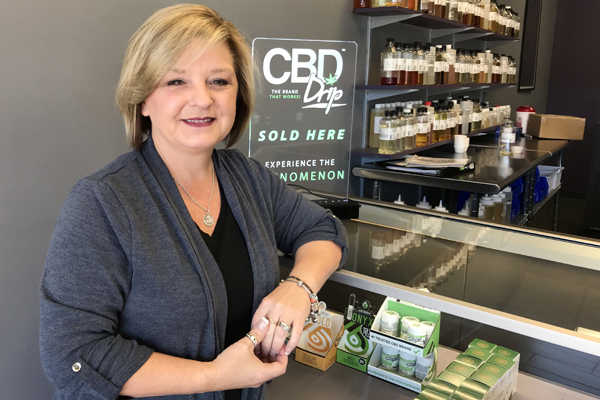 For most of her life, Kaleidoscope Custom Vapor Lounge owner Stacey Hamilton has struggled with pain in her right foot.
"I'm a partial amputee," Hamilton said, explaining a congenital defect on the outside edge of her right foot.
She used to take pain medication to control issues with the tendons cramping in her foot.
But then she found hemp oil.
Also referred to as cannabidiol or CBD oil, the dietary supplement is a non-psychoactive aid for patients with epilepsy, anxiety or even chronic pain.
Hamilton has been using the supplement for a little over a year and is amazed by the results.
"It would cramp because of nerve and vascular damage," she explained about her foot pain. "Usually by the end of the day, I would limp. Now there are days when I don't limp at all."
Her success with the supplement inspired her to bring it to the masses through her vapor stores on South Church Street and Memorial Boulevard in Murfreesboro, which sells custom e-juice and other vaping products.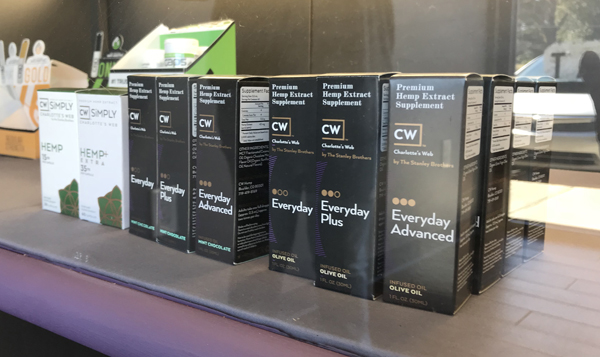 Kaleidoscope makes nicotine extract for use in vape pens, and Hamilton plans to start selling her own hemp oil extraction by December in-store and online. It will be offered in olive oil and chocolate mint flavors in sublingual oil, edibles, vape pens and pet treats.
She explained hemp oil is legal in the state because it is not made from marijuana.
"All marijuana is hemp but not all hemp is marijuana," Hamilton clarifies.
Tennessee launched a pilot program in 2014 to study industrial hemp farming across the state. To grow industrial hemp, farmers can apply to take part in the research program.
"I like the fact that everything will be made in the U.S. and, when fully operational, everything will be made in Tennessee. Even the hemp will be grown here," she said.
Hamilton has both sold and used Charlotte's Web brand hemp oil in her stores since it became legal in Tennessee.
Charlotte's Web is produced by Colorado-based CW Hemp, a pioneer in cannabinoid-rich hemp extracts like hemp oil.
After the U.S. Farm Bill re-classified Charlotte's Web as "industrial hemp" (similar to hemp granola bars or proteins) in 2014, the brand began serving a much more diverse customer base and shipping its premium hemp wellness supplements to all 50 states in the U.S. Tennessee legalized the sale and use of hemp oil in 2015.
Over that time, Hamilton has seen the potential in the supplement.
Hamilton has partnered with The Realm of Caring, a nonprofit that works with hospitals, doctors and researchers to find better applications for cannabinoid therapies.
The ROC is led by parent professionals whose children have benefited from the use of hemp oil. It currently serves nearly 28,000 members.
Hamilton refers customers to The ROC for help with dosage and delivery method.
"This is an awesome tool," she said, adding customers can also reference a recent study by Johns Hopkins University.
Hamilton also sees hemp and CBD products as a potential solution for the nation's growing opioid crisis, in the fight against alcoholism and addiction.
"I've seen how much it truly helps people," Hamilton said.
Her overall goal is to help others find the relief that she has found in hemp oil.
"My goal is to help people and make it affordable," she said, noting it also helps with her anxiety.
"It's the first thing I do when I wake up in the morning," Hamilton said.
For more information about the Realm of Caring's programs and services, visit theroc.us.
If You Go
Kaleidoscope Custom Vapor Lounge
2992 S. Church St. Suite B, and 3325 Memorial Blvd.
kaleidoscopevapor.org