Despite being one of the fastest-growing cities in the U.S., Murfreesboro hasn't let go of its charming qualities, one of which being the ability to discover a restaurant by word of mouth. When Through the Grapevine opened in 1996—a time when we could not pull out a smartphone and search for the nearest cafe—owner Barbara Lester knew the restaurant would be a success if customers helped spread the word and kept coming back for more.
Two decades later, Through the Grapevine remains a well-established eatery and catering business that specializes in sandwiches, soups, salads and homemade desserts. The restaurant, tucked between Memorial and Broad on Broadmor Street, is only open for lunch Monday through Friday from 11 a.m.—2 p.m., so it is ideal for take-out or a lunch date.
When I inquired about the restaurant's most popular menu items a couple years ago, I was told that I had to try the chicken salad (made with fresh grapes, chopped pecans and celery), which can be ordered as a sandwich, salad or as part of a trio with pimento cheese and tuna salad. Other than sandwich and salad offerings, Through the Grapevine is also known for its fruit tea and made-from-scratch casseroles and quiches, such as poppyseed chicken, chicken artichoke and spinach.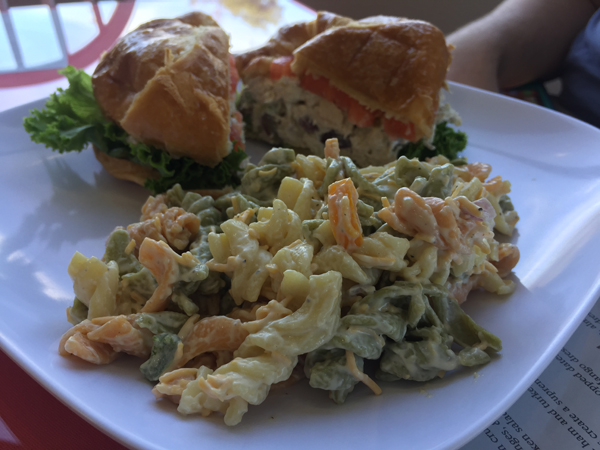 However, from personal experience (and disappointment), I recommend arriving at least an hour before the restaurant stops serving lunch if you plan to order a casserole or quiche plate. The daily specials go fast, but there is much to explore on the full menu. And whereas chain restaurants in the same vein generally charge about $10 for a half-sandwich and cup of soup or side salad, you can score a whole sandwich or casserole plate and a side for less than $8.
The last time I stopped at TTG for lunch, I tried the pimento cheese sandwich and a side salad with sesame Thai dressing. The salad, which usually tastes fresh and takes up half the plate, is topped with croutons, shredded mozzarella and tomatoes. The homemade pimento cheese oozes out the sides of the sourdough bread and is a major step up from the kind you find in tubs at a grocery store. I plan to try one of the specialty salads on my next visit, either the "Grape Expectations" (juicy grapes, grilled chicken strips, tomato, mozzarella, pineapple, toasted almonds and croutons) or a club salad topped with smoked turkey and cheese.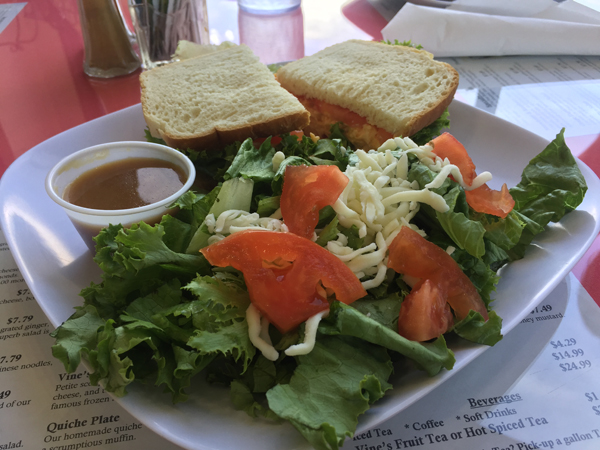 The restaurant steers clear of fried foods, but you will find an ample selection of sides such as a frozen fruit salad, pasta salad or a garden salad. The food is light but filling and there is usually room for dessert if desired. While I can't speak for all the sweet treats, I didn't regret trying slices of both chess and chocolate meringue pies. Depending on availability, Through the Grapevine also serves cupcakes, cakes and muffins.
Although Through the Grapevine is one of my go-to lunch spots, the business primarily operates as a catering service for both large and small gatherings, whether it be a wedding, birthday party or business meeting. In fact, next to the dining area is an onsite banquet facility that seats up to 60 guests. In addition to catering services, customers can stop by the restaurant before and after lunch hours to pick up small and large casseroles, though they ask for a 24-hour notice for the large casseroles that serve 10 to 12 people.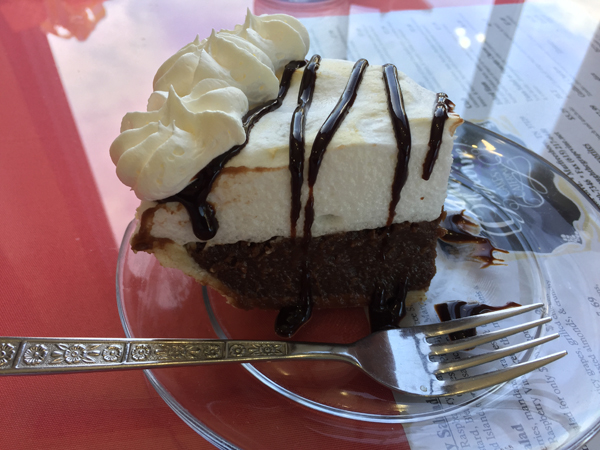 As much as I would love to see extended serving hours, Through the Grapevine clearly has a system that works. Each year we see at least one or two Murfreesboro staples shut down or relocate, but this is one place I hope remains for another two decades—if not longer.
The Dish:
Through the Grapevine
630 Broadmor Blvd., Suite 190
615-890-7346
Monday–Friday, 9 a.m.–4 p.m. (dine-in 11 a.m.–2 p.m.)
Chicken Salad Sandwich: $7.99; Casserole Plate: $7.99; Spinach & Artichoke Dip: $5.29; Desserts (cupcakes, muffins, pie slice): $1.50 and up
throughthegrapevine.net