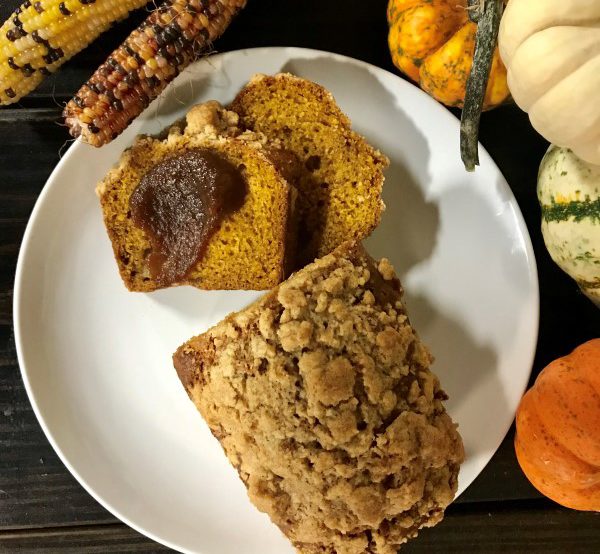 There are few things I love as much as fall. Football season, multitudes of vibrant colors, cooler weather and, of course, the food. As a Thanksgiving baby I am partial to all things autumn in flavor. This simple bread brings together traditional fall flavors in a different way that I hope you will enjoy as much as I do. Try it with a smear of local apple butter, you'll thank me later.
Bread
Ingredients:
1 ⅓ cup sugar
⅓ cup shortening
1 cup pumpkin puree
⅓ cup water
2 eggs
½ tsp. salt
1 tsp. cinnamon
1 tsp. pumpkin pie spice
1 tsp. baking soda
¼ tsp. baking powder
1 cup apples, fresh or frozen, diced small
optional: Try it with pecans, walnuts or cranberries!
Directions:
Cream sugar, shortening, and pumpkin puree in a bowl until well blended.
Add water and eggs, mix until well combined.
Add all dry ingredients and mix until smooth.
Mix in diced apples.
Divide into two small lightly greased loaf pans or into 12 lined or lightly greased muffin cups.
Top with streusel if desired. Bake at 350 degrees until a toothpick inserted in the center comes out clean. Time will vary depending on pan used.
Streusel
Ingredients:
¼ cup butter
¼ cup brown sugar
⅓ cup flour
pinch cinnamon
pinch salt
Directions:
Cream all ingredients until well combined. Place in freezer to set butter and crumble over batter.